Intermittent fasting is a great way to maintain good health and control food portions for various health reasons. It may seem a bit difficult at first if you are a beginner to keep up especially if you are used to eating your meals at specific times. This adjustment to intermittent fasting may take a while, but a meal plan which this piece seeks to put out, it will go a long way in making you more consistent.
Features
Intermittent fasting entails a style of eating in which you go without food for a certain amount of time every day. This food plan will help you navigate your daily eating; however, it helps you know when you eat, but it is still important to know what you eat. When you eat, you want to focus on healthy fats, clean protein, and carbohydrates, mainly from whole food sources.
The idea of fasting for beginners can indeed be herculean, but intermittent fasting can be a lot easier. As you begin this meal plan, you will most likely find that you feel fuller for long hours and make sure your meals are simple.
The combination of nutrients in this meal plan will give you the energy you require to enhance the benefits of your fasting journey.
Benefits of this Meal Plan
With intermittent fasting, you are sure to achieve a lot health-wise. So, with intermittent fasting, you basically cycle between periods of eating and fasting. When you don't eat food for a while, many different things happen to your body.
Firstly, your body changes hormone levels to make stored body fat a lot more accessible which in turn initiates important cellular repair processes. It has been reported that blood insulin levels drop significantly, propagating burning fat. Your body also induces critical cellular repair processes like excreting waste material from cells. Your human growth hormone (HGH) increases as your insulin levels drop.
Another important benefit of intermittent fasting is that it helps you lose weight and visceral fat. This is actually one of the great benefits that make many people try intermittent fasting plans. This is because, with this meal plan, you eat fewer meals. Because you eat fewer calories, your metabolism is slightly boosted as well.
Again, another benefit of this meal plan is that bit has a major significance in insulin resistance, leading to an impressive reduction in blood sugar levels. Anything that reduces insulin resistance also tends to help reduce blood sugar levels, hence protecting against type 2 diabetes, as shown by studies.
Stress is yet another intermittent factor fasting helps to reduce. It can reduce oxidative stress and inflammation of the body. Oxidative stress is one of the steps towards aging and is the most chronic disease. It brings about unstable molecules called free radicals, which react with other good molecules such as DNA and damage them. Studies have shown that intermittent fasting may enhance the body's resistance to oxidative stress.
There are many more health benefits engraved in this meal plan; you only need to be consistent and eat the right kind of food during the meal plan.
Before you begin this meal plan, please be sure to check in with your health care provider to give you an all-clear to go on with it.
Meal Plan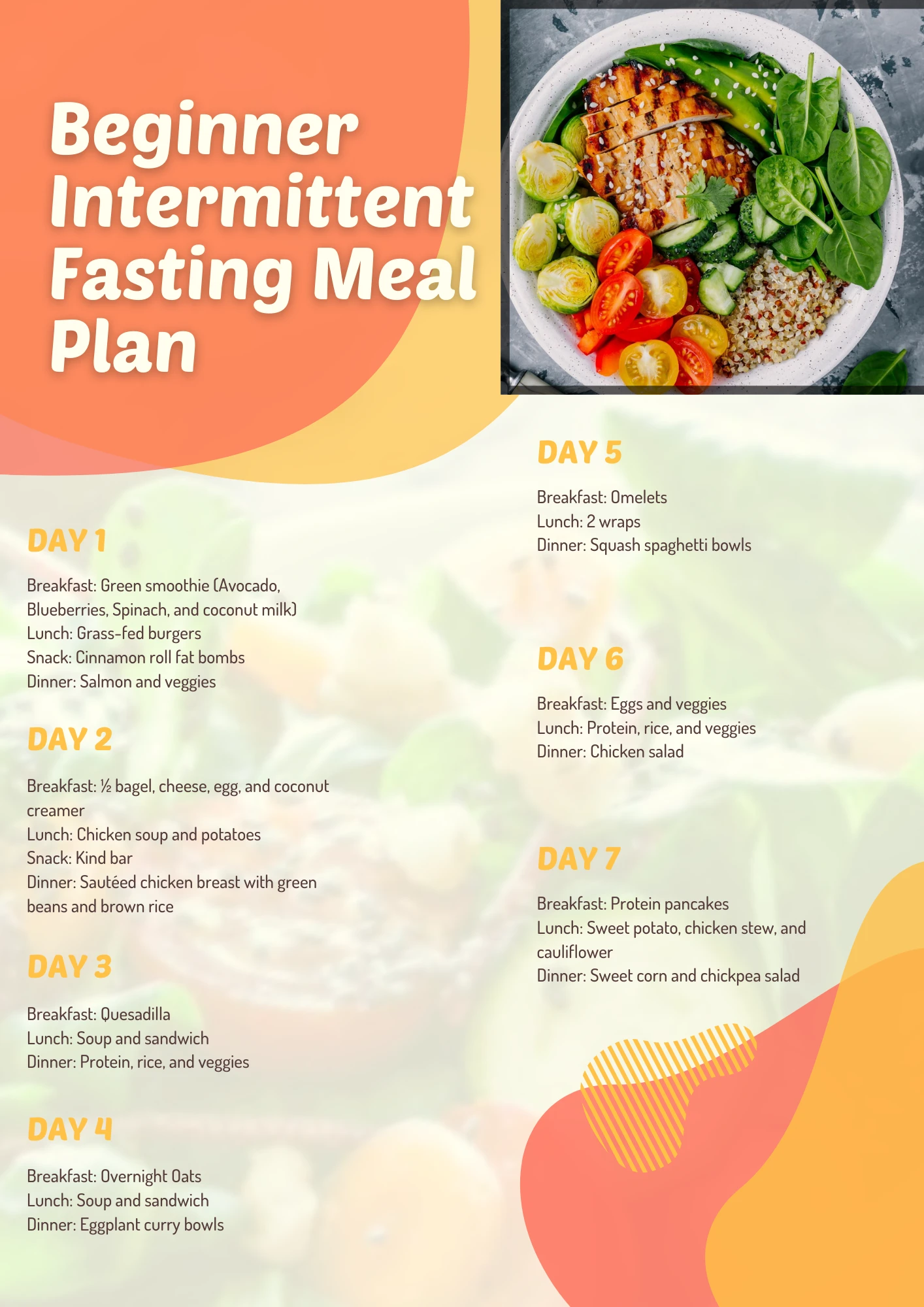 Day1
Breakfast (8:00 am)
Lunch (2:30 pm)
Snack (12 pm)
Dinner (5:30pm)
Day 2
Breakfast (8:00 am)
½ bagel, cheese, egg, and coconut creamer
Lunch (2:30 pm)
Snack (12 pm)
Dinner (5:30pm)
Day 3
Breakfast (8:00 am)
Lunch (2:30 pm)
Dinner (5:30pm)
Protein, rice, and veggies
Day 4
Breakfast (8:00 am)
Lunch (2:30 pm)
Dinner (5:30pm)
Day 5
Breakfast (8:00 am)
Lunch (2:30 pm)
Dinner (5:30pm)
Day 6
Breakfast (8:00 am)
Lunch (2:30 pm)
Protein, rice, and veggies
Dinner (5:30pm)
Day 7
Breakfast (8:00 am)
Lunch (2:30 pm)
Dinner (5:30pm)
Extra-Tips
The goal is to eat fewer calories, so pick only whole foods and avoid processed foods.
As a beginner, ensure to start eating between the hours of 8am and 6pm
If you must snack, make sure they are not calorie-dense snacks
Drink enough water to prevent dehydration
Eat more nutrient-dense meals.
Shopping List
Cruciferous Veggies
Legumes
Probiotics
Kefir
Kombucha
Sauerkraut
Whole Grains
Nuts
Sea Food
Others
Conclusion
Intermittent fasting, although a little challenging to start, has proven to have many health benefits such as controlling type 2 diabetes, oxidative stress, and reduction of blood sugar if consistently followed over time. Do not fail to consult your doctor or dietician before you commence this meal plan; just make sure you are fit for it. Eating whole foods should equally be your goal during this meal plan and reduce processed meals. I hope you get to try out this meal plan, as it is packed with lots of goodness.