Being busy can have a detrimental impact on how one eats, which is usually not the healthiest option. This can lead to a continual consumption of the same type of food. This is why having a nutritious weekly food plan can be quite beneficial. It could be the ultimate hack for eating well and living a healthy lifestyle.
Features
The nutritious weekly meal plan is designed to incorporate foods and components that will provide you with a consistent supply of nutrients. Nutrients are chemical components of food that an organism needs to thrive and maintain its health. This plan includes a variety of fiber-rich meals such as vegetables, fruits, whole grains, and lean proteins and the possibility of being gluten and dairy-free. The plan allows for the wholeness of flavor in each dish by including a fantastic taste component.
This meal plan is for you if you're tired of second-guessing yourself about what to eat. Most essential, before beginning this meal plan, speak with your doctor to ensure that it meets your health requirements.
Benefits of This Meal Plan
Meal planning has numerous advantages that can assist you in losing weight, improving your general health, and reducing mealtime stress. Whether you're aiming to lose weight or improve your nutrition, planning your meals is an excellent method to make sure you're eating healthy and may help you achieve your goals while also saving money.
Healthy meal planning has the potential to improve your home-cooked meals, which has been shown to reduce your calorie intake when compared to eating out drastically. Incorporate more fiber and veggies into your weekly meals, as well as fewer carbohydrates, sodium, sugar, and saturated fat. In reality, as the number of weekly meals prepared at home grows, the overall diet quality improves.
Overeating is one of the reasons individuals become obese, but with a healthy weekly meal plan, you can regulate how much you eat at any given time.
If you want to make healthy decisions, creating a meal plan is the way to go. Knowing you have a meal ready for you at home helps prevent the urge of following harmful options like collecting an unhealthy takeaway on the ride home. Takeaway meals could be heavy in calories and sodium, and they can derail your weight-loss or health-related goals. Tiredness and hunger can result in poor food choices. It's beneficial to have meals made beforehand.
Making a grocery list based on a healthy weekly meal plan is an easy way to get everything you need in one trip to the market. This saves you money and time by allowing you to use only what you need and avoid wasting resources.
The only thing easier, in my opinion, is subscribing to a meal subscription service that has healthy options. HelloFresh is an example. Is HelloFresh worth it? Depends on how much you value your time (and hate grocery shopping).
Meal Plan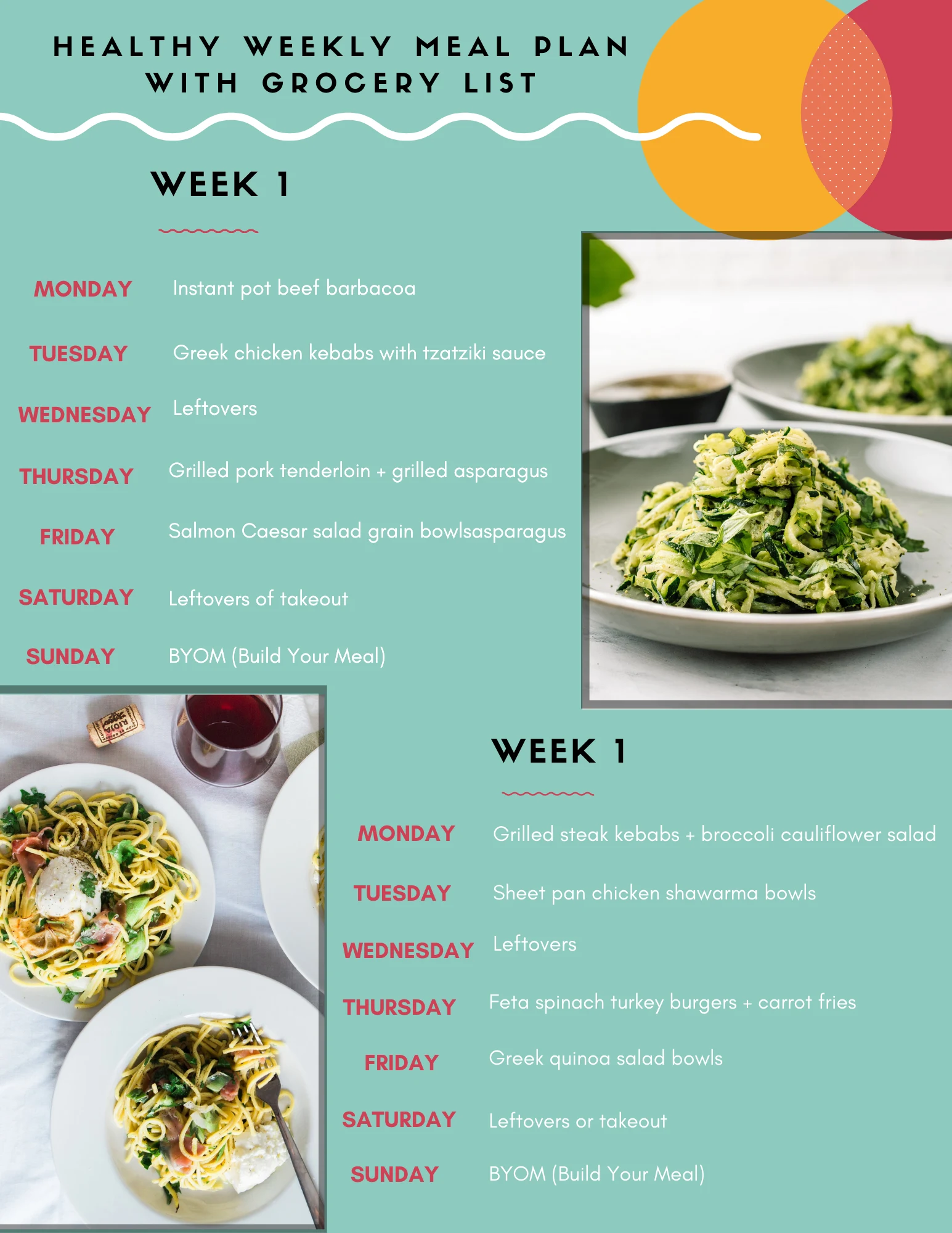 Week 1
Monday
Tuesday
Greek chicken kebabs with tzatziki sauce
Wednesday
Leftovers
Thursday
Grilled pork tenderloin + grilled asparagus
Friday
Salmon Caesar salad grain bowls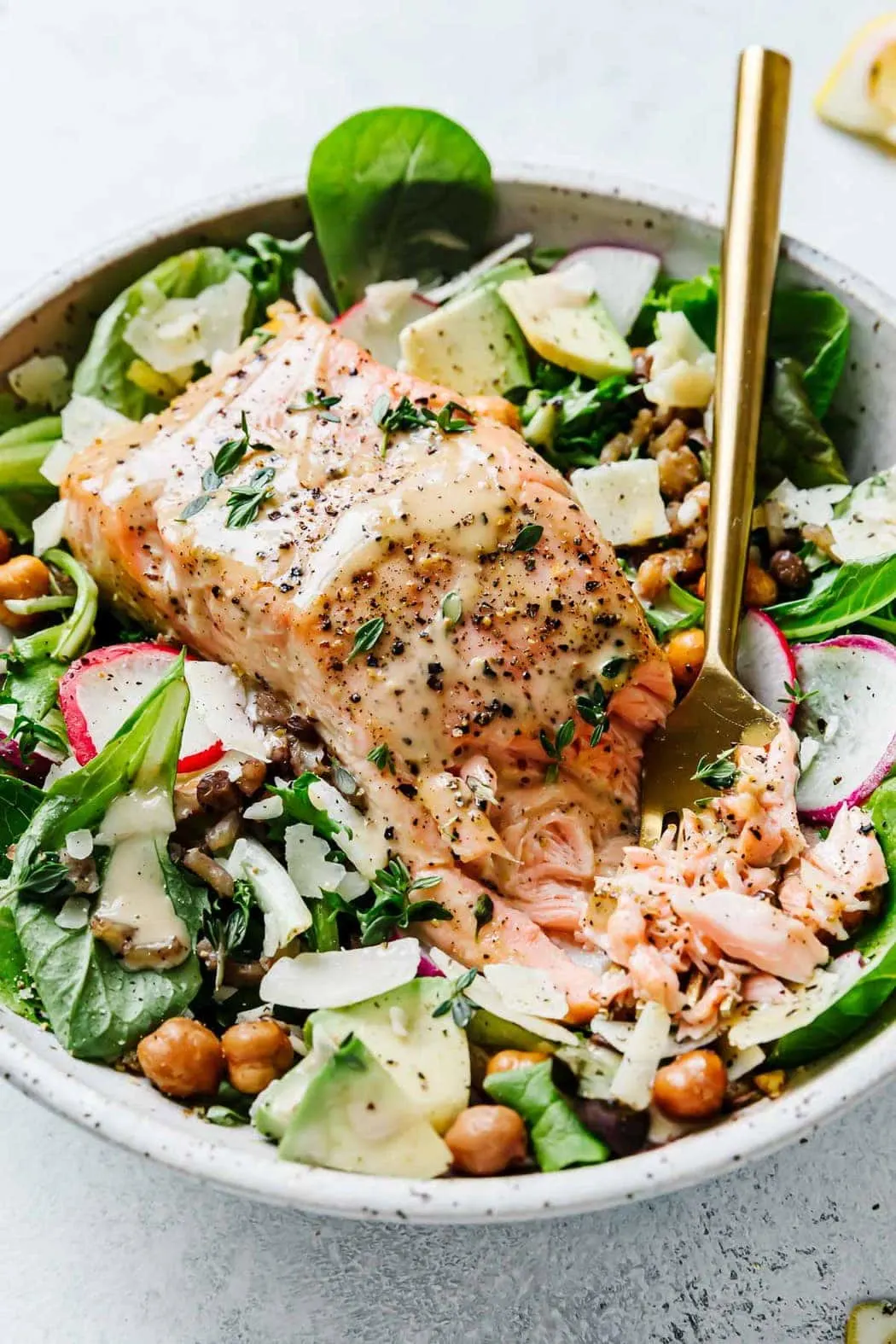 Saturday
Leftovers of takeout
Sunday
BYOM (Build Your Meal)
Week 2
Monday
Grilled steak kebabs + broccoli cauliflower salad
Tuesday
Sheet pan chicken shawarma bowls
Wednesday
Leftovers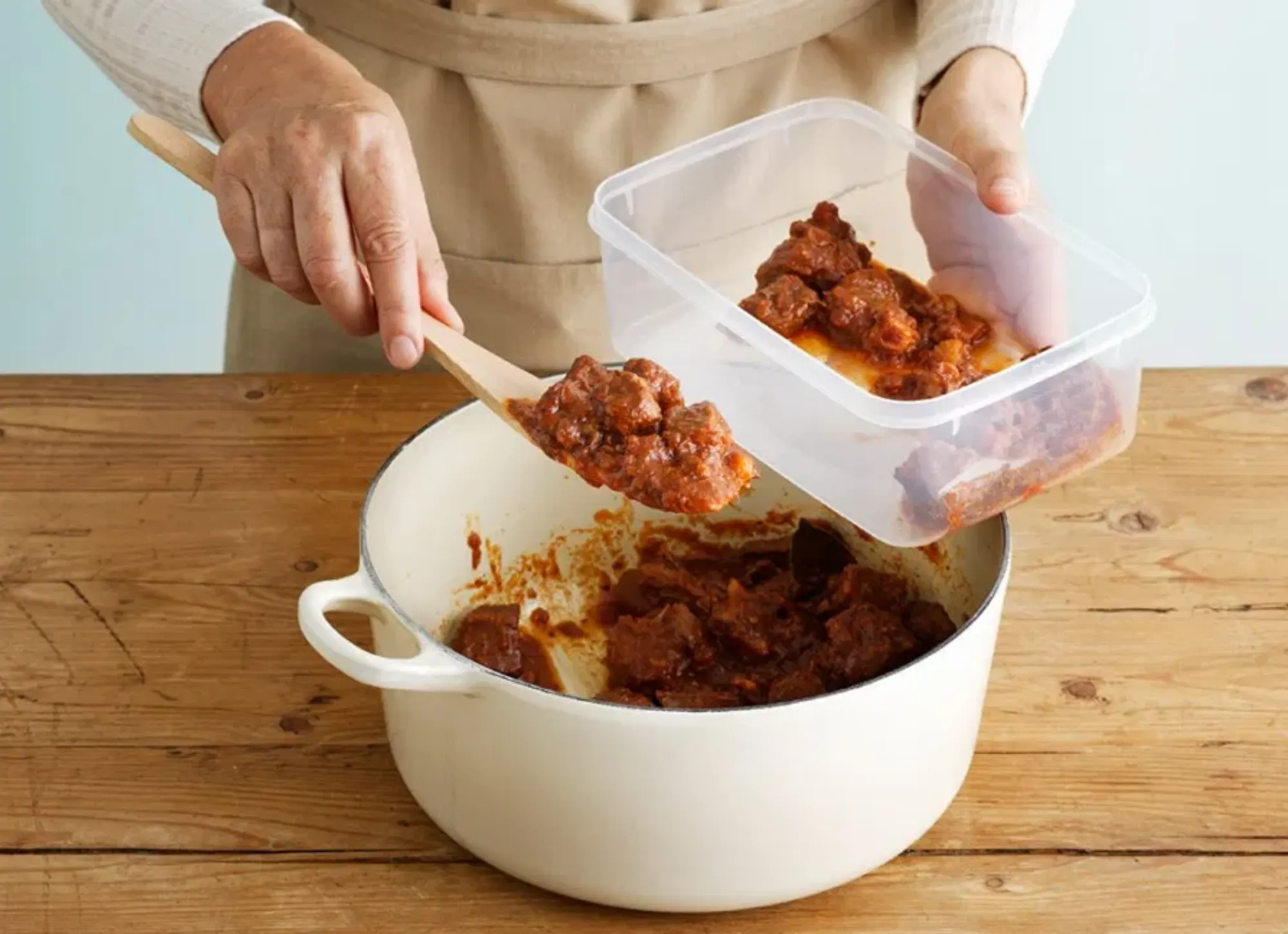 Thursday
Feta spinach turkey burgers + carrot fries
Friday
Greek quinoa salad bowls
Saturday
Leftovers or takeout
Sunday
BYOM (Build Your Meal)
Extra Tips
Making a meal planning habit is similar to making any other great adjustment in your life. Begin simple and gradually increasing your competence is a fantastic strategy to ensure that your new habit sticks.
Even though you can cook things like lasagna, stews, soups, and casseroles in bulk and freeze, to be later thawed when you need them, it will be advisable to always freeze these items in proportions you want to thaw for ease.
Try one or two different meals each week to add diversity to your diet. Use concepts like meat-free Monday or slow cooker Sunday to keep things interesting.
Examine what you may have left at the end of the week and consider how you may use those ingredients with your next meal plan.
It's critical to include foods from all kinds of foods in your diet, including healthy fats, whole grains, high-quality protein, veggies, and legumes. If your recipe doesn't include any of these, try to make up for it. This ensures that your plan is healthy.
One of the most crucial tools for meal preparation is food storage containers. To make the procedure go more smoothly, invest in good containers. Before buying a container, think about what it's for and how you'll utilize it.
Avoid going to the grocery store when you're hungry since you're more likely to make unplanned buys you'll eventually regret.
Going through your fridge can be of great help when you start planning for your healthy meals. There could be residues that you will find and then create something they could be used for.
Grocery List
Protein
2 1/2 lbs beef chuck roast
1 1/2 lbs boneless, skinless chicken breasts
2 pork tenderloins (about 2-2 1/2 lbs in total)
1 1/2 lbs salmon fillets (4-6 fillets) – may substitute chicken
Produce
1/2 medium yellow onion
2 garlic bulbs (or heads)
4 limes
3 lemons
1 medium zucchini
1 red onion
1 large bell pepper (any color)
1 small English cucumber
2 medium avocados
1 lb asparagus
2 large heads of romaine (8 cups)
1 cup radishes
2 Tbsp. fresh oregano leaves ( or two tsp. dried)
1 Tbsp. fresh dill (or one tsp. dried)
1 cup fresh herbs of choice
Dairy
1/2 cup greek yogurt (use non-dairy yogurt for dairy-free)
3/4 cup shredded parmesan cheese (omit for dairy-free)
3 tbsp. Tomato paste
1 tbsp. Apple cider vinegar
1 tbsp. Coconut sugar or brown sugar, opt.
1 1/3 cup cooked brown rice or quinoa (90-second packs work great)
1/2 crunchy or crispy chickpeas (such as being)
6-8 skewers (wooden or metal)
Seasonings
fine salt and black pepper
1 tbsp. + 1 tsp. ground cumin
3 bay leaves
1 tbsp. Dried oregano
1 pinch ground cloves
1/2 tsp. Red pepper flakes
2 tsp. Paprika
2 tsp. Garlic powder
1 tsp. Onion powder
1 tsp. Chili powder
1/2 tsp. chipotle powder or smoked paprika
First kitchen items
3/4 cup avocado oil or olive oil
1/2 cup caesar dressing and marinade
2/3 cup Greek vinaigrette and marinade, opt.
Cilantro lime dressing and marinade, opt.
Classic barbecue sauce, opt.
Conclusion
A healthy weekly meal plan is an obvious way to stay in shape while enjoying delicious meals. This habit has numerous advantages, including not eating out and controlling meal portions to maintain a healthy weight. Make sure you start making healthy weekly meal plans as soon as possible to offer yourself the best chance at good health.