Eating healthy would never go out of fashion. Usually, with healthy meals, calories consumed are of utmost concern. If you are looking to lose weight, for instance, or want to maintain a healthy eating lifestyle, this piece will be quite helpful. It outlines nutritional meal ideas which help you eat only about 1200 calories a day.
Features
The simple 1200 calorie meal plan contains nutritious options that help you achieve your weight loss goals or eat healthily. It would give you the tastes you love and leave you feeling satisfied. Any food you desire, sweet, spicy, or savory, is available on a low-calorie version. You can drink calorie free-beverages such as water, soda, seltzer, unsweetened black coffee, or tea as you want but be sure to stick to the recipe for 1200 calories a day to get the complete package of this meal plan.
Benefits of the Meal Plan
Besides making you eat clean, this meal plan ensures you have all the nutrition you need in a single plate. Studies have shown that following low-calorie meal plans can help promote weight loss. The highlight of having lesser calories is that your body is forced to burn stored body fat when you take in fewer calories required to maintain or gain weight.
Another top benefit of this meal plan is that you have to develop healthy eating habits in the long run since you watch your calorie intake. Limited calorie meals require that you make healthier food choices and still have your regular meals and snacks while being full all day long. Even though it may be challenging to modify your dieting habits, it should be easier to begin the transition by switching out poor choices with nutritious alternatives. For instance, you can switch white rice to brown rice, which is more nutritious and has fewer calories.
Furthermore, this meal plan is easy to follow. Starting a low-calorie meal plan takes less effort when consuming wholesome and fat-free foods. You have choices to make from whole fruits and vegetables, making you feel fuller while maintaining your daily calorie intake. Making lean or reduced-fat meat choices over red meat helps limit your calorie consumption while giving you enough recipes to make.
Eating healthy and unprocessed foods makes your diet plan easy and simple, even if you have health issues. This plan is also cost-effective because you tend to save costs when you eat fewer calories every day. So you cut off eating out, snacks, and processed foods since they are most times overpriced. But, on the other hand, healthier foods are inexpensive.
Consuming fewer calories also makes intermittent fasting more feasible, which adds more benefits to your body. Intermittent fasting helps you achieve health benefits such as; improves your metabolic activities, regulating insulin levels, and also promotes weight loss.
This simple meal plan is filled with healthy options that are beneficial. Be sure to consult your health care provider to ensure you are fit to go through this plan without any hassles.
Meal Plan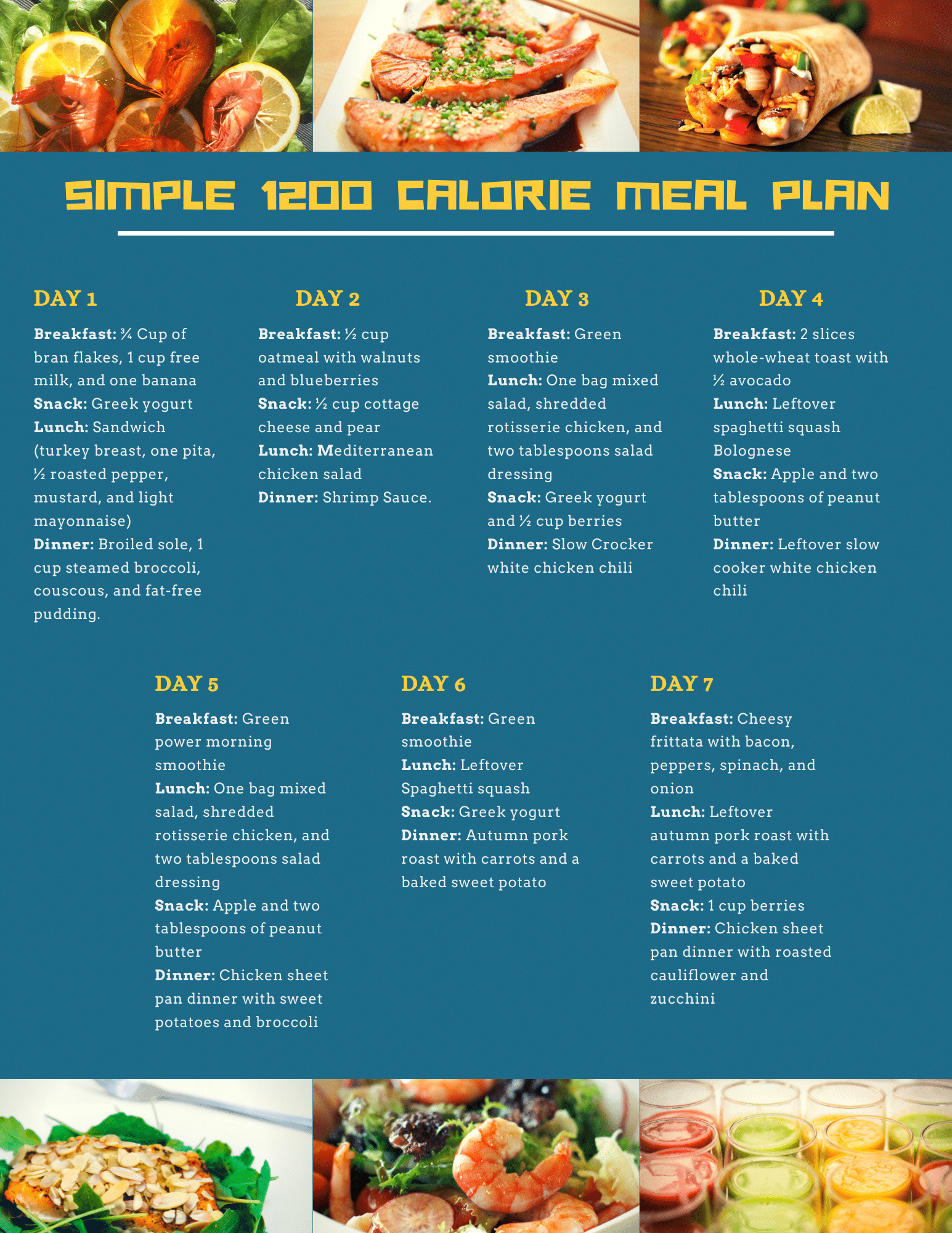 Day 1
Breakfast
¾ Cup of bran flakes, 1 cup free milk, and one banana
Snack
Lunch
Dinner
Day 2
Breakfast
½ cup oatmeal with walnuts and blueberries
Snack
Lunch
Dinner
Day 3
Breakfast
Lunch
Snack
Greek yogurt and ½ cup berries
Dinner
Day 4
Breakfast
2 slices whole-wheat toast with ½ avocado
Lunch
Snack
Apple and two tablespoons of peanut butter
Dinner
Leftover slow cooker white chicken chili
Day 5
Breakfast
Green power morning smoothie
Lunch
One bag mixed salad, shredded rotisserie chicken, and two tablespoons salad dressing
Snack
Apple and two tablespoons of peanut butter
Dinner
Day 6
Breakfast
Lunch
Leftover Spaghetti squash
Snack
Dinner
Autumn pork roast with carrots and a baked sweet potato
Day 7
Breakfast
Lunch
Leftover autumn pork roast with carrots and a baked sweet potato
Snack
Dinner
Chicken sheet pan dinner with roasted cauliflower and zucchini
Extra-Tips
Ensure all your meals are whole foods and properly prepared
Avoid processed foods and junk which can make you go beyond the calorie plan
Make sure to eat only recommended snack options
Use your afternoon snack to fill out the rest of the day's calorie
Intermittent fasting will also help achieve this meal plan better since it helps control your calorie intake.
Shopping List
Vegetables
Seafood
Tilapia
Salmon'
Tuna fish
Fruits
Blueberries
Banana
Apple
Orange
Pantry Stock
Salt
ground cumin
Bay leaves
Dried basil
Peanut butter
Meat
Diary
Greek yogurt
Cheddar cheese
Whole grain
Brown rice
Rolled oats
Frozen corn
Pasta
Others
Conclusion
Eating a healthy and controlled amount of calories helps improve your overall health is maintaining a good weight and having functional organs. This is achieved because, in this meal plan, you eat mainly whole meals and not junk. I do hope you find it helpful.