If you've been used to stovetop bacon, transitioning to the oven method can be daunting. And the main issue here is knowing how long it takes to cook bacon in it, and it's why many shy from the idea or even convince themselves that the stovetop method is better. But cooking bacon in the oven is easy, and with the right tips, you won't have to worry about burning your precious slices.
Bacon Nutrition Fact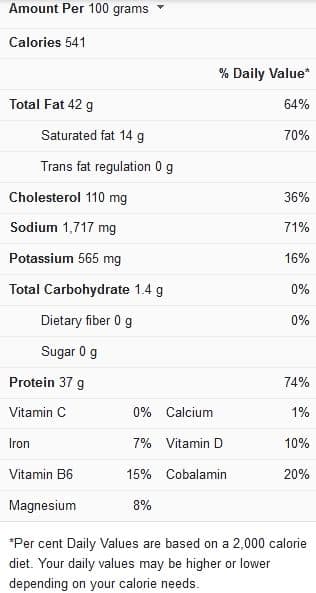 Oven-Cooked Bacon: What's the Appeal?
Not everyone is as open-minded about changing cooking methods as you may be. Some may even consider it a total time waster even to try. But before you jump on such a bandwagon, note that cooking bacon in the oven is an excellent choice. And we'll explain using these few of the many perks it offers;
Simple Steps: The procedure for cooking bacon in an oven is so straightforward; anyone with craving can whip them.
Larger Batches: Because the oven has more space, you can cook as many strips of bacon as you desire, with room for more.
Cleaner Cooking: One main problem with frying bacon is dodging the constant assault of grease splatter. But this problem is solved when it's cooked in the oven.
Lesser Grease: The messy, greasy aftermath of cooking bacon on the stove can be annoying. But with the oven, the grease is collected in a drip pan, meaning almost no need to clean up!
Hands-Off: You don't have to babysit oven bacon recipes. Once they're arranged on the tray and seasoned, you toss it in and probably only check once if you're fussy.
Quicker Time: Considering how many slices you can cook in the given time, it's safe to say frying bacon in an oven is a speedier option.
 

View this post on Instagram

 

Cooking Time for Baked Bacon
When cooking bacon in an oven, three factors are considered. The first is its thickness, as bacon can either be thick-cuts or thin-cuts. Most regular bacon strips are thin-cuts, which explains their flabbiness and speedier cooking. But thick-cuts are larger, with more apparent density, so they take longer to cook.
Next, you want to consider the temperature when you're preparing your bacon. And the higher temperatures will cook bacon faster, and vice versa. But note that bacon strips excel at a specific temperature mark, and exceeding this can ruin the slices.
Finally, you also want to consider crispiness. Not everyone wants bacon the same way; some of us may prefer our strips to have a bit more crunch to the texture. And the best way to achieve this is by determining the best temperature to cook bacon and how long it should sit.
So, it's safe to say then bacon strips should be cooked in the oven thus;
Regular cuts- 12 minutes (plus one to two minutes for extra crispy)
Thick cuts- 15 to 20 minutes (plus two or three minutes for extra crispy)
Also, note that these numbers are set for a 400F oven, which we conclude to be perfectly right for properly frying bacon.
 

View this post on Instagram

 

More Tips
Bacon strips can be seasoned with a simple sprinkle of pepper before cooking. But if you're using sugar or honey to coat the surface, note that it'll extend the cooking time as the sugar needs to caramelize before it can be ready.
Thick-cut bacon takes longer to cook but can burn if ignored. So, at the 15-minute mark, check for doneness and crispiness.
Use a rack for cooking the bacon, so the pan below it will collect the greasy drippings (you can also save that for tasty recipes later). The rack also allows more heat to circulate the strips, making the doneness faster and more even.
Remember to grease the rack with non-stick cooking spray before arranging your bacon on it. Without this layer of grease, the strips will stick to the rack as they cook and develop a charred surface.
If you're making a large batch, it's best to set the oven racks at the upper and lower third slots.
You can cook two racks of bacon at once in the oven. But ensure to rotate them halfway through the cooking time for even doneness.
Once the bacon is ready, let them sit on a paper-lined plate before serving, so the extra grease can be soaked out.
You can cook large batches of bacon in the oven and then store them for eating later. Cooked bacon will last in the fridge for three to five days or three months in a freezer. But ensure to store them in airtight conditions for this purpose.
Reheat stored or leftover oven-baked bacon by running them in a 350F microwave until they grow hot at the center.
Never cook bacon that had gone bad. If the strips exude a slimy, off-color texture and strange smell, discard them immediately.
Print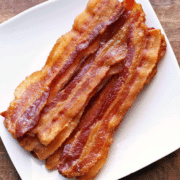 Oven-Baked Bacon (3 Servings)
---
Six bacon slices, thick-cut
Pepper (optional)
---
Instructions
Set the oven to heat to 400F, and during the time, prepare a baking pan by lining it with foil. Put an oven-proof rack on the lined pan and coat lightly with cooking spray.
Sort the bacon strips on the rack to be properly spaced, and sprinkle the top with pepper. Flip the slices and sprinkle the back with more pepper (skip this step if you prefer your bacon plain).
Place the bacon strips in the oven and bake for 20 minutes, checking for the right crisp at the 15-minute mark. You want the bacon strips to reach a golden brown with crispy edges and no burns.
When the strips are ready, take the tray out and transfer the bacon to a paper-lined plate. Let them soak for a bit, so the paper towels mop up the extra grease. Then, serve as desired.
For more help, here's a video recipe you can watch.