Lemon Pepper Shrimp Recipe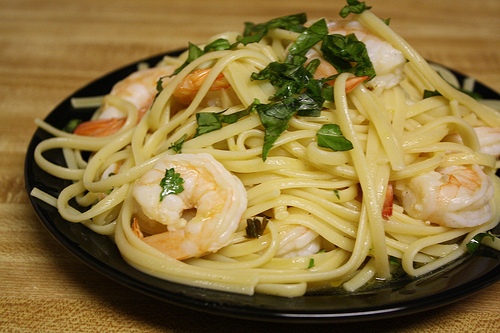 Lemon pepper shrimp goes at the top of my list when it comes to quick and easy meals. This dish can be on the table in 40 minutes or less and the results are fantastic.  The shrimp are cooked in a lemon butter sauce and then served over a bed of pasta. This dish reminds me some Shrimp Scampi. To give you an idea of how good this recipe is, some of the sauce ingredients include lemon juice, butter, chicken broth, and white wine. You can either make the shrimp with the tails removed or leave them on if you prefer. I really like the combination of parsley and fresh basil added into the sauce. I feel the basil adds a really nice flavor to this dish. Enjoy.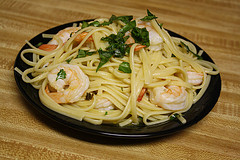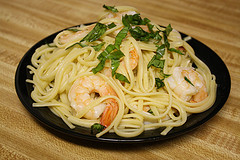 Ingredients:
1 (8 ounce) package linguini
1 tablespoon olive oil
6 garlic cloves (minced)
½ cup chicken broth
¼ cup white wine
1 lemon (juiced)
½ teaspoon lemon zest
salt to taste
2 teaspoon freshly ground black pepper
1lb fresh shrimp (peeled and deveined)
¼ cup butter
3 tablespoons fresh parsley (chopped)
1 tablespoon fresh basil (chopped)
Cooking Instructions: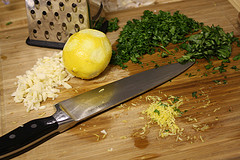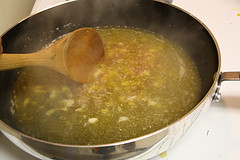 Step 1: Cook pasta according to package directions. Drain and set aside. Heat oil in a large sauce pan over medium heat. Add garlic and sauté for 30 seconds. Add chicken broth, white wine, lemon juice, lemon zest, salt, and pepper. Reduce heat and simmer until the liquid has reduced by about ½.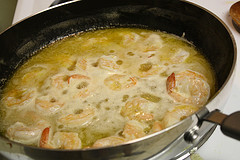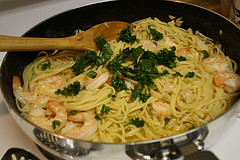 Step 2: Mix in shrimp, butter, parsley and basil into the saucepan. Cook for 2 to 3 minutes until the shrimp are opaque.
Step 3: Stir in the cooked linguini and continue cooking for 2 minutes, until well coated.
(Makes 4 Servings)