Bacon cooked in the air fryer might just be the best bacon you'd prepare. The outcome is enticingly crispy, quite easy to make, and it has this sweet heavenly smell you can't resist. 
Notably, air-fried bacon can be used in any recipe that calls for cooked bacon. Moreover, the best thing is that while you're preparing the meal, the air fryer will cook the bacon for you.
Bacon Nutrition Facts
Why Cook Bacon in An Air Fryer
The air fryer makes very crispy bacon without the need for so much oil or any time wasted standing over a hot skillet.
It is faster than preheating the oven and excellent for small amounts. You can still receive all of the enticing bacon aromas without exerting too much effort, which we can get behind.
Another advantage of air frying bacon is that you get a nicely curled and crispy outcome, whereas cooked bacon tends to lay flat.

Tips to Cook Bacon in An Air Fryer 
Make sure the basket isn't too full – If you want your bacon to be crispy and uniformly cooked, don't overcrowd the basket. Putting too many slices on top inhibits the food from browning and crisping. When air frying any dish, it's important to make sure there's enough airflow around each piece.
To avoid smoking, keep the drip tray clean – When bacon crisps, it releases a significant amount of fat, which drops into the drip tray. Avoid this mistake by clearing off the air fryer drip tray before and after cooking. Plus, you should not cook at a temperature higher than the smoke point of bacon fat. You can also place a piece of bread in the drip tray to absorb extra grease. 
 

View this post on Instagram

 

Cooking Bacon in An Air Fryer 
With its delightful crispiness, you might enjoy this a little too much. This quick and easy air fryer bacon dish cooks in just 10 minutes. See the easy steps:
Preheat The Air Fryer
Preheat your air fryer to 350 degrees F. Place 1-2 slices of bread under the basket in the bottom of your air fryer. This will keep any excess grease from clogging up your air fryer and producing a mess.
Put in The Bacon
Arrange the bacon in an even layer in your air fryer – if you are using long bacon strips, try to chop them in half to make them fit in your air fryer.
Cook It
Cook at 350°F for 8-10 minutes, or until the bacon is crispy to your liking. Then remove it and eat right away. 
Print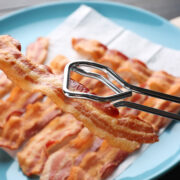 Can You Cook Bacon in An Air Fryer
---
---
Instructions
Divide the bacon in half. Then put the first half of the bacon in the air fryer
Preheat the oven to 400 degrees Fahrenheit and set the timer for 10 minutes. You can use less time for thinner bacon.
You should check it halfway through to see if anything has to be moved.
Cook it for the remaining time. Check well for the specified level of doneness. If you prefer them very crispy, you can cook them for an additional 1.5 minutes. Trust me, they will come out excellent.
To understand more about cooking bacon in the air fryer, see this video recipe