Lasagna is a wide and flat pasta dish that originated in Italy. Lasagna is most likely one of the oldest types of pasta. It's an Italian dish with alternating layers of thin flat pasta and tasty filling. Meat, vegetables, sauce, and cheese are common filling ingredients. Traditional pasta recipes include an egg as a binder. People sometimes believe that there is no lasagna without eggs. However, this attitude is completely incorrect.
If you're a vegetarian, have an egg allergy, or have run out of eggs at the last minute, what will you do? Go through the whole article to get your answer. You might also be wondering how to make eggless lasagna. This may appear to be a monumentally difficult task. Some may believe that preparing everyone's favorite dish without eggs is impossible. This is most emphatically not the case.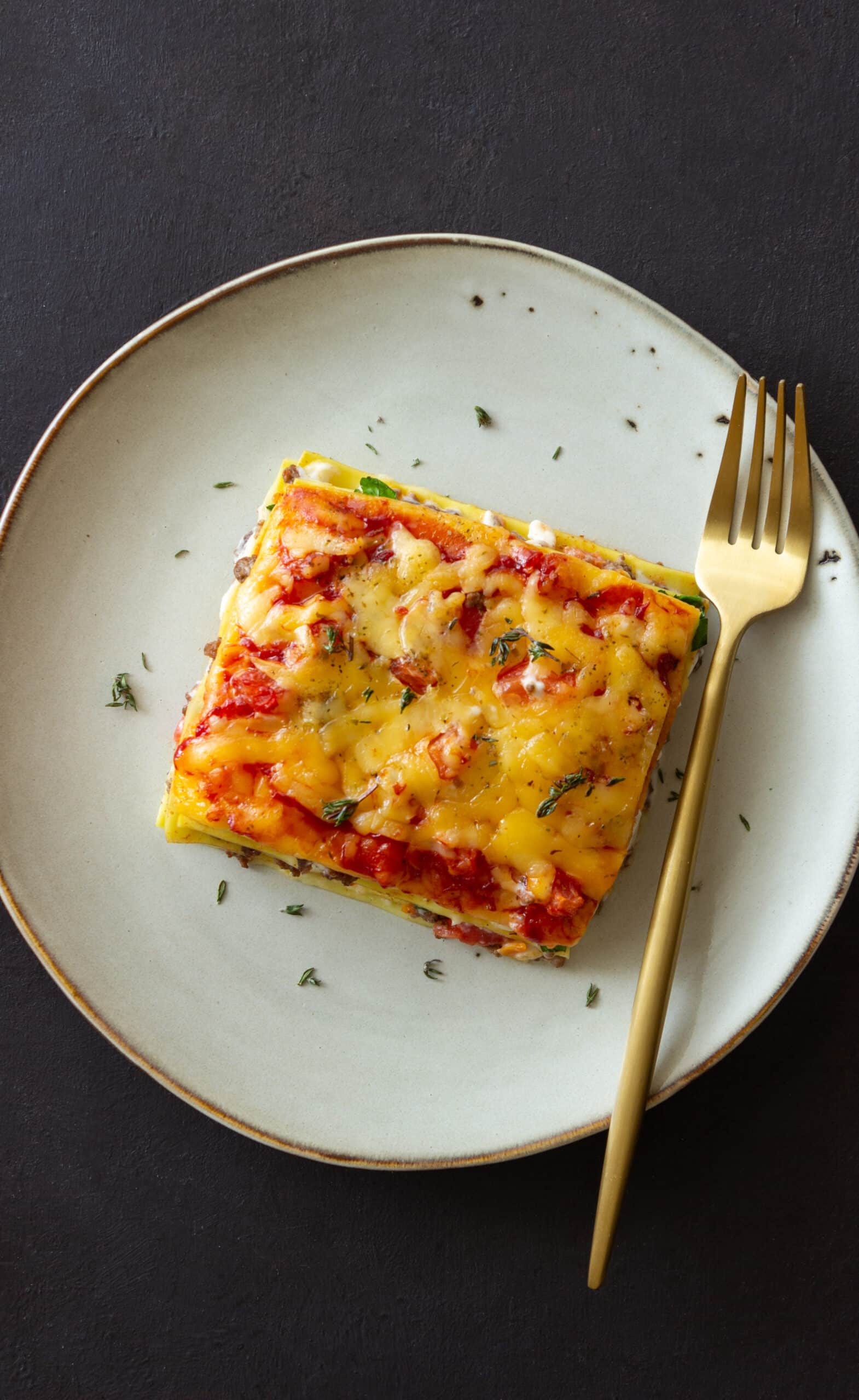 If you're in one of these situations, or if you're on a low-cholesterol diet and must avoid eggs, we've got all the best alternatives lined up. There are plenty of great egg substitutes for lasagna, and we've compiled a list of them right here! We understand how difficult it can be to replace certain ingredients in foods you enjoy, and we don't want you to stop eating your favorites. You won't even notice a difference, and who knows, you might even like them better!
Continue reading to find out which is best for you!
Here are the best egg substitutes for lasagna, so there's something for everyone.
Best Egg Substitutes in Lasagna
If you use any of the following egg substitutes in lasagna, you'll get a creamy dish with an incredible depth of flavor and an irresistible texture.
Flaxseed with Water
As a binder, a mixture of water and flaxseed works well in place of eggs. You can even bake cakes and muffins with water and flaxseed. Simply add a little water to the crushed flaxseed and work it until the mixture becomes sticky.
Water dissolves the flax fibers known as mucous or the sticky part of the seed layer. This stickiness is what gives the mixture its consistency. One egg can be replaced with one tablespoon of flaxseed and three tablespoons of water.
Chia Seeds with Water
Chia seeds combined with water form a sticky, gooey paste similar to water and flaxseed. It works well as an egg substitute in lasagna. To replace one egg, combine one tablespoon of chia seeds with two and a half tablespoons of water. If making vegan lasagna, combine the chia gel with the ricotta or spread it evenly across each layer.
Unsweetened Zucchini Puree
Replace the eggs in your lasagna recipe with zucchini. Unsweetened zucchini puree is one of the most neutral egg substitutes in lasagna, retaining the traditional texture and flavor
Pumpkin puree is another option that works just as well. The flavor of the squash, on the other hand, is slightly stronger. When using fall ingredients like zucchini or pumpkin, try replacing the traditional red sauce in your lasagna with a sage-based white sauce. The flavor profiles enhance the earthy richness.
Bechamel Sauce
Take your traditional lasagna to the next level by omitting the ricotta cheese and the egg. Make a bechamel sauce to replace the eggs and ricotta at the same time. To make a silky smooth bechamel, whisk together the flour, milk, and butter.
Mix in your preferred hard or semi-soft cheese. Mozzarella, parmesan, and vegan cheese are all excellent choices. In no time, you'll have a sauce to apply to each layer of lasagna, repeating the process throughout the dish. Without the egg, you get the same flavor-fusing and binding effect.
Plain Yogurt
Plain yogurt is another egg substitute that allows you to substitute hard or semi-soft cheese for the ricotta. To replace an egg, use about a quarter cup of plain yogurt. Spread the mixture evenly over each layer.
Regular yogurt has the same structure as ricotta, but it sticks better because it is thicker. If you don't want to use eggs, replace them with unsweetened plain yogurt. Then, either add to the ricotta or blend with another cheese to thicken it. It will make your lasagna creamier.
Tofu And Yogurt
Make a paste of your tofu and combine it with the yogurt. To replace one egg, combine 1/8 cup silken tofu and 1/8 cup yogurt with a pinch of baking soda. This gives the mixture leavening properties, allowing it to set.
You can also use a quarter cup of tofu on its own, but the texture is closer to ricotta and egg if you blend it. Spread the mixture liberally over each layer.
Cream With Cornstarch
In lasagna, cream with cornstarch works well in place of eggs. Heavy cream makes the creamiest lasagna. Beat the cream until thick, adding a little cornstarch as needed to achieve the desired consistency. Finally, combine this with your ricotta to make an egg-free lasagna.
Cream With Potato Starch
Whisk your cream until it thickens, adding a little potato starch at a time until you reach the desired consistency. You want a blend that's about the thickness of ricotta. When it's done, combine it with your favorite cheese (preferably ricotta) and spread it on each layer.
Heavy cream and potato starch are preferred by some over heavy cream and cornstarch. Its bland taste serves as a more neutral binder.
Water And Arrowroot
A mixture of arrowroot and water, like water and flaxseed, is an excellent binder. When omitting eggs from most pastries, such as lasagna, it works well. Combine one tablespoon of sage powder and two tablespoons of water to make the perfect lasagna blend. After thoroughly combining, combine with the cheese and spread evenly over each pasta layer.
Mashed Potato
Potatoes cooked soft and then mashed provide a thickness that works well as a binder for lasagna. Spread the mashed or pureed potato with ricotta cheese on each layer.
With this substitution, you can completely eliminate the cheese for a vegan option. Vegetable puree is delicate, and dense, and provides the satisfying texture that lasagna requires.
Mashed Parsnip
The earthy nuttiness of mashed parsnip makes it an excellent substitute for eggs. After mixing it with the ricotta, spread it evenly across each layer as you would mashed potatoes. Remember that parsnip will give your dish a sweeter flavor, so adjust your sauce accordingly.
Applesauce
Applesauce is a sweet substitute for eggs that work well in lasagna. To replace eggs in lasagna, use a quarter cup of applesauce. If you use sweetened apple sauce, your lasagna will be overly sweet and strangely tangy.
Avocado
Mash or puree an avocado to use as an egg substitute in lasagna. Spread the avocado evenly across each layer before adding the ricotta.
Alternatively, combine the avo and ricotta ahead of time. If you decide to blend, the avocado flavor will be much more prominent. This is an egg substitute that binds well and adds a lot of creaminess, but it will significantly change the flavor of your lasagna.
Sour Cream
To replace the egg in the lasagna, add a quarter cup of sour cream. We recommend combining it with your ricotta or spreading it as-is in each layer after beating it with a little cornstarch. There will be a subtle flavor difference, making the lasagna more tangy and savory.
Furthermore, the sour cream brings out the flavor of the cheese, making traditional lasagna even richer and more decadent.
Water and Chickpea Flour
Chickpea flour and water paste are other egg substitutes in lasagna. It is also a gluten-free substitute that can be used in both savory and sweet recipes.
You must combine it with water to make a thick paste. It works well as a binding agent in lasagna without altering the original flavor.
A thick and creamy paste of 3 tablespoons of chickpea flour and water can be used in place of one egg. It also firmly binds ricotta cheese and provides a sturdy finish to lasagna.
It is typically light yellow, similar to an egg, and contains nutritious proteins. Furthermore, the chickpea flour paste adds moisture to the lasagna.
Aquafaba
Chickpeas in a strainer with aquafaba liquid draining into a glass mixing bowl.
Another popular vegan egg substitute is aquafaba, which you most likely already have in your pantry! It's the liquid leftover from canned beans if you've never heard of it.
It has the starchy, thick, liquid consistency of an egg.
Simply drain a can of beans into a bowl to make aquafaba.
To replace one egg, use 3 Tablespoons.
What are Some Best Recipes for Lasagna?
Below We've Listed Some of the Best Lasagna Recipes.
Grandma's Lasagna
This recipe includes three different Bolognese-style lasagnas with creamy béchamel sauce before deciding that the ultimate lasagna had to have tomato sauce, chunks of meat, shredded mozzarella, and creamy ricotta cheese.
Zucchini Lasagna
This lasagna is hearty and comforting, with roasted zucchini slices replacing the usual pasta. Roasting the zucchini preserves its texture and prevents the finished dish from becoming soggy.
Wild Mushroom Lasagna
Fresh pasta sheets from the store are layered with wild mushrooms in a creamy wine sauce in this decadent lasagna.
Pumpkin Lasagne
There's no need to roast fresh pumpkin for this dish (though you could); canned unseasoned pumpkin puree is much faster and just as tasty. This lasagne, like most, is easier to cut if allowed to sit for ten minutes or so before serving.
Free-Form Sausage-and-Three-Cheese Lasagna
This cheesy lasagna is loaded with sausage and cheese. Instead of being traditionally layered, free-form pasta can be arranged in a variety of ways, such as folded over the filling.
Celery Root and Mushroom Lasagna
"We only make lasagna for special occasions like Christmas in Marche," Fabio Trabocchi explains. He layers flat noodles with a supremely rich sauce, a root-vegetable ragù, fresh mozzarella, and whole basil leaves in this streamlined version of his luxe lasagna in Bianco (white lasagna).
Lasagna-Style Baked Pennette with Meat Sauce
Chef Tom Valenti's ultimate make-ahead meal is this hearty, meaty baked pasta. "The next day is actually better," he says. "I always make more than I think we'll need—and we never finish it."
Is it Possible to Make Lasagna without Eggs?
Yes, you can make perfect lasagna without using eggs. There are so many different ways to substitute eggs nowadays, and no matter which ingredients you use, you will still end up with a tasty and delicious dish.
It's not as simple or quick to get everyday staple foods, whether you're cooking for vegans, have an egg intolerance, allergies or sensitivities, or have simply run out of eggs.
Whatever the reason, you can still prepare delicious dishes by using some of our suggested substitute ingredients when making lasagna.
Whatever the reason, you can still prepare delicious dishes by using some of our suggested substitute ingredients when making lasagna.
The "tasks" of eggs in a dish include tying the recipe together, allowing it to rise, and moisturizing it. Some recipes call for only the white, while others call for only the yolk.
Some recipes do not require eggs if other ingredients that provide moisture are used. Some of the alternatives can change the texture or flavor of your recipe, so choose them carefully.
Avoiding or omitting eggs in your dish does not require you to give up the flavor.
Eggs are not required in lasagna, and there are numerous ways to use a substitute in cooking and baking. Feel free to play around with the substitutes listed above to see which ones compliment the other ingredients and best match your favorite recipe.
Is it Possible to Find Egg-Free Lasagna Sheets?
Actually, the vast majority of the noodles available at your local supermarket do not contain eggs. Those who do will be clearly labeled.
Look for sheets labeled "pasta all'uovo," which translates to "pasta with eggs" in Italian. Durum pasta is also usually a safe bet, but check the back of the box to be sure. All manufacturers must provide a detailed list of ingredients.
What Role does an Egg Play in a Lasagna Recipe?
In a baking dish, oozing ricotta cheese between layers of lasagna. Adding an egg to ricotta cheese helps to bind the cheese for lasagna, preventing it from oozing out when the casserole is cut.
Why do you Use Eggs in your Ricotta Cheese Lasagna?
Allow the eggs in the ricotta cheese in lasagna to be left out if you prefer. We have devised a solution for your convenience. The only way to eliminate eggs from your lasagna is to thicken the sauce.
Can you Make Lasagna Using Only the Yolk?
If you only use the yolk, it will bind and be richer and creamier (like a custard). There's also the water from the egg. Of course, you don't need the egg and can omit it entirely; your lasagna will still be fine but may not cut into perfect pieces.
Conclusion
If you're allergic to eggs or don't have enough for a specific lasagna recipe, try these alternatives. Each of these egg substitutes for lasagna will help fill the void. You'll be surprised at how well lasagna turns out when you use any of these fantastic ingredients. There are no compromises in terms of texture or flavor. Which of these is your favorite?