Grilled Chicken Parmesan Recipe

If you are looking to prepare chicken parmesan without the use of an oven, this grilled chicken parmesan is perfect for you. This recipe differs from normal chicken parmesan because the chicken is not breaded at all. The chicken is seasoned with salt and pepper and then grilled and topped with a homemade marinara sauce and mozzarella cheese. The sauce gets a lot of its flavor from ingredients such as crushed tomatoes, parmesan cheese and fresh basil. You can use either an outdoor grill or an indoor grill pan for this recipe. If needed the chicken could also be cooked in the frying pan. I like to serve this dish with linguini noodles and garlic bread. Enjoy.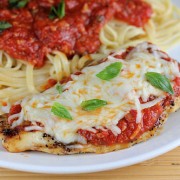 Grilled Chicken Parmesan
Ingredients:
1 tablespoon unsalted butter
2 tablespoons finely chopped onion
salt and ground black pepper (to taste)
1 garlic clove (minced)
1 (14.5 ounce) can crushed tomatoes
½ cup grated parmesan cheese
2 tablespoons fresh chopped basil
1 tablespoon olive oil
6 chicken cutlets (about ½ inch thick)
1 cup shredded mozzarella cheese
Directions:
Melt the butter in a medium sauce pan over medium-low heat. Add the onion and ½ teaspoon of salt and sauté until the onion is golden brown (about 3 minutes). Add in the garlic and cook until fragrant (about 30 seconds).
Stir in the crushed tomatoes and bring to a boil. Reduce heat and simmer for 10 minutes. Remove the pan from the heat and stir in Parmesan cheese, fresh basil, and olive oil. Season with salt and pepper to taste.
Season the chicken breasts on both sides with salt and pepper. Lightly grease the grates of an outdoor grill. Heat the grill to medium-high heat. Add the chicken breasts and cook until browned on one side (3-5 minutes). Flip the chicken breast and cook on the other side. Cook the chicken until it is browned on both sides and fully cooked (the internal temperature has reached 165 Degrees F.). During the last few minutes of cooking, top each chicken breast with about 2 tablespoons of the tomato sauce, and some of the mozzarella cheese.