We're always looking for easier ways to make popular recipes. And with dishes like bacon, it may feel like there are too many methods to need. Plus, with each new idea comes the need to master different cooking temperatures. But you can never have too much information, and the same applies to cooking bacon.
Though bacon remains one of the tastiest quick recipes we can make, it does come with a few quirks. Cooking it on the stove means you have to deal with grease splatters. And you may consider it a waste of energy to roast a small batch in the oven. But the air fryer offers a double advantage in these angles, as it's less messy and allows fast cooking for small amounts. Still, it helps to understand how long the bacon strips need to cook in the air fryer before you start.
Air Fryer Bacon Nutrition Facts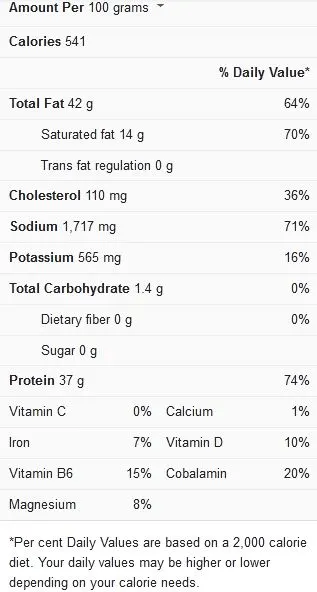 Tips for Air Fryer Bacon
Apart from mastering the suitable cooking duration, a few other factors come into play for the best air fryer bacon strips. Not only will these tips help to give it the perfect crisp, but they also help to eliminate the possibility of a smoky kitchen.
Cook at a Low Temperature-Bacon is fatty, which means it smokes when cooked for long. Luckily, the smoking point of bacon grease is at around 400F. By this measurement, cooking the strips at a lesser temperature means you can prevent such from happening. And an excellent place to start is at 350F.
Make Sure the Air Fryer is Clean-When using the air fryer for cooking bacon, it's always best to clean the appliance beforehand. The interior tends to accumulate grease, and if not properly cleaned, it'll cause the fryer to smoke as you cook.
Space the Slices- Overcrowding the air fryer will cause grease to accumulate in it and smoke up quickly. So, try cooking the bacon in batches if they can't all fit in the air fryer. But make sure to completely clean the grease from the container before starting each set.
View this post on Instagram

Cut Up the Bacon Slices- To quicken cooking, consider cutting the bacon slices crosswise into halves before setting them in the container. The strips will also easily fit in the air fryer at this size, with enough space between the pieces.
Line the Air Fryer with an Absorbent-Consider placing some absorbent material at the lower pan of the air fryer before cooking. A slice of bread is one way to soak up the accumulated grease. You can also line the pot with parchment paper specially made for air fryers. These types tend to have holes in them so the hot air can easily circulate in the fryer. Or you can consider adding some water to the lower pan so the grease is neutralized.
The magic temperature for air fryer bacon is 350F. This level sits perfectly at a lower range and below the 400F smoking point of bacon grease. But the bacon strip'sthickness, as well as the speed of your air fryer, determines how quickly it cooks. Still, at 350F, thicker slices will cook for about nine minutes, while thinner slices will take around five minutes.
View this post on Instagram

Serving Ideas for Air Fryer Bacon
Air fryer bacon strips come out super crispy and pair exceptionally well with vegetable side dishes. You can offer them broccoli, cabbage, or cauliflower salads. They're also great with roasted vegetables like baked potatoes and asparagus, and squash carbonara. And it can be served with pasta, on pizza, or in sandwiches with chicken and cheese.
Air fryer bacon also works excellent on breakfast dishes and goes well with egg muffins. Plus, they also make a wonderful addition to soups and slow-cooked crockpot sauces.
Print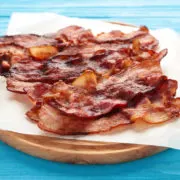 Air Fryer Bacon (2 servings)
---
Four bacon strips, cut into halves crosswise
Black pepper
---
Instructions
Clean the air fryer to remove residue oil or grease and prevent smoking. Then heat it to 350F and line the bottom with specially made parchment paper.
Place the cut strips in one layer in the basket and lower it into the air fryer. Then, sprinkle some black pepper over them and cook for five minutes. If the strips are thick, let them cook to crisp for about nine minutes. Be sure to monitor the progress, so the bacon doesn't get burned.
Transfer the strips to a plate lined with paper towels when they are cooked to the desired doneness. If you wish, blot the excess grease off with more paper towels as the bacon sits. Then, serve as desired.
Also, watch this video for more ways to check cooking time for air fryer bacon.