Rack of lamb is a sophisticated supper option, ideal for entertaining guests and spreading holiday cheer. When cooked using the right ingredients and method, you're sure to end up with a meal so good you'd crave more. Don't know what to do with a rack of lamb? That means this article was written for you.
Here, you'll find out what goes into making a classic rack of lamb recipe and tips to help you get the best results. So, sit back and relax because, in no time, you'll be a pro at cooking delicious rack of lamb recipes.
Lamb Nutrition Facts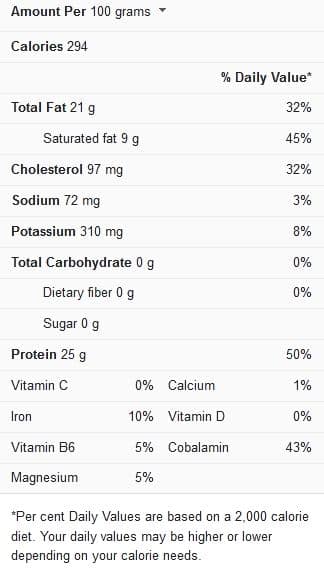 Tips for Cooking a Rack of Lamb
Rack of lamb recipes tastes great, but the degree of relish to expect depends on the steps taken to cook up the recipe. If you want the best results with a rack of lamb recipe, then you must pay attention to the following tips:
Shopping suggestions – Look for pink or rosy red meat when buying lamb at the butchers. Any lighter red beef is older and will be less tender. Look for fine-grained pink meat with firm white fat.
You can buy a rack of lamb that has already been "Frenched," which means the rib bones have been exposed. You can ask a full-service butcher or even a grocery butcher to French them for you. You can also buy an untrimmed rack and trim them yourself if you prefer to cut some costs.
Always use a meat thermometer – We strongly advise using a thermometer when roasting a rack of lamb. Why? Because racks of lamb aren't inexpensive, and we don't prepare them all that often. Cooking the rack of lamb with a meat thermometer eliminates all guessing.
To check for doneness, insert a meat thermometer into the thickest section of the meat. If it's rare, it should be 125°F, and if it's medium-rare, it should be 135°F. Remember that the temperature will continue to rise after you remove it from the oven to cool.
For easy entertaining, the season ahead of time – 1 to 3 days before roasting, season the meat. Refrigerate it in an airtight zip-top bag until showtime. Just remember to remove it from the oven 1 ½ to 2 hours before roasting. To ensure consistent cooking, bring it to room temperature.
Suggested Serving – Want to know what side dishes go nicely with lamb? There are so many available options to explore. Roasted vegetables, particularly roasted asparagus, are usually an excellent choice. Risotto also pairs really well with lamb. However, grain salads, such as farro salad, are a healthier option. A simple spinach salad with crunchy roasted potatoes would be equally delicious.
 

View this post on Instagram

 
Cooking Time for a Rack of Lamb
Follow the timing guidelines in this table below to get the best out of your rack of lamb:
| | |
| --- | --- |
| Cooking temperature | Cooking time |
| 450 F | After preheating the oven to 450 F, roast the lamb for 10 minutes. Roast for longer if using several racks |
| 300 F | When the heat has been reduced to this temperature, roast for another 10 to 20 minutes |
Print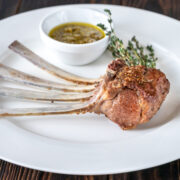 Classic Rack of Lamb Recipe (2 to 3 Servings)
---
1

or more Frenched lamb rib racks with 7 to 8 ribs each (

1 ¼

to

2

pounds for each rack)
For each rib rack:
---
Instructions
Rub the rosemary, thyme, and garlic mixture all over the rib racks. Add the salt and ground black pepper to season the rib racks. Place the olive oil in a thick plastic bag.
Using your hands, slather the lamb rack(s) in oil all over. Seal the bag ensuring that you've squeezed out as much air as possible. Fill a container with water to collect any leaks.
Marinate overnight in the refrigerator or for 1 ½ to 2 hours at room temperature while the lamb comes to room temperature in the following step.
Remove the lamb from the fridge 1 ½ to 2 hours before cooking to allow it to come to room temperature. If the meat is not at room temperature before cooking, it will not cook uniformly and may remain raw on the inside while the outside is done.
Preheat the oven to 450 degrees Fahrenheit. Arrange the oven rack to place the lamb in the center of the oven.
Make shallow, sharp slices through the fat, spaced about an inch apart, to score it. More salt and pepper should be rubbed all over the rack. Place the bone side down (fat side up) lamb rack on a foil-lined roasting pan. Wrap the exposed rib bones with foil to prevent them from burning.
Put the roast in the oven at 450°F and roast for 10 minutes (or longer if using several racks), or until the surface is well browned.
Reduce the temperature to 300 degrees Fahrenheit. Cook for another ten to twenty minutes (depending on the size of the lamb rack, if you are roasting more than one rack, and how rare or well done you want your lamb). For rare or medium-rare, a meat thermometer inserted into the thickest section of the meat should read 125°F.
Use a meat thermometer to ensure that the meat is cooked to the desired temperature. Cooking time is influenced by a variety of factors, including the shape of the roast, fat marbling, and the features of your oven. This roast is just too beautiful and tender to be overcooked.
Remove from the oven, cover, and set aside for 15 minutes.
By slicing between the bones, separate the lamb chops from the rack. Per person, serve 2-3 chops.
Notes
This rack of lamb recipe is sure to deliver mouthwatering results onto your plate, so feel free to try it out. The entire cooking duration for this recipe is 2 hours and 5 minutes, with a marinating time of 90 minutes, a prep time of 10 minutes, and a cook time of 25 minutes. If you'd like more rack of lamb recipe ideas, then you'll want to see this video recipe.