It really can't get any better than cooking brats using an air fryer. When brats are cooked this way, they typically get packed with tons of delicious flavor, and the entire process is so quick and easy, only 15 minutes from start to finish.
If you have no experience cooking brats in an air fryer, this article will guide you through all the right things to do to obtain the right results. Pay close attention to tips and suggestions, as well as ideal timing guidelines to follow for the most delectable results.
Brats Nutrition Facts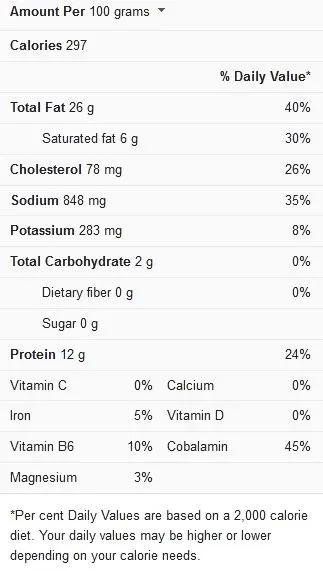 Tips for Cooking Brats in the Air Fryer
Cooking brats using an air fryer as the choice method is quick and easy, but there are still a few tips to have up your sleeves for great results. Pay attention to the following:
Why the air fryer is an ideal choice – Cooking brats in an air fryer is something you should try because the results are amazing. There would be no need to sit over a scorching grill in the summer heat. You would also have fewer concerns about grease splatters from frying them in a skillet on the stove.
You'll also no longer be restricted to enjoying your favorite brat recipes solely during grilling season. What's more, you can have delicious brats all year long with an air fryer, keep the mess contained, and avoid the heat, a complete win-win situation on all fronts.
Working with uncooked vs. cooked brats – Brats may be uncooked or fully cooked, depending on the kind of bratwurst you choose. Johnsonville brats are a popular uncooked brand. Niman Ranch is a popular alternative for organic or humanely reared pork, and their products are usually completely cooked. Air frying is a great option for both types of brats.
However, the cooking time for uncooked brats will have to be a minute or two longer than for completely cooked brats that only need to be "warmed up" in the air fryer.
Cooking frozen brats – Frozen brats can be cooked in the air fryer like other frozen foods can be.
To do this, preheat the air fryer for 3-5 minutes before placing the frozen brats inside, then air fry them for another 3 minutes, which is a total of 17 minutes in the air fryer.
For completely cooked brats, the internal temperature should be 160°F.
Tips for even cooking – We highly recommend turning the brats halfway through air frying if you're cooking them with an air fryer of the basket type.
However, there's no need for this if you have an oven model with trays for the brats.
Also, before you commence the air frying process, make sure to bring the brats to room temperature. Doing this allows them to cook much faster and more evenly.
To cook with foil or not – If you like, you can use aluminum foil in the air fryer. The results will still be good, but it depends largely on how you choose to use the foil in the air fryer. Wrapping food in foil and air frying it is entirely safe. However, using foil while cooking more acidic food substances may result in an acidic taste in your finished product.
Timing tips – The cooking time for brats in an air fryer will typically depend on your specific air fryer, as with all air fryer recipes. Ideally, you should begin by air frying the brats for 6 minutes, then flipping and cooking for another 6 minutes. Afterward, leave the brats to rest for 10 minutes before checking their temperature. When cooked, they should reach an internal temperature of 160 degrees F.
If you decide to include peppers and cook them together with the brats in the air fryer during the cooking, ideally, you should first toss the pepper slices in olive oil until they're coated, then set them straight on the air fryer's grate, followed by the raw sausages.
When you flip the sausages after the first 6 minutes of cooking, toss the peppers, and continue the cooking process for the remaining amount of time. The peppers and meat should generally finish cooking at the same time.
How to tell when brats are cooked – When thoroughly cooked, the brats should attain an internal temperature of 160°F. By this time, the outsides of the brats will have turned a golden brown color, and the edges will have begun to firm up.
If you're working with completely cooked bratwurst, never mind the final internal temperature; instead, judge the brats' doneness by their appearance.
View this post on Instagram

Cooking Time for Brats in Air Fryer
The timing guidelines in the table below will ensure the best results when cooking brats using an air fryer:
Cooking Procedure
Cooking Time
Air frying brats at 375 F
12 to 14 minutes
Print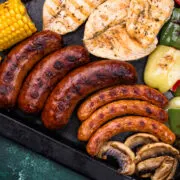 Air Fryer Brats (4 Servings)
---
Four uncooked brats (you may also use however many pieces are included in the package you purchase or however many your air fryer can fit)
parchment paper (this is optional equipment)
---
Instructions
Arrange the brats in a single layer on the air fryer's trays or basket.
If you're using an air fryer that can be used in the oven, wrap the drip pan with parchment paper to collect any leftover grease and make cleanup easy. (this step is optional but advised).
Cook the brats in an air fryer at 375°F for 12-14 minutes, or until you're sure that they're thoroughly cooked on the inside (check that they reach an internal temperature of 160°F) and golden brown on the outside. Ideally, the skin of the brats should be firm and crispy, and the interior should be juicy.
Take the brats off the air fryer with tongs and set them aside for a few minutes before serving.
Note that you can also use fully cooked bratwursts for this recipe, but you need to decrease the cooking time by a few minutes. The entire duration of this recipe is 13 minutes, including a prep time of 1 minute and a cook time of 12 minutes. Hence, it's a quick and easy recipe to adapt, and we're sure you'll love the results.
See this video recipe for more interesting ideas on cooking brats in an air fryer.