Apart from the delicious and crispy qualities of the hot pocket, the best thing about this snack is its convenience. These snacks were designed and produced with convenience in mind because the average person could easily make one for him/herself. The basic recipe requires no prep time or extra ingredients, you could just pop it in a microwave or oven and get a delicious outcome.
Hot pockets are commonly made in a microwave because that is the fastest way to make one but if you choose to use the oven you could still make a delicious and crispy snack for yourself although it may take a few extra minutes, it would be worth it.
So, in this article, we would be showing you how to easily make a hot pocket in an oven within minutes and without stress but first let's look at some helpful tips to apply in the kitchen when making a hot pocket.
Tips to Note When Making a Hot Pocket
Making a hot pocket is easy to achieve within a short time without stressing too much, however, we have gathered a few helpful tips that you could apply to your recipe so check them out;
Line the baking sheet with parchment paper; lining the baking sheet with parchment paper would prevent the hot pocket from sticking to the baking sheet and make cleanup easy, you can use a cooking spray or aluminum foil if you don't have a parchment paper.
Remove the crisping sleeve; while you'll need to use the crisping sleeve when microwaving the hot pocket to help it get more crispy, you wouldn't need it when baking in an oven.
However, if you're in a hurry to eat the hot pocket after baking in the oven then you can use the crisping sleeve as a holder so you don't burn your hands but be careful also so you don't burn your tongue. Remember to read the instructions on the crisping sleeve if you're confused and fold down one end of the crisper to prevent the hot pocket from falling.
let the hot pocket cool after baking; if you're not in a hurry or you'll be making more than one hot pocket, it is advisable to not rush in after cooking but to let it cool a little after baking it so you wouldn't burn your tongue or fingers.
Make some sauce for the hot pockets; depending on the time you have or how special you want to make your hot pocket you could spice things up by adding a few ingredients like a sauce for dipping.
Most people enjoy their hot pocket with a little sauce and you might too, you could use regular ketchup, hot sauce, or whip up a delicious sauce at home.
Evenly space the hot pockets on the baking sheet; if you would be making more than one hot pocket, try to space them evenly when placed on the baking sheet so the heat evenly distributes and cooks them at the same time.
Use an oven mitt; don't forget to protect your fingers from the oven's heat by using a mitt or dry towel when removing the baking sheet from the oven.
Pay close attention to the hot pocket; the oven used to make a hot pocket would be different in every kitchen so they may cook at different times. However, after following the correct cooking time still pay close attention to the hot pocket while baking or use the tip below to check for doneness.
Feel your hot pockets for doneness; an extra measure to ensure that the hot pockets have been properly cooked is to touch or feel the hot pockets with your fingers to see if it's soft. If it's still though then the chances that it hasn't cooked properly is high, but when you use the oven and bake with the correct cooking time the chances that you would end up with a tough hot pocket is low but you can still feel it just to be sure especially if you'd be the one eating it.
Use a digital thermometer; this tip is optional and may be unnecessary to some because it is hardly used but to get accurate doneness, just insert the thermometer into the center of the hot pocket and see if it reaches 165 degrees F, which is the safe internal heat temperature for doneness.
View this post on Instagram

Cooking Time for a Hot Pocket in an Oven
This table below shows the correct cooking time for a hot pocket when using an oven, although the oven used for baking may vary you could still use this cooking time as a guide to making a hot pocket.
| | |
| --- | --- |
| Cooking method | Cooking time |
| Baking a hot pocket in an oven at 350° F | 28-30 minutes |
Print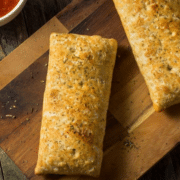 Oven-baked hot pocket (2 servings)
---
One packet of hot pocket
Store-bought sauce or homemade sauce (optional)
Ingredients for homemade sauce
2

–

3

tablespoons of ketchup

½teaspoon

salt

½ teaspoon

freshly ground black pepper

¼

sliced onion of your choice

½ teaspoon

thyme
Other spices you'd like to add
Equipment
Baking sheet
Parchment paper or cooking spray
Oven mitt or dry towel
---
Instructions
Start by pre-heating the oven to 350° F.
Then take a baking sheet and line it with some parchment paper or apply cooking spray on it.
Remove the hot pocket from the packaging and the crisping sleeve (since we wouldn't need that) and place it on the lined baking sheet
Take it to the oven and bake for about 28 minutes, while it's baking make the sauce.
Pour all the ingredients into a saucepan and cook for about 5 minutes.
When the time is up for the baked hot pocket, carefully remove it with an oven mitt or dry towel.
Place it on a plate and let it cool for a few minutes, serve with sauce and any additional topping of choice like chopped parsley.
Those are the easy steps to make a hot pocket in an oven but if you would need more ideas or inspiration on the recipe then check out this video recipe