You're staring at the raw leg of lamb before you, and you're thinking, 'Boy, this is going to be tough." It isn't! If you haven't cooked a leg of lamb before, don't be intimidated. It may appear tricky and impossible for you to cook, but it's very easy to prepare.
Roast lamb legs are mostly eaten at dinners, social occasions, and public holidays. And maybe at first glance, you might be thinking it looks complicated and way too sophisticated for you to learn, don't worry, we've got you covered.
In this article, you'll learn the simple steps, guidelines, and tips for making a masterpiece with just a few ingredients! Take note of the below to ensure adequate preparation of your leg of lamb.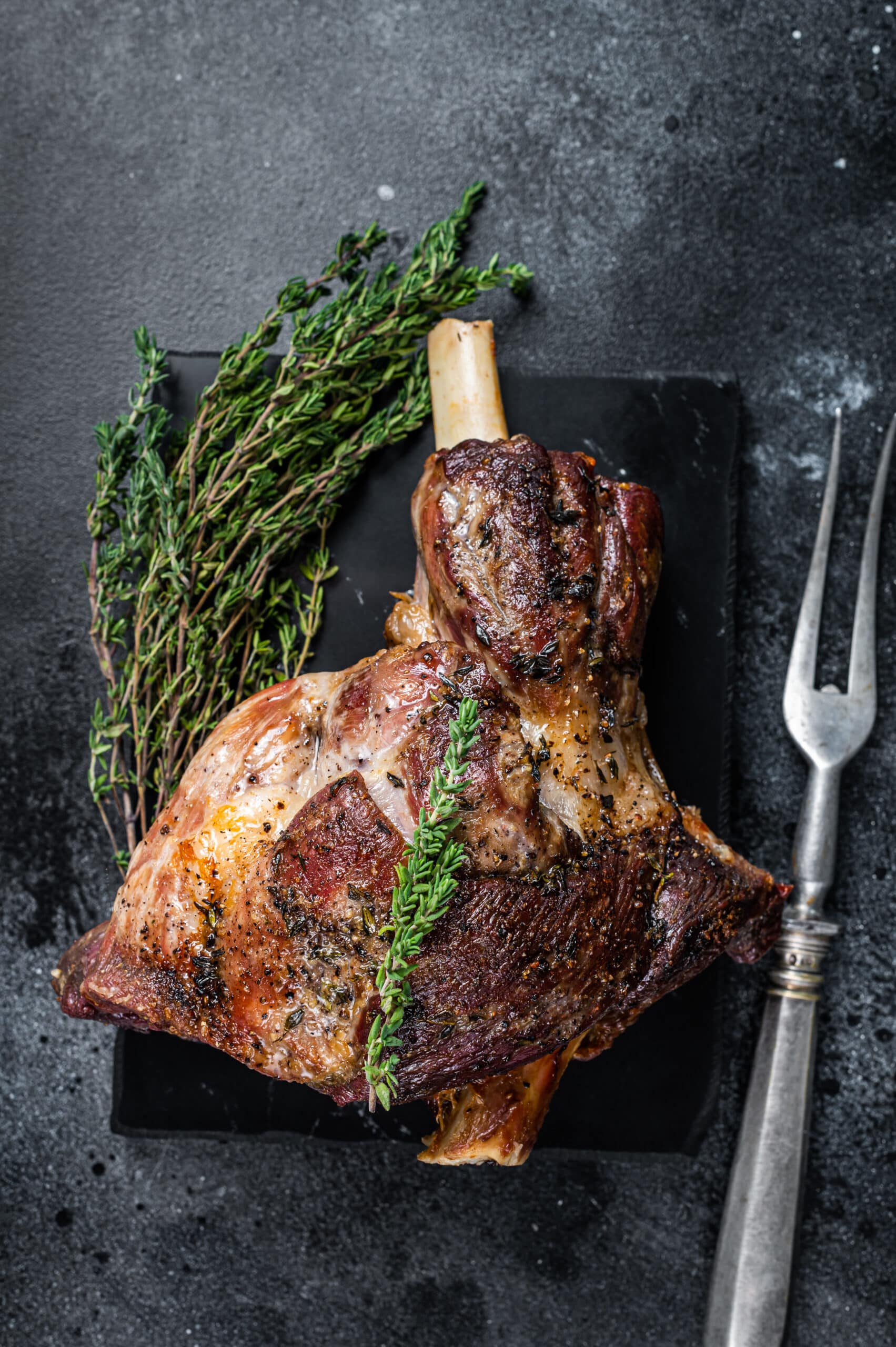 Tips for Cooking a Leg of Lamb in the Oven
Don't cook a frozen lamb – if your lamb leg had been in the fridge all day, don't just take it from the fridge and start cooking. Instead, please leave it at normal room temperature for two hours. This gets rid of the toughness the meat had gotten from the fridge.
Preheat your oven –  since mixing the spices and seasoning the meat takes a little while, I normally preheat my oven to 220° Celsius before cooking. This gives the meat a nice hot oven when it's ready to go in.
How to place your meat in the oven – you might wonder how to place your meat when it's in the oven, the part with more fat, and whether it goes up or down? It's best to position your leg of lamb, so it's facing upwards. This allows the fat to be open to more heat and melt easily.
Stuff your lamb leg a little – stuffing a few herbs into your leg of lamb will add more flavor and fragrance to it. You can make little stab-holes into your lamb leg with a knife and stuff little bits of rosemary, garlic, and anchovy into them. You may be thinking; anchovy sounds disgusting, right? But it's necessary for stuffing, and you won't even taste it because it will dissolve.
How to stuff your lamb?
Suppose you're unsure how to stuff your lamb with rosemary, garlic, and anchovies. Just follow these few steps below:
Take a knife and stab evenly down to the bone.
Stick your finger into the hole you've created to give it more room for holding the stuffing.
Repeat this on all areas of the surface of the meat.
Gather up bits of the trio and stick them into the holes you created on the lamb leg.
Different cooking style – there's a new method of cooking lamb legs in the oven you probably haven't heard of. This is placing the leg of lamb directly on the bars of the oven, and then under it, you slide in your tray of vegetables and herbs. This gives your lamb a proper 360° roasting and melts the fat on the lamb leg adequately while the tray catches all the juices from the meat.
When you've closed your oven on the lamb, turn the heat to 180° Celsius, which is also 350° Fahrenheit. This gives it an immediate bout of heat and follows through with lesser warmth, roasting your lamb beautifully and thoroughly without you breaking a sweat.
Rest your lamb legs – when your lamb legs are done, don't immediately take them from the oven to the counter. Allow it to rest for about half an hour. Resting your leg of lamb allows the heat to penetrate upwards through the leg of lamb.
 

View this post on Instagram

 

Cooking Time for Leg of Lamb in the Oven
The following timing guidelines below are essential for a satisfactorily cooked leg of lamb in the oven.
Cooking Procedure
Cooking Time
Cooking a leg of lamb in the oven at 180° Celsius.
2 hours, 10 minutes
Print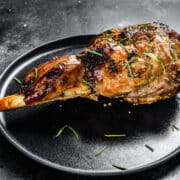 Oven Roasted Leg of Lamb (3 to 4 servings)
---
---
Instructions
Preheat your oven to 220 degrees Celsius.
Cut up the garlic, pull the rosemary off its stalk, and cut up the anchovies vertically into thin strips and then horizontally so they can be stuffed easily. Create holes into the leg of lamb and stuff the rosemary, garlic, and anchovy into the meat.
Sprinkle salt and pepper on its surface and rub thoroughly on both sides. Set that aside in a pan.
Mix your spices well and use to marinate all over the leg of lamb. Turn it over and marinate that part, too.
Cut up bits of carrots, celery, and other vegetables you have into a tray. Add the remaining rosemary and garlic, then pour in a glass of water.
Take up your marinated leg of lamb from the pan and drop it directly onto the oven rack. Slide the tray underneath and set your oven to 180 degrees Celsius.
When ready, it'll have a brownish tinge. Leave to rest for half an hour.
After a half-hour has passed, take out your leg of lamb and, using a carving knife, slice up parts to be served. You can eat this with gravy made from the meat juices or eat it plain.
Cooking a leg of lamb in the oven is quite easy once you've followed the steps above. It's sure to make your friends and family members crave more and leave you satisfied with your work.
If you want more tips on cooking a leg of lamb in the oven, feel free to check out this video recipe.