Many people are curious about what makes Smithfield pork tenderloins so unique; well, to begin with, they eliminate nearly all of the work from meal preparation. Smithfield pork loins are the solution if you're often busy or have finicky eaters in your family. They are extremely convenient, come in a variety of tastes, and are perfectly seasoned with no additional wait time because they have already been marinated.
Do you have zero experience with cooking these super pork loins? Not to worry, simply follow all the steps we've outlined in this article, plus tips and recommendations. You'll be good to go!
Pork Tenderloin Nutrition Facts
Tips for Cooking Smithfield Pork Tenderloin
These really helpful tips will ensure that you get the best results with Smithfield pork tenderloin:
How to reduce sodium levels in Smithfield pork tenderloin – Although thin, low in calories, and full of flavor, the marinated Smithfield pork tenderloin has a high salt content. It's important to highlight that nutrient sodium in enhanced pork is much higher than in pork without such modifications.
In a 4-ounce serving of Smithfield's Original Recipe pork tenderloin, there is 260 mg of sodium, which is over four times the sodium in a non-marinated piece of meat. You could wash off part of the marinade to reduce the sodium content, but since you've already paid for it, this isn't a good idea.
To reduce the sodium content of your meal in Smithfield pork tenderloin recipes, you could try one or more of the following suggestions:
Ideal cooking temperature – According to the National Pork Board, chops, roasts, loins, and tenderloins should be cooked to an internal temperature of 145° F, then rested for three minutes. Pork tenderloin is simple to prepare because it cooks quickly.
Make sure not to overcook – To ensure softness, cook pork tenderloin rapidly. Although pork tenderloin is one of the most sensitive cuts, it can become harsh and unpleasant if overcooked. This loin cut is not one to be cooked all day in a slow cooker or Dutch oven on low heat.
Cooking Smithfield Pork Tenderloin
There are several methods to choose from when attempting to cook a Smithfield pork tenderloin.
Searing all sides of a Smithfield tenderloin in a hot skillet and then slow-roasting it at 275 F until the inner temperature hits 145 F is the best way to keep the tenderloin juicy. A little chicken stock in the bottom of the roasting pan gives moisture to the tenderloin, keeping it soft and tender.
You could alternatively reverse the process by roasting the tenderloin for one minute on all sides in a 275 F oven until it reaches an internal temperature of 145 F. Allowing the meat to rest for 15 minutes after cooking improves the flavor by enabling the internal juices to settle inside the roast rather than dripping onto the cutting board.
Another method is to cut the tenderloin into 2-inch filets and broil them on both sides until they develop a nice crust. Pair them with a simple salad and grilled vegetables for a low-calorie supper. You could also dice the meat and stir-fry it with a variety of fresh veggies before serving it over quinoa or brown rice, which is a healthier option than white rice. Go gentle on the additional seasonings because the pre-seasoned meat will likely dominate the flavor of your dish.
Whatever cooking method you decide on, you can be sure that you'll have amazingly flavorful results that you and your family will enjoy.
 

View this post on Instagram

 

Cooking Time for Smithfield Pork Tenderloin
Follow these timing guidelines when cooking a Smithfield pork tenderloin:
| | |
| --- | --- |
| Cooking procedure | Cooking time |
| Baking a Smithfield pork tenderloin | 40 to 45 minutes |
Print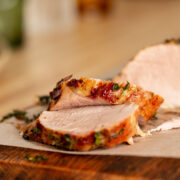 Easy Sheet Pan Pork Tenderloin Dinner (4 Servings)
---
1

Smithfield Golden Rotisserie pork tenderloin

3 cups

of baby potatoes (or

24 ounces

), washed and cut into halves

3 cups

of Brussel sprouts, trimmed and cut into halves

1

large bunch of asparagus, trimmed in half

4

to

6

tablespoons of olive oil, divided

1

to

2

teaspoons of seasoning salt

½

lemon, juiced
---
Instructions
Preheat the oven to 425 degrees Fahrenheit and line a large baking sheet pan with foil or parchment paper. Remove the package from the Smithfield Golden Rotisserie pork tenderloin and set it in the center of your sheet pan.
Rinse the asparagus, dry it, and then gently snap it in half with both hands. Discard the bottom half (the side that does not appear like a flower) and transfer the asparagus tops to a separate mixing bowl when it has snapped naturally at its 'natural breaking point.'
Trim the ends off your brussel sprouts and cut them in half vertically, then place them in the same bowl as the asparagus.
Stir in a couple tablespoons of olive oil, a pinch of salt, and a squeeze of lemon. Arrange the asparagus and Brussel sprouts around the pork tenderloin on the sheet pan gently.
After that, wash your baby potatoes and cut them in half, then add them to the mixing bowl with the green vegetables.
Season with a few tablespoons of olive oil and a pinch of salt. Stir to blend, then pour the mixture onto the sheet pan.
Place the sheet pan in the oven and bake for 40-45 minutes, or until the internal temperature of the Smithfield, Golden Rotisserie pork tenderloin reaches 145 degrees.
Allow 5 minutes after removing your sheet pan supper from the oven. Serve right away.
This recipe takes a total of 50 minutes to prepare, including a prep time of 10 minutes, a cook time of 40 minutes, and a resting time of 5 minutes. If you'd like more ideas on how to cook a Smithfield pork tenderloin, then check out this video recipe.