We've come to appreciate the juiciness and tastiness of pork tenderloin and enjoy its recipe from numerous cooking techniques. But when told that this delicious recipe can be prepared in an air fryer, it's normal to expect a bit of panic. But like other cooking methods, you can plan the time for air fryer pork tenderloin with the right instructions, and we're more than happy to help you.
Pork Tenderloin Nutrition Facts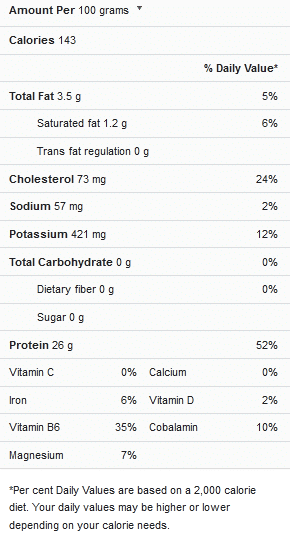 Why Cook Pork Tenderloin in an Air Fryer?
The air fryer offers tons of benefits for cooking pork tenderloin, which is why it's gained massive acclaim in the culinary world. So, before you ignore the idea of using this handy kitchen appliance for this renowned delicacy, take a look at its amazing pros for pork tenderloin recipes;
It's Quick- The air fryer cooks faster than most kitchen appliances, and a pork tenderloin recipe will be done in less than 30 minutes!
It's Easy- Operating an air fryer is so easy, that anyone can use it. Combine this advantage with the straightforward procedure for the pork tenderloin and you have an amazing result even on your first try.
Less Mess- You'll be using less oil for this recipe and all the cooking will be done in an easy-to-clean air fryer.
It's Flexible- The air fryer pork tenderloin recipe welcomes a wide range of seasoning and flavoring ideas.
More Juiciness- Its dry heat cooking technique means more moisture is locked within the meat. And as for the one oozed into the basket, simply turn it over the tasty slices upon serving and you're good to go.
Selecting Pork Tenderloin for Air Fryer
Pork tenderloin is a very lean cut of pork and is most times referred to as pork filet mignon. The cut is also renowned for its tender tissues, making it easy to cook in numerous ways. As such, you won't need to be selective when picking pork tenderloin for the air fryer method, so long as the size can fit into the basket.
Prepping the Pork Tenderloin
Pork tenderloin mostly comes with a layer of elastic skin called silver skin. So, before seasoning the tenderloin for cooking, you'll need to cut this layer off otherwise it'll ruin your recipe. If you also find any excess fat layer, you're free to trim it.
Seasoning the Pork Tenderloin
As previously mentioned, pork tenderloin welcomes a wide variety of seasoning options, but because you're cooking it in an air fryer, it's best to stick with a dry rub. Regardless, you can combine any number of dry seasoning and spices for the recipe, Popular options include ground black pepper, smoked paprika, cayenne, ground, mustard, garlic powder, brown sugar, onion powder, red pepper flakes, and chili powder.
But the meat must first be liberally rubbed with olive oil so the dry rub can stick to its surface. And if you want more flavor infusion, consider letting the seasoned pork tenderloin sit in the fridge for a few hours so the spices percolate into the tissues for a more intense taste.
Air Fryer Pork Tenderloin Temperature and Cooking Time
You'll be cooking this pork tenderloin in a 400F air fryer, through which the seasoning will caramelize over the surface, giving it a crisp exterior that locks in moisture. And the timer will be set for 20 to 22 minutes, depending on the pork tenderloin's size. Fortunately, most cuts come between 1.24 to 2 pounds, meaning they'll fit snugly in the air fryer. But you'll also want the meat to reach an internal temperature of 145F to 160F, which you can check for using a probe thermometer.
View this post on Instagram

Rest Time
When meat cooks under dry heat, the tissues contract forcing most of the juice and moisture to the surface. And if it's cut too early, the juice will be lost in the plate, leaving you with a dry result. So, it's best to let the pork tenderloin rest on the cutting board for three to five minutes before slicing it up and serving.
You may notice some juice in the air fryer after transferring the pork tenderloin to the cutting board, but don't worry; the meat still has enough juice left. Still, it's pointless to let this flavorful dripping go to waste, so drizzle the pot juice over the slices as you serve.
Print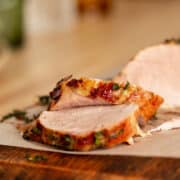 Air Fryer Pork Tenderloin (4 Servings)
---
One pork

ten

derloin, 1.25 pounds

Two tablespoons

of brown sugar

One tablespoon

of smoked paprika

Half a tablespoon

of olive oil

1½ teaspoons

of salt

One teaspoon

of ground mustard
Half teaspoon of ground black pepper
Half teaspoon of onion powder
Half teaspoon of cayenne pepper
Half teaspoon of garlic powder
---
Instructions
Preheat the air fryer to 400F, then combine the seasonings and spices in a bowl and set aside.
Set the pork tenderloin over parchment paper or foil and trim the silver skin and fat. Then run with half of the olive oil and the spice mixture from the bowl.
Place the seasoned pork tenderloin in the air fryer and cook for 20 to 22 minutes or until the internal doneness hits 145F to 160F.
Rest the pork tenderloin on a carving board and set it on a plate for five minutes before slicing. If any juices remain in the air fryer or plate, drizzle over the sliced meat during serving.