Notably, salmon cooked in an air fryer is the most tender, succulent, and delicious piece of fish you'll ever eat, and it's so convenient and simple to prepare.
The fish browns beautifully in the air fryer, resulting in restaurant-quality seafood. This salmon recipe takes barely ten minutes to prepare and is ideal for a quick evening meal.
Salmon Nutrition Facts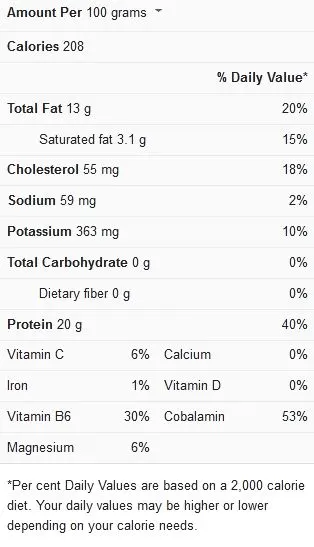 Tips to Cook Salmon in Air Fryer
Confirm that the salmon filets are of the same thickness – this will ensure that they all cook at the same time and are equally cooked. Depending on the size of your air fryer, you might need to cook them in batches. Then, if necessary, boil the thicker ones together.
With a fork, check for the desired doneness. The time it takes to cook salmon in an air fryer is determined by the thickness of the salmon pieces and the model of the air fryer you're using. The best way to tell is to use a fork to see if it easily flakes off.
Before placing the seasoned salmon in the air fryer, preheat it. This is something I recommend doing to ensure that the salmon cooks evenly, and moreover, this accelerates the process.
View this post on Instagram
How to Cook Salmon in Air Fryer
Everything – salmon too – comes out crispier, juicier, and always precisely cooked in the air fryer in an astonishingly short amount of time. See these easy steps to guide you on cooking salmon in the air fryer.
Step 1
Preheat your air fryer after cutting the salmon filets into even pieces. You can also buy filets that have already been cut into them. You can also remove the skin if you want to, but it's not compulsory.
Step 2
Now it is time to add your seasonings. Garlic, paprika, salt, and pepper are sprinkled over each fish, and a dab of olive oil is drizzled on top. I recommend adding paprika to salmon because it gives it a wonderful browned hue when cooked. Rub the spices into the salmon before placing it in the air fryer to get the finest flavor.
Step 3
The cooking time will vary depending on the thickness of the salmon and the type of air fryer you have. However, the air fryer salmon should be ready in 7-9 minutes on average. When you notice it easily flakes off, you'll know it's done. Then it's time to serve it and enjoy.
| | |
| --- | --- |
| Cooking Time | Temperature |
| < 10 minutes | 400 'F |
Print
How Long To Cook Salmon in Air Fryer
---
2

salmon filets
Kosher salt

2 teaspoons

of extra-virgin olive oil

2 tablespoons

of whole-grain mustard

1 tablespoon

of packed brown sugar

1

minced clove garlic

½ teaspoon

of.thyme leaves
---
Instructions
Season the salmon with salt and pepper. Then whisk together the oil, mustard, sugar, garlic, and thyme in a small bowl. Proceed to spread the mix over the salmon.
In an air fryer basket, arrange the fish. Then preheat the air fryer to 400 degrees Fahrenheit and cook for 10 minutes.
See this video recipe to see more on cooking salmon in the air fryer.