Scallops are delicious, nutritious, and amazingly easy to prepare, they are also versatile and can be incorporated into several recipes like pasta or rice, they could also be eaten as a single meal with the addition of spices, herbs, and many more ingredients.
There are several delicious ways to cook a scallop but for the sake of the article we would be focusing on the Oven-Baked method, most people argue that this is the best method for cooking scallops because it is easy and it produces a unique flavor but I think that depends solely on the chef, we would also be focusing on how long you could cook scallops at a particular degree which is the 350° F.
So, without wasting much time let's dive into that but first permit me to share some useful tips with you that you may need when making a scallop recipe in an oven or wherever you choose.
Scallops Nutrition Facts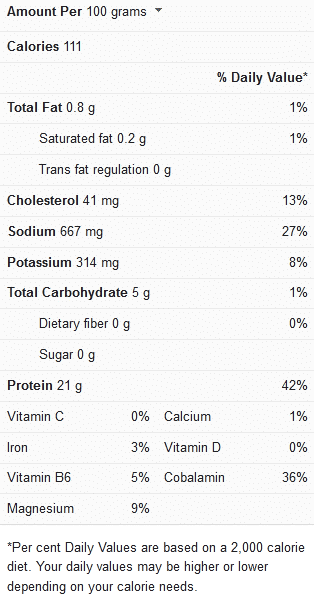 Tips to Note When Making Scallops 
Scallops are quick and easy to make once yore familiar with the ingredients and procedures but these tips I'm about to give you would help you have a seamless procedure each time you make scallops.
Choose the right scallops; there are two common types of scallops the bay and sea scallops, the sea scallops are bigger, cheaper, and more common to find while the bay scallops are smaller and are less common.
The size affects how quickly the scallops would cook so if you're using the smaller bay scallops pay attention to the cooking time and shorten it by a few minutes.
Since the large sea scallops are easy to find they are most likely what you'll end up buying so try to pick the dry fresh ones from the store and if they are frozen make sure to thaw them by either leaving them in the refrigerator overnight or sealing them in a plastic bag and running cold water over them before cooking.
Use some butter for the baking dish; use butter to properly rub on the inside of your baking dish which should be large and shallow then place the scallops properly without them on top of each other. Remember to wash your hands before and after using the butter.
Remove excess moisture from scallops before cooking; after rinsing the scallops with clean cold water try to dry out any extra moisture on the outer layer with some paper towels or a clean kitchen towel, doing this would ensure that the scallops cook properly in the oven and even on the stovetop if you choose to sear it.
Remove the side muscle on the scallops; the side muscle on the scallops are just little tags found on the side of the scallop and it's fine if you wish to leave them on because it wouldn't cause any harm they are just a little tough and chewy to eat.
If you want to remove them use your thumb and pointer finger to pinch and rip it off, if you can't find the side muscle it's totally fine, maybe it must have been removed during the harvesting process.
Do not cook at a high temperature; scallops cook very easily and the chances of them getting overcooked are high so to avoid that try not to heat the oven to a high temperature because you're trying to save time, the dish wouldn't cook properly and try not to leave the scallops unattended when baking.
Scallops usually turn opaque when cooked well but to be sure you could use an instant-read thermometer, just insert it through their side and check if it reads up to 115 degrees F.
Cook the scallops last and serve them quickly; cooking your scallops last would allow them to retain their flavor and texture, and for you to enjoy this serve them fast so they wouldn't get cold. Even though you're trying to serve them hot, try to be careful when moving the scallops from the baking dish to your plate.
Also, don't forget to be creative with the serving, drizzle some lemon juice, and serve with vegetables, pasta, rice, sauce, etc.
Store the leftovers in the refrigerator; cooked scallops would last for 3-4 days in a refrigerator and 3-4 months in a freezer when stored in an airtight container.
 

View this post on Instagram

 

Cooking Time for Scallops at 350°F
The estimated cooking time to note when making scallops in an oven at 350°F has been described in the table below.
| | |
| --- | --- |
| Cooking method | Cooking time |
| Prepping scallops | 10 minutes |
| Baking scallops at 350° F in an oven | 25 minutes |
Print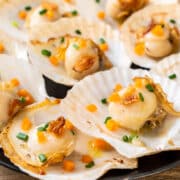 Oven-baked scallops (6 servings)
---
---
Instructions
Preheat your oven to 350 degrees F.
Then rinse the scallops properly removing the side muscles if you wish, after rinsing pat dry with a clean towel or paper towels.
Next, take a bowl and add the butter, wine, lemon juice, salt, minced garlic or garlic powder, Cayenne pepper, dry parsley, paprika, and the grated parmesan cheese. Mix thoroughly and set it aside for a couple of minutes until the mixture thickens.
Add the scallops into the bowl and carefully mix them with your washed hands or a spatula.
After that, use some butter to rub on your shallow baking dish and carefully place the scallops inside it, remember not to place them on top of each other.
Spread the remaining liquid from the mixture evenly inside the baking dish, cover the dish with aluminum foil, and bake for about 25 minutes at 350°F, the scallops should look opaque when evenly cooked. This cooking time is for large scallops so if yours are smaller start checking for doneness after 20 minutes or use an instant-read thermometer to check for doneness, it should be around  115 degrees F when ready.
Remove the scallops and sprinkle with some grated parmesan cheese, paprika, and broil for 2-3 minutes to get a nice crust and color. Remove them again and sprinkle some chopped parsley or basil on top and serve.
Making scallops in an oven is truly easy and rewarding, you could follow these steps above when making yours, or for more ideas you could check out this video recipe.