Stuffed shells are classic comfort food, these jumbo pasta shells provide maximum satisfaction and are packed with appetizing flavors due to the combination of herbs, marinara sauce, and the three-cheese stuffing of ricotta cheese, freshly grated parmesan cheese, and whole milk mozzarella cheese.
Stuffed shells are one hearty meal that cannot be resisted by both adults and kids, they have become excellent meal choices for special occasions, Sunday dinner, and even regular dinners. Stuffed shells are incredibly easy to make once you're familiar with the correct cooking time and procedures, you'll be sure to get the right results every time.
However, this recipe may seem complex for some people which is why we would be discussing the basic things you should know when cooking stuffed shells, from some expert tips to the correct cooking time so keep reading.
Tips to Consider When Cooking Stuffed Shells
Stuffed shells are popular for their taste, wholesomeness, and ease when cooking but that can only be achieved when you know what you're doing, so here are some great tips that are sure to support you when you're making stuffed shells.
Make sure you don't fully cook your pasta before baking; the pasta would continue cooking when you place them into the oven, so make sure you undercook them by one or two minutes or half the cooking time stated on the package before baking them. If you overcook the pasta shells they would be too soft and hard to stuff plus they would tear easily when baked.
Grate your bowl of cheese; rather than buying bags of grated cheese from the grocery stores, it is best to grate them at home because that way you're sure they are fresh and are free from preservatives or anti-caking agents which would prevent them from melting properly.
Cook additional 3-4 pasta; if you plan to make 20 stuffed shells make sure to cook 23 or 24 shells because some of them may rip during the cooking process.
Choose the right cheese that suits your preferences; the stuffed shells recipe comes with the classic three cheese stuffing of ricotta cheese, freshly grated parmesan cheese, and whole milk mozzarella cheese but if you're trying to cut back on the calories then use part-skim milk ricotta or mozzarella cheese.
Try using good quality jarred marinara sauce; you could either make your sauce at home or buy it from the grocery store, if you'll be buying marinara sauce from the grocery store, you should pick high-quality ones like Newman's, Classico, or you can just stick to your favorite brand.
Use cold water to prevent the pasta from sticking together; after undercooking your pasta drain it from the hot water and add some cold water to it for about 30-40 seconds, this would halt the cooking process and prevent the pasta from sticking to each other.
You could refrigerate the stuffed shell before baking; you could always refrigerate the unbaked stuffed shells until you're ready to eat them just cover the baking dish with a foil.
However, you may need additional time to bake the stuffed shells since you'll be baking them from a cold state and not at room temperature.
Also, if you end up making too many stuffed shells you can refrigerate these cooked stuffed shells for 2-5 days.
Feel free to add or remove ingredients to suit your preference; stuffed shells are known for the basic ingredients like pasta, sauce, cheese, and additional spices or herbs but this doesn't mean you must stick to the particular ingredient types used especially when these ingredients do not suit you.
I'll explain, you could use other cheese types instead of the common three like provolone, cream cheese, fontina, small curd cottage cheese, asiago, or romano.
You could use creamy Alfredo sauce, hearty bolognese style meat sauce, etc to substitute marinara sauce.
Also, you could add extra stuffings to your cheese like some protein (some shredded beef or chicken), spices like rosemary, oregano, thyme, etc, and vegetables of your choice like onions, peppers, zucchini, spinach, etc.
Place the stuffed shells seam up to prevent excess leakage; when baking stuffed shells place them with the open area facing up not down so the stuffings would not melt and leak out of the shell.
Cooking Time for Stuffed Shells
The estimated cooking time for stuffed shells has been described in the table below.
| | |
| --- | --- |
| Cooking method | Cooking time |
| Pre-cooking pasta shells | Cook for half the cooking time stated on the package. |
| Baking stuffed shells in an oven | 25-30 minutes |
Print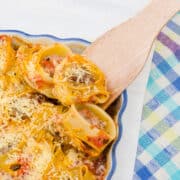 Stuffed shells (6 servings)
---
20

jumbo pasta shells

1

chopped onion of your choice

3

minced garlic cloves

½ teaspoon

freshly ground black pepper

1 teaspoon

salt

1

large egg

5 ounces

of baby spinach (chopped)

15 oz

ricotta cheese

¼ teaspoon

dried oregano
Olive oil

3 cups

shredded mozzarella cheese,

⅓

parmesan cheese

3 cups

marinara sauce
---
Instructions
Preheat the oven to 375˚F
Then start by cooking the pasta shells in salted water for half the cooking time stated on the pasta package, drain them from the hot water and dunk them inside a bowl filled with cold water or just fill the pot with cold water after draining the hot one, this would prevent sticky pasta shells.
Next make the sauce, in a deep pan placed over medium-high heat add 2 tablespoons of olive oil and chopped onion, cook, and stir for about 3-5 minutes till it starts to get softer and a little golden.
Add some minced garlic, ½ teaspoon salt, ¼ teaspoon oregano, and black pepper and saute for a minute, stir this mix until you start to smell it.
Add 3 cups of marinara sauce and continue boiling for about 2-3 minutes, once ready remove from heat and pour it inside the casserole dish you'll be using.
Next, make the filling, add 2 cups of mozzarella, 16 oz ricotta, and ⅓ cup parmesan cheese with 1 raw egg, ½ teaspoon salt, ¼ teaspoon black pepper, and ¼ cup of parsley. Stir this mixture thoroughly until they are properly combined.
Use a piping bag or a small spoon to fill the shells, after stuffing them place them properly in the casserole dish on top of the marinara sauce. As a finishing touch before baking, sprinkle some mozzarella cheese on top and maybe some sauce too.
Cover the casserole dish with a foil and bake for 30 minutes, after that remove the foil and broil for about 2-4 minutes to get that nice brown color and crust. Once it's ready, remove it and sprinkle some chopped parsley or basil on top and serve.
If you'd still like more ideas and inspirations for making stuffed shells, then check out this video recipe