Ask most people about their best memories of St. Patrick's Day, and they'll mention eating corned beef! This dish is delicious, tender, and easy to prepare, plus it has earned its place as a traditional meal for a holiday. But you don't need to wait until this exciting day to enjoy such a flavorful menu, as you can make this brine-cured beef any time of the year. You can also use a more convenient method to prepare it; the instant pot!
Corned Beef Nutrition Facts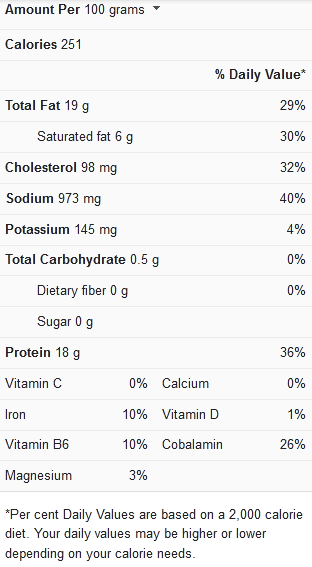 Why Use an Instant Pot for Corned Beef?
If you're more in tune with the traditional techniques, using a pressure cooker for corned beef may sound alien. But wait, because you'll be thrilled to discover how handy this method can be.
Quicker Cooking- The instant pot isn't just named so for show, as it's renowned for its speedy cooking rate. This means your corned beef recipe will be done in a faster time. This recipe, for instance, took less than two hours to cook fully!
Best for Tough Meats- Stovetop techniques will take a long time to soften certain meat cuts, and the crockpot takes even longer. But the instant pot cuts down such time, making it best for corned beef brisket.
Easy to Make– Instant pot menus require a simple, no-fuss process, and this corned beef recipe is no different.
Versatile Tool- If you have any ingredient needing searing, sautéing, or light steaming, it can all be done using the same appliance.
Making Instant Pot Corned Beef
As previously mentioned, instant pot corned beef is a simple, one-direction process, so following the steps won't be much hassle.
Choosing the Corned Beef
Since corned beef comes in numerous cuts, it's best to pick the right size for your pressure cooker. A six-quart instant pot will conveniently take a three-pound brisket without problems. Anything larger, and you'll need a bigger pot. And the flat-cut brisket is the best choice for the instant pot method.
Prepping the Corned Beef
You'll need to rinse the brisket before cooking to remove any excess salt. Do so by slushing the beef in cold water under a sink. You can use a colander, or do it in a bowl, then discard the salted water. Run the brisket about two or three times, so the rinsing is thorough.
Seasoning Options
Corned beef is beef cured in brine, meaning it's already packed with flavour. But it also comes with a spice packet, which contains essential seasonings and spices required to enhance the taste. If you don't find any spice packet with the corned beef, the meat is already spiced. But you can replace the spice packet with one tablespoon of pickling spice.
Most of us have a jar of pickling spice at home, which becomes a convenient replacement. But you can make some if you don't have any by combining the following ingredients;
A rich pot liquid is also needed to cook corned beef in an instant pot. And it mostly includes spices, water, beef broth, and beer. Any good beer will work in the pot liquid, provided it's a flavour you enjoy. But if you wish to omit the beer, consider a mixture of broth and one spoonful of brown sugar. This combo is enough for a two to three pounds corned beef brisket.
Cooking the Corned Beef
Add the broth and beer into the instant pot, followed by the other selected ingredients. Then, place a trivet in the pot and lay the corned beef. Sprinkle with the seasoning packet and cover the lid. Then, cook on HIGH for 90 minutes, transfer to a cutting board and let it rest tented for five minutes.
If you're eating the corned beef with veggies (who doesn't), leave one cup of pot sauce in the pressure cooker. Then, add the preferred veggies, seal the lid, and cook for five minutes on HIGH. Now, you can serve the sliced corned beef with the vegetables, topped with the pot sauce.
More Tips
Remember to release pressure from the valve, ensuring the pin drops to zero before opening the instant pot's cover.
All broth or all beer can work with the water. But note that while darker beer adds depth to the flavour, you'll experience a slight bitterness in the recipe.
All potatoes will work with instant pot corned beef, but baby potatoes are best. Plus, unlike the others, you won't have to peel them.
Slice the beef across the grain to serve.
Print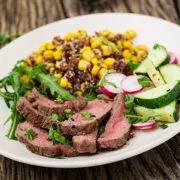 Instant Pot Corned Beef (6 Servings)
---
Two cups

water

Six ounces

of beef broth

Six ounces

beer

Three cups

carrots, chopped

Three cups

cabbage, chopped
Four garlic cloves, minced
Three pounds corned beef; spice packet included
One pound of baby potatoes
One large onion, chopped
---
Instructions
Pour the beer, water, broth, garlic, and onion into the instant pot, and place a trivet over it. Put the corned beef into the trivet and add the spice mixture.
Cover, seal the valve and cook for 90 minutes on HIGH.
When it's done, release the valve to relieve the pressure and open the lid. Take the corned beef out and tent it in foil for a few minutes.
Reduce the pot's liquid to one cup, and add the potatoes, carrots, and cabbage. Cover and cook for five minutes on HIGH, followed by a quick release.
Transfer the cooked veggies to a serving plate using a slotted spoon, and top with the pot sauce.
Serve the corned beef sliced across the grain with a side of the vegetables.
This recipe video can help further with more ideas.