Turkey tenderloin makes an exciting feature in different dishes and tastes great regardless of how it's cooked. But many find it tricky, and fear overcooking or undercooking the meat. You don't have to be though, as you can prepare the best turkey tenderloin dish every time, and escape the mistake of improperly cooked meat by plotting the cooking time.
Turkey Nutrition Facts
Selecting the Turkey Tenderloin
One thing that helps with planning cooking time for turkey tenderloin is deciding how to buy them from the start. As you know, the meat refers to the skinless fillets of turkey breasts, which makes for a very tender cut. But the weight you choose matters and can help you attain the same result with every preparation. As such, consider choosing turkey tenderloins around no more than 1½ pounds each. Also, confirm if it's already so you can adjust the seasoning used in your recipe.
Prepping and Seasoning Turkey Tenderloin
Ensure to thaw the turkey tenderloin if you've bought them frozen, though the latter can be cooked as they are in a crockpot. But note that thawed turkey tenderloins will catch flavor and cook faster than frozen ones even with that method. To thaw the meat, set it in the fridge until you plan to cook, and bring it to room temperature 15 minutes before cooking time. Then, pat it dry with paper towels to remove the chill before seasoning.
You can use any combination of herbs, spices, and seasoning salts for turkey tenderloins. You could make a dry rub or combine ingredients with butter to make a herb paste. You can also mix wet ingredients like hot sauce, vinegar, soy sauce, Worcestershire sauce, and others with aromatics.
Cooking Time for Turkey Tenderloin
The method used for cooking turkey tenderloins determines how long it'll take to cook, and is listed below;
On the Stove
Heat the oil over medium-high heat, and add the seasoned turkey tenderloins. Then, cook for five minutes until both sides are brown, add water, and reduce heat to medium. Simmer the turkey tenderloins for 30 to 40 minutes until the juice from the thickest parts run clear.
In an Oven
Prep the oven to preheat to 400F, and grease a baking dish with olive oil. Then, add vegetables, drizzle with oil, and toss till combined. Season turkey tenderloins to taste, add to the baking dish, then combine seasonings with broth and/or wine, and pour over the meat. Cover dish with aluminum foil, and cook for 30 to 45 minutes, followed by a four to five-minute broiling.
In a Pressure Cooker
Season turkey tenderloins as desired, set aside, and prep the trivet in the pressure cooker. Then, add some water into the instant pot and place the turkey tenderloin on the trivet. Cover the lid, seal the valve, and PRESSURE COOK for 20 minutes on HIGH. You can also cook frozen turkey tenderloin with this method, but for 30 minutes, and preferably with broth. Once done, quick-release the vent, slice the turkey tenderloins, and serve.
View this post on Instagram

On the Grill
Combine the spices to make a rub, and generously sprinkle it over the turkey tenderloins. Ensure to rub it in so it firmly coats the surface. Then, set the grill to high heat, add the turkey tenderloins, and cook for 10 minutes per side, or until the internal temperature hits 165F. If you're using any BBQ sauce, brush it on the tenderloins at the final 10 minutes of cooking. Afterward, remove the meat from the grill, rest for five minutes, and serve as desired.
In a Slow Cooker
Combine the seasoning ingredients and divide them in half, then dry the turkey tenderloins with paper towels and season as desired. Put them in the slow cooker, (with veggies around them, if any) and add stock or broth. Then, cook for three hours on LOW or until the meat reads 165F on a probe thermometer. Afterward, remove turkey tenderloins from the slow cooker, slice up, and serve as desired.
In an Air Fryer
Coat the dried turkey tenderloins with oil, and generously season as desired. Then, arrange the turkey tenderloins in the air fryer basket, and cook at 400F for 20 to 25 minutes, flipping about halfway through the cooking time. Ensure the turkey reaches 165F on a meat thermometer, and rest for five minutes before serving.
Print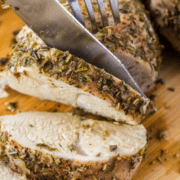 Turkey Tenderloin with Sautéed Caramelized Onions (6 Servings)
---
Two turkey breasts, 1½ pounds each

1/3 cup

chicken broth, low-sodium

Two tablespoons

of butter
Four large onions, thinly sliced

One tablespoon

of packed brown sugar

One teaspoon

of vegetable oil

¾ teaspoon

of salt

½ teaspoon

of chopped fresh thyme

½ teaspoon

of pepper
---
Instructions
Place a large skillet on medium heat and add the oil when it grows hot. Season the turkey tenderloins with salt and half the pepper on both sides, and cook in the oil for five minutes or until brown on both sides, flipping halfway through the cooking.
Add the broth to the skillet and cover, then simmer for 30 to 40 minutes, or until the turkey tenderloin juice runs clear from its thickest part. Then, remove from heat and keep warm.
Melt the butter over medium-high heat in the skillet, and stir-cook the onions for five minutes. Then, reduce heat to medium, and stir in the thyme, brown sugar, and the remaining half pepper. Stir-cook the onions for 15 to 20 minutes, or until they turn golden brown, and serve with turkey.
You can view more tips in this video.