Whether in a tasty salad, soup, or grain dish, beets are a welcomed flavor anytime. And the canned options are a great choice when you find peeling and slicing fresh ones a hassle. Here, we'll explore how you can prepare canned beets for any recipe. And we'll talk about why this type rivals its fresh counterparts in every way.
Beets Nutrition Facts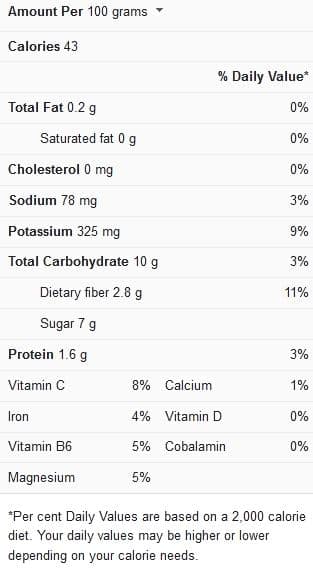 What Are Canned Beets?
Canned beets are processed beets sealed in cans and sold in ready-to-eat forms. The beets are first peeled, then cut into thin slices, and poured into a can. The processing requires simple cooking before it's sealed in its juices. Canned beets may also contain certain amounts of salt to preserve the vegetables and extend the product's shelf life. But they do contain less sugar and salt than pickled ones.
Are Canned Beets as Good as Fresh Ones?
Canned beets have a better taste than fresh or frozen ones. The reason is the preservation retains their flavor for longer, keeping the vegetable in prime condition. Canned beets are quicker, as fresh ones may take around 35 to 60 minutes to cook fully. They contain the same nutritional value as the fresh and frozen varieties, making them a perfect option for faster menus.
Canned beets also cost less than fresh ones, and because they offer a longer shelf life, they can be bought in bulk for storage. The only drawback is that they contain more salt, which can be settled with a bit of rinsing before use. Still, they make an excellent replacement for fresh or frozen beets in numerous recipes, including borscht, sauces, toppings, salads, desserts, and cakes.
Choosing Canned Beets
Canned beets don't contain any preservatives except added salt. And this is considerably higher than the amount found in fresh ones- about 33 milligrams of sodium is expected from one cup of canned beets. However, this can be considerably reduced by 40% if the slices are rinsed, so such a step is suggested. But when choosing a can at the grocery store, avoid any leakage, heavy dents, bulges, or bad odors after opening.
Cooking Canned Beets
Canned beets aren't 'cooked' per se since they're usually precooked before canning. So, the preparation method requires rinsing and reheating before serving. If you're making a salad, you can skip the heating step. Some, though, prefer to eat the slices directly from the can.
You can reheat canned beets for any recipe on the stove or in an oven. And below are the ways to go about it;
On the Stove
While many recipes require you to drain the beet juice from the can, the best stovetop methods require using it in the recipe. First, empty the juice into a saucepan, then add selected seasonings and thickeners. Leave it to boil over medium-high heat, and reduce the heat. Then, add the beets, cook until they're heated, and serve.
In an Oven
For the oven method, you'll have to drain the juice. Afterward, the slices must be rinsed and poured into a bowl. Next, add your preferred seasoning, spices, and oil, then toss until the mixture is evenly distributed. Then, spread the slices on a roasting pan, and bake in a 350F oven for 15 to 18 minutes.
View this post on Instagram

Seasoning Options
Any spices and herbs will do for cooking canned beets. You can use freshly ground black pepper and salt for a simple recipe or consider cayenne, red pepper flakes, chili pepper, or hot sauce for more complexity. Preferred aromatics may include onions, garlic, and shallots. And if you're cooking the beets in its juice, add cornstarch for thickening and white sugar for a sweetness boost.
Of course, a bit of savor works when cooking canned beets, and a splash of vinegar can bring this out. You can also consider lemon juice, orange juice, or apricot fruit spread for soups. If the beets are reheated for toppings, combine them with sour cream or horseradish. Or, mix them with a bit of unsalted butter and serve them as a separate dish.
Print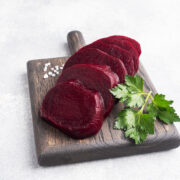 Baked Beets (4 Servings)
---
---
Instructions
Drain the canned beets, pour them into a colander, and briefly rinse them in running water. Then, preheat the oven to 350F.
Pour the rinsed beet slices into a bowl and add the shallots, salt, pepper, and oil. Toss till the mixture is even, and spread it on a roasting pan.
Slide the pan into the oven and bake for 15 to 18 minutes. Then, pour it onto a dish and serve hot.
For more instructions, watch this video.