It's common to find tons of people who don't love broccoli, and we can't blame them. Growing up, we shoved these veggies off our plates because we couldn't stand the taste. But many have grown to appreciate its fresh earthy flavor, especially after new cooking methods have surfaced, thanks to some curious food enthusiasts. And one of the exciting ways to make broccoli a favorite addition to menus is by cooking it in a pan!
Why Cook Broccoli in a Pan?
Surprisingly, many have enjoyed pan-cooked broccoli for years! But you may wonder why anyone should consider adding it to their dish. Plus, there's already an established way to prepare this vegetable for any recipe, so why mess with it now? The good news is pan-broccoli is awesome for many reasons, some of the best being;
It's Quick- Toss it on a non-stick pan with any fat and spices you prefer, and you'll be done in five minutes tops!
It's Delicious- Say goodbye to that disliked flavor you remember from this vegetable. You can infuse it with any blend of flavors you wish from herbs and spices.
It's Versatile- You can cook broccoli in a pan for almost anything and blend it with fish, chicken, pork, beef, veal, pasta, or salad!
Pan-Cooked Broccoli: the Steps
You must be excited to jump on the recipe and try out pan-cooked broccoli by now, and we can understand. But it also helps to stick to a few basics so you can make a tasty dish on every try. Let's explore them.
Choosing the Best Broccoli for the Pan
Broccoli is, fortunately, a hardy vegetable, meaning you'll find fresh heads almost 99% of the time. However, it helps to note how best to pick broccoli heads, especially when cooking it in a pan. Look for bright green heads with succulent but firm stems and florets. And if you note any yellowing or mushy areas in a stem, discard it immediately.
Prepping the Broccoli
Pan-cooking broccoli is great because it's fast, and the main reason is that you trim the beads first. Start by trimming the broccoli into small florets, keeping the stems long. You could also chop off the stems first before trimming the florets, so they cook separately.
Seasoning Options
The fun stuff about pan-cooked broccoli is you can influence the taste however you wish. Yes, you'll note the fresh vegetable taste, but it'll blend with any spices, herbs, seasoning, or ingredient you add.
You could stick with the classics by using only pepper and salt or punch the flavor with some red pepper flakes or cayenne. You could also include thyme, rosemary, oregano, or fresh lemon juice. A sprinkle of garlic salt, mustard powder, onion powder, or grated Parmesan cheese is also acceptable for a more upbeat flavor. And if you prefer more umami in your broccoli, try adding some hot sauce, Worcestershire sauce, soy sauce, or rice vinegar. It's that flexible!
Cooking Methods for Broccoli in a Pan
Pan broccoli can be roasted or steamed, depending on your preference. And here's how to do both;
Pan-Roasted: Heat a pan on the stovetop and add oil, then leave it to grow hot. Trim the broccoli head, add it to the pan, and stir until it coats the oil. Add the spices and seasoning as preferred and stir until it grows lightly brown. Then, serve as desired.
Pan-Steamed: Heat the pan and add oil, then leave it to shimmer. Trim the broccoli head, sprinkle with salt, and then add it to the oil. Cook the veggies for five minutes, then add a bit of water and cover the lid for one minute. Then, add the spices and stir for another minute before serving.
View this post on Instagram

Other Tips
Using the pan-steaming method, you can replace the water with broth.
You can combine the spices and seasonings with water in a bowl to make a wet spice mix for the pan-steaming method.
Try to cut the florets into equal sizes, so they evenly cook.
You can also replace the oil with butter if you prefer.
You can serve pan-cooked broccoli with meat, fish, or seafood. It also pairs greatly with sushi, grain bowls, rice, noodles, and tofu. Also, add this delicious recipe to salads, or
Print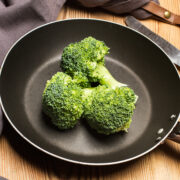 Pan-Fried Broccoli (4 Servings)
---
One broccoli head, trimmed into florets

One tablespoon

of minced garlic

One teaspoon

of olive oil

One teaspoon

pepper

One teaspoon

salt

½ teaspoon

red pepper flakes
---
Instructions
Pour the broccoli florets into a mixing bowl and add the spices and salt. Then, mix the ingredients until it fully combines.
Turn the stove to medium heat and place a non-stick pan over it. Add the olive oil, leave it until it shimmers, and add the broccoli.
Stir-fry the florets for four to five minutes. You'll notice it turns tender and crispy by this time. Transfer the fried broccoli into a dish and serve as desired.
Of course, some of us prefer a visual direction when trying a new cooking method. If you're one of those, click this video for more information.