Legumes have played a major role in numerous dishes, whether you're vegan or enjoy a plant-based protein menu. And black-eyed peas are one of the most commonly sought types in most homes. The beans have always featured in many traditional dishes, especially those from the southern side. And now, you can prepare it using one of the most effective kitchen appliances; the trust crockpot!
Black Eyed Peas Nutrition Facts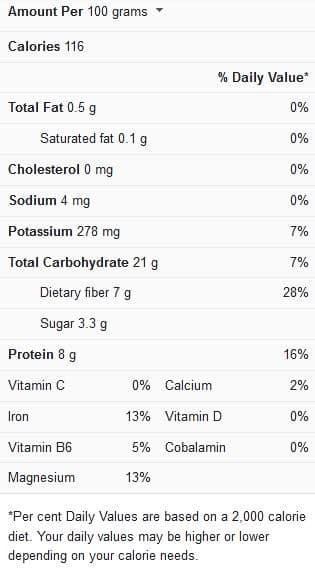 What Are Black Eyed Peas?
Black-eyed peas are fairly-large beans with whitish skin. They got their names from the black marking at the embryonic center of the seeds, just around the hinge for the two cotyledons. Black-eyed peas are a famous addition to New Year's dinner as it's a common belief that these peas bring prosperity when eaten at the start of the year. But they're also enjoyed on any other day, as they can be paired with vegetables, animal-based proteins, seafood, bread, and a solo meal.
Why Cook Black Eyed Peas with a Crockpot?
The common stovetop method is the most widely used for preparing black-eyed peas. But today, many have discovered a better way to prepare it- using the slow cooker. But you may wonder if such a move is required for such easily-cooked beans. And the answer is yes, with some suggested advantages written below;
Zero Fuss- With a slow cooker, you can toss the ingredients with the beans in liquid, set the timer, and salt to taste. It's that simple.
Creamier Beans- Because it takes time to cook, you can prepare the best mashed black-eyed peas recipes using a crockpot!
Flexible, Easy Recipes- However you wish you cook the peas, the procedures are mostly the same! You can prepare a basic recipe, lean towards a more Cajun option, or rest on the classic Southern style!
Steps for Crockpot Black Eyed Peas
Now that you see that a crockpot is a great tool for cooking black-eyed peas, the next step is to learn how to do it. But don't fret, as it's quite easy, provided you stick to the basic plan and are sure of what you hope to accomplish at the end.
Cleaning the Black Eyed Peas
Most black-eyed peas are bought in sealed bags and usually come pre-picked and cleaned. But if you purchased yours from a farm market, it's bound to contain grit, stones, and shaft. Pick these impurities out before cooking the peas; otherwise, you may end up chewing stones with your meal. And once done, you can rinse the beans a couple of times before cooking (mostly unnecessary for bagged beans but wouldn't hurt anyway).
Soaking the Black Eyed Peas
The great thing about cooking black-eyed peas in a crockpot is you won't have to soak them. The slow cooker's steam pressure provides enough moisture to soften the beans during the given time. But soaking them before cooking does cut down the doneness time, so if you'd like that, give it a try. To do this, pour the black-eyed peas into a water bowl and leave it to soak overnight. Then, rinse off the soak water.
View this post on Instagram

Seasoning Options
If you're making a basic recipe to incorporate into other recipes, then a combination of freshly ground pepper, sliced onions, minced garlic, and salt would work. However, the beans also incorporate a wide variety of flavor options. You can include cubed ham, chicken, turkey, or sliced bacon for a more powerful taste. A few dashes of cayenne pepper or Cajun season will boost its spicy appeal. And if you're making a vegan dish, boost the flavor with herbs like rosemary, oregano, thyme, coriander, and other preferences.
Water is mostly used as the liquid base for crockpot black-eyed peas, but you can also consider broth of any kind. But if you like an even creamier recipe, you can use both. And some recipes include a few drops of liquid smoke for a more traditional feel.
Cooking Black Eyed Peas in a Pressure Cooker
To prepare black-eyed peas in a crockpot, you need to measure the liquid properly. The common technique is seven cups for every pound of peas. But if you've presoaked the beans, you'd have to cut the liquid down by two cups. Afterward, combine it and other ingredients with the beans in the crockpot and cook for five hours on HIGH (seven hours if you didn't soak first).
It would help if you salted the beans after being fully cooked. And if you prefer a creamer dish, take about one cup of beans out, mash it, and return it to the pot. Then, stir everything and serve as preferred.
Print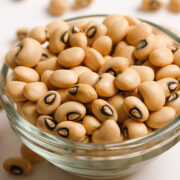 Crockpot Black Eyed Peas (8 Servings)
---
One pound of dried black-eyed peas

14 oz

. petite diced tomatoes, canned
Seven slices of bacon, cooked

Seven cups

of chicken broth

One cup

of diced ham

½ cup

sweet onion, diced
One garlic clove, minced

One teaspoon

oregano

¼ teaspoon

pepper

¼ teaspoon

salt (adjust to taste)
---
Instructions
Rinse the black-eyed peas and pour them into the crockpot. Then, add the chicken broth, bacon, diced tomatoes, ham, garlic, onion, pepper, and oregano. Stir till the mixture is evenly distributed.
Place the lead, and cook for seven hours on HIGH; ensure not to open the lid until the time is completed.
Uncover and add the salt, adjusting to taste. Then, stir until the preferred taste is reached, and serve.
Also, check this video for more tips.