You have friends and family coming over to your place tonight, and you're thinking of cooking oven-baked chicken legs as the main dish for dinner, but you have no idea how to cook it. If you've always wanted to make this recipe, but you think it's too difficult or complex to cook, worry no more.
Chicken legs are very easy to cook once you follow the easy steps and tips we have for you in this article. If your goal is to achieve very satisfactory chicken leg quarters for your whole family to enjoy, ensure you pay enough attention to the cooking instructions, tips, and guidelines below.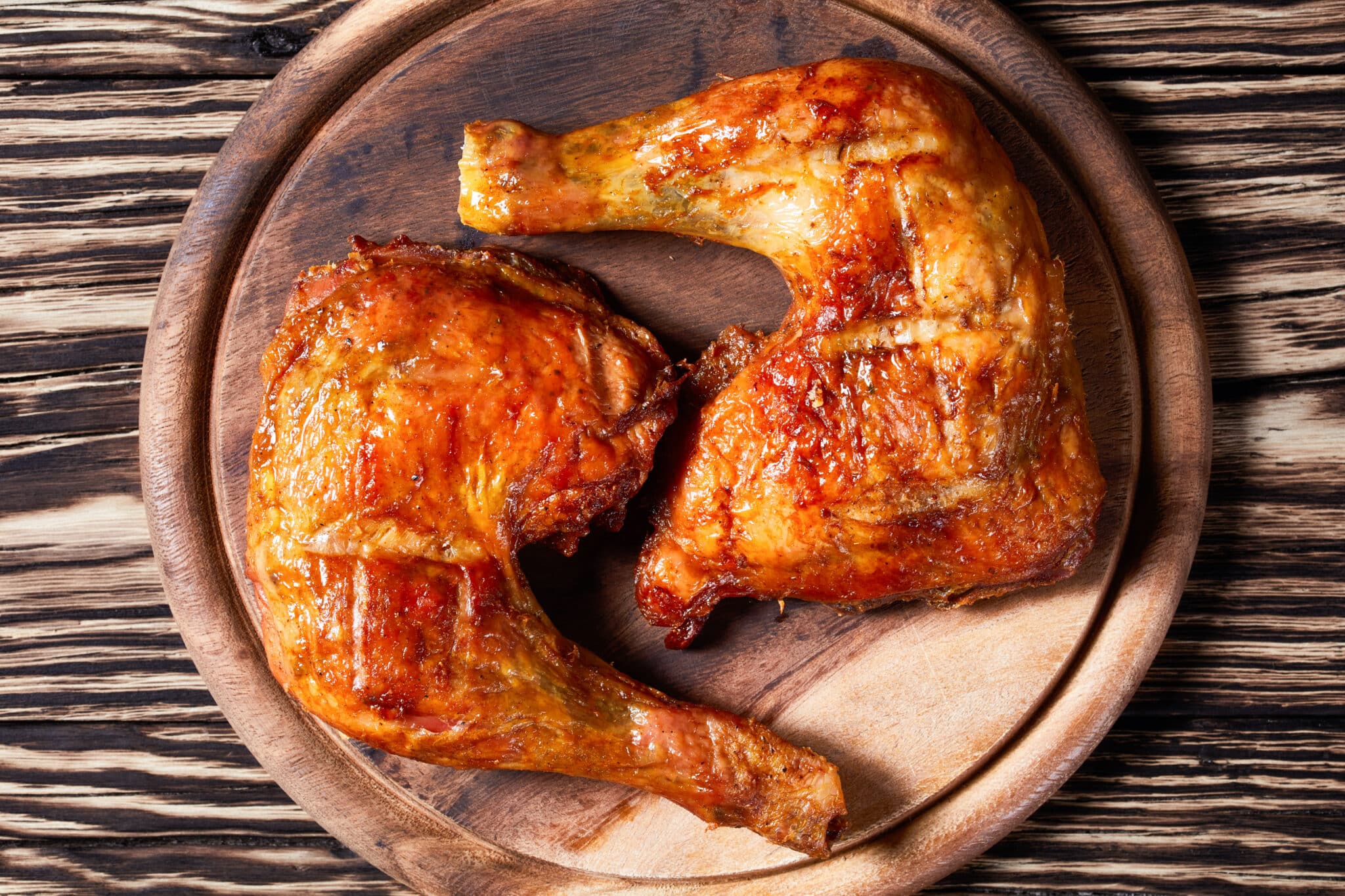 Tips for Cooking Chicken Leg Quarters in Oven
Defrost your chicken – before you begin the seasoning process of the chicken, put it on the counter or in a big bowl after you've taken it out from the refrigerator. Leave the chicken to defrost at room temperature to make them warmer, moist, and fresh. This also helps the chicken to be less tough when in the oven and to cook faster.
Use some vinegar – to wash the chicken, it's best to soak them in vinegar and scrub clean with halved lime pieces. This removes every bit of lingering dirt in your chicken. When you're satisfied with how clean your chicken is, pat it dry with a kitchen towel.
You can make your own rub – using Rub to season and marinate your chicken is mandatory. Whether you prefer store-bought rub, or want homemade rub, it's completely up to you. You can make your rub at home using just a few ingredients, and it's sure to be equivalent to or even better than most store-bought rubs.
Make some holes in the chicken – before you start seasoning your chicken, you can take a knife or fork, and make some holes to create a little space between the skin and the rest of the chicken. Carefully poke the knife into the top side of the chicken so the skin will be like a pocket. This allows the inside of the chicken to be tender and juicy while the skin becomes crisp.
How to get a juicier chicken – to ensure your chicken has a ton of flavor and juiciness, leave it to marinate overnight in the refrigerator and cook on high heat for about 35 to 40 minutes. This helps the chicken to absorb the dry rub. It also helps the chicken legs to develop a crispier skin on the outside, locking in all those juices in the chicken which makes them perfectly tender and savory on the inside when ready.
Great side dishes to try – they're a ton of amazing side dishes you can add to your chicken making them more delicious to eat. A major side dish to use would be salads, it's incredibly tasty when eaten with chicken. You can also use rice, baked beans, roasted potatoes, or even pasta. You can also your favorites for dinner, as long as there's chicken to go with it, your meal is sure to taste delicious, trust me.
Making some gravy – having gravy with the chicken quarters is absolutely amazing to the taste buds. You don't have to use just the chicken juices for gravy; you can be a little extra with your food. Keep in mind that you can make gravy using just a handful of seasonings combined with the juices from the chicken. You can also add heavy cream or yogurt for a tastier gravy.
 

View this post on Instagram

 

Cooking Time for Chicken Leg Quarters in the Oven
Below are the necessary timing guidelines and procedures you should keep in mind when attempting to cook chicken leg quarters in your oven.
| | |
| --- | --- |
| Cooking procedure  | Cooking time |
| Cooking chicken leg quarters in the oven at 350° F. | 45 minutes |
Print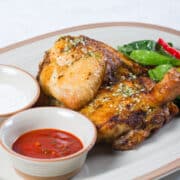 Oven-Baked Chicken Leg Quarters (2 to 4 servings)
---
---
Instructions
Take your chicken quarters and wash thoroughly with vinegar and lime. If your chicken had been sitting in the freezer, place it on the counter and leave it to come to room temperature before you wash it.
In a bowl, mix all the dry seasonings with a fork.
Take your chicken and pat dry with a kitchen or paper towel in an oven tray. After that, make holes under the skin of the chicken and sprinkle olive oil or melted butter generously on all sides of the chicken. If you have both olive oil and melted butter, you can use them both, too. Rub the oil on the chicken well.
Pour your dry seasoning rub all over the chicken, including under the skin. Massage the chicken with the oil and seasonings. Ensure that all the seasoning goes into all parts of your chicken quarters.
Once you're done seasoning your chicken, cover the tray with a plastic wrap and place it in the fridge for at least 2 to 3 hours if you're in a hurry. If you have time, leave the chicken to marinate overnight in the refrigerator.
Once it's done marinating, allow it to come up to room temperature a bit before you place it in the oven at 350° F and bake for 45 minutes.
After 45 minutes, you can take it out of the oven. The chicken will have a golden brown color to it, and you'll be able to see how crisp and tender it is on the outside and inside respectively.
This recipe for chicken leg quarters is very easy to follow and the results are just superb. This is a meal you and your family are sure to love and you might catch yourself cooking it more than once in a week!
If you're looking for more tips and tricks on how to achieve the best results when cooking chicken quarters, feel free to check out this video.