After chicken, turkey is the next popular bird that tastes delicious in many recipes and thanksgiving is one occasion that wouldn't be the same without a full turkey. The full turkey is great and could feed several people but the wings are a smaller, cheaper alternative that could be prepared easily for a small crowd or just for one person.
Turkey wings could be made for any occasion even for Thanksgiving, most people use them as an alternative instead of using a full bird and they are just as delicious, crispy on the outside, and juicy on the inside.
With your favorite seasoning rub, you could easily bake these turkey wings in an oven in just a few minutes and this article would be showing you just how to do that but first let's show you some expert tips you could use when making turkey wings.
Tips to Note When Making Turkey Wings in an Oven
These tips discussed below are sure to help with your cooking process so the recipe is easy and produces amazing results each time.
Use a meat thermometer; turkey wings vary in size and the cooking time used for a particular size may not work for another, the smaller ones cook faster than the larger ones, and to get an accurate result use a meat thermometer and pay attention to the turkey while it's cooking when you insert the thermometer into the thickest part of the turkey it should reach 165°F.
Clean the turkey wings properly; make sure you could use vinegar, lime, or lemon to clean the turkey properly before cooking then rinse it and pat dry with paper towels.
Cleaning the meat well would make it have a clean scent while cooking and taste so much better after cooking plus it would prevent any foodborne illness. Remember to pat it dry before rubbing any oil, seasoning, or marinade, and then cooking.
Season the turkey wings with your favorite spices; the recipe doesn't force or limit you to a particular spice, you could add or remove spices to suit your preference. If you're all out of ideas for seasoning try using Cajun seasoning, Cayenne pepper, paprika, parsley flakes, Allspice, garlic powder, onion powder, dried basil, and salt.
Use the pan drippings for gravy; an excellent way to provide enough flavor in the final meal is to use the extra pan drippings to form gravy, you could take the pan juices, add some extra veggies if you want, and thicken it with some cornstarch or any thickener you'd prefer.
Add some oil or butter; this tip is optional because it depends on the texture of the turkey wings you're going for. If you want it crispy but you want to also make a gravy then rub some olive oil before seasoning and roasting and if you wouldn't want any drippings in the meat and you prefer a crispier texture then drain the liquid 10 minutes before the turkey baking time is up and rub some melted butter on it so it browns well.
To cover the turkey wings or not; covering the turkey wings when baking makes them tender, moist, and evenly distributes the heat so it cooks well but some people bake their turkey wings without covering and it still comes out amazing for them so this tip is optional, you could choose to cover the turkey or not it's up to you.
If you'd be broiling the turkey wings remember to remove the covering and broil them for a few minutes.
You can cut the turkey wings before cooking; this tip is also optional because most people might have children dining at the table and the turkey wings might be difficult for them to eat plus cutting the turkey wings into smaller bits allows them to cook at an even temperature. You could still cut them after cooking and before serving or you could cut them before cooking, and use a sharp kitchen knife or scissors to cut them up.
View this post on Instagram

Cooking Time for Turkey Wings in an Oven
The cooking time for turkey wings may vary because of the different sizes of turkey available in the market but this table below shows the estimated cooking time for turkey wings in an oven.
| | |
| --- | --- |
| Cooking method | Cooking time |
| Cooking turkey wings in an oven at 350° F | 1 hour 45 minutes |
Print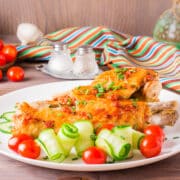 Delicious oven-roasted turkey wings (4 servings)
---
3

lb Turkey wings
A full onion of your choice

2 tablespoons

garlic powder

½ tablespoon

salt

½

dried thyme

2 Tbsp

. Cornstarch

2 tablespoons

onion powder

½ tablespoon

dry parsley flakes

½ tablespoon

black pepper
Half cup Butter

½ tablespoon

Smoked paprika

½ tablespoon

dry basil

1 cup

chicken broth
---
Instructions
Start by preheating the oven to 350°F.
Clean the turkey wings, pat them dry with some paper towels or a clean kitchen towel, and set them aside.
In a small bowl, mix the dry spices- ½ tablespoon dry basil, ½ tablespoon Smoked paprika, 2 tablespoons garlic powder, ½ tablespoon salt, ½ dried thyme, 2 tablespoons onion powder, ½ tablespoon dry parsley flakes, and½ tablespoon black pepper.
In a casserole dish (make sure you're using a casserole dish so the sides hold the juices) add the cleaned turkey wings and use some olive oil to brush on the skin of the turkey wings then add the mixed spices and rub them thoroughly on the turkey.
Carefully pour a cup of chicken broth from the sides of the casserole dish so it doesn't dilute the seasoning then cut the onion however you'd like and add them to the casserole dish.
Cover the casserole dish with foil and place in the oven, bake for about 1 hour 30 minutes, then remove the foil and bake for an extra 15 minutes.
Remove from the oven and serve however you'd like, you could use the pan drippings to make a delicious gravy or store them for another recipe. You could even serve the turkey wings with rice or your favorite sauce.
This recipe is truly easy and rewarding to make and if you'd still like to see more ideas on how to make turkey wings in an oven, then check out this video recipe