Pork chops are one of the best convenient, easy, and healthy meals to prepare, they also have a reputation for being dry as shoe leather but that wouldn't be the case for you because you're about to find out how to make a moist and juicy one.
The key to a juicy pork chop lies with careful selection of the ingredients, especially the meat, and proper adherence to the cooking procedures and cooking time, the recipe would be a breeze when you do this and the results would be perfect each time.
This is why in this article we have carefully arranged the simple tips and tricks, different cooking methods, correct cooking time, and a full juicy pork chop recipe just for you so you'll achieve the best results when you make yours.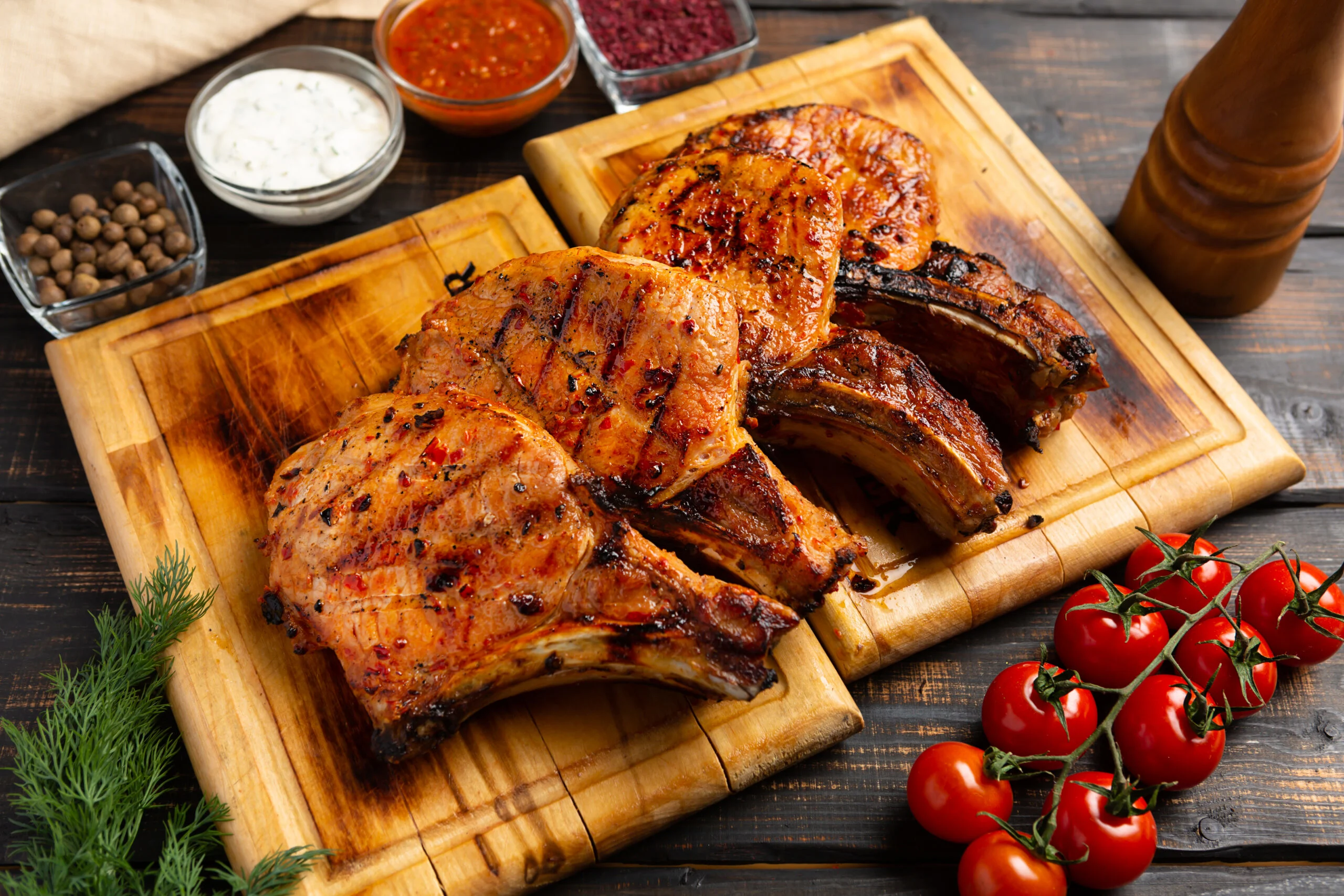 Pork Chop Nutrition Facts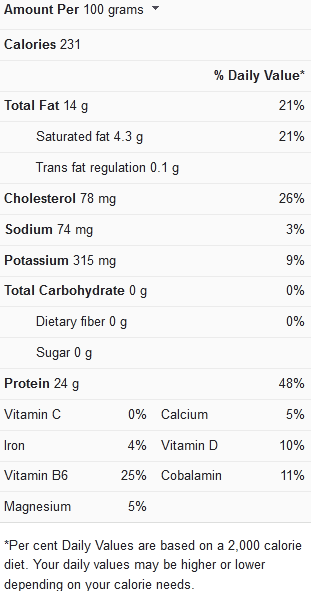 Tips to Consider When Making a Pork Chop Recipe
When you're making pork chops there are a few things you need to take into consideration, the cooking process would be easy when you use these tips.
Use a meat thermometer; the safe internal heat temperature for pork chops is 140-145° F (medium rare), the meat would need to rest for five minutes and there it would continue cooking and redistributing its' juices. If you'd be making pork chops of different sizes test all of them for doneness with a meat thermometer.
You could choose to brine the pork chops; brining is not mandatory but it is a tip you could use to get more tender and flavorful meat, it takes time but it is worth it.
Brining could be done ahead of time like a few hours or an hour before cooking time, just use salt to rub on all around the meat, You could even add extra ingredients like fresh herbs, peppers, and garlic. If you want some crust on the meat, rub some flour on it.
Thaw the pork chops first; if the pork chops are frozen try to let them defrost first by letting them rest on the kitchen counter before cooking, so the meat is properly cooked.
Make a pan sauce to go with it; a pan juice is a guaranteed way of getting that juicy and moist texture in your pork chop. After searing deglaze the pot with some chicken, vegetable, or beef stock and add in any ingredient of your choice. You could thicken it with a roux to any consistency you like.
View this post on Instagram

Methods for Cooking a Moist Pork Chop
There are several ways to go about this recipe each producing delicious results, these methods below are the most commonly used that yields amazing results.
In an oven; the oven roasting method involves cleaning and drying out any moisture on the pork chops with paper towels, then seasoning with salt and pepper. After that, a marinade is mixed with some olive oil and spices (you can use your favorite dry spices) this mixture is applied all around the meat.
Next, get a baking sheet, apply some cooking spray and place the marinated pork chops on it then put this into the preheated oven and roast until you've reached the desired doneness of 145° F. After it's done remove the meat and baste with any pan juice left then let it rest and serve.
On the stovetop; this method is done in a skillet, the meat is prepared just the way explained in the oven method but you wouldn't be cooking the same way. After marinating the meat you'd add some cooking oil to the pan place over medium heat and sear the meat until brown then flip it over, reduce the heat to low, cover the skillet, and cook slowly for about 5-10 minutes or until it reaches 145° F. Then remove it and serve with anything you'd like, with sauce or gravy.
In an air fryer; the air-frying method is convenient and easy to follow and some might even say the best method. The air fryer is like a mini convection oven that cooks the pork chops quickly and tenderly.
The preparation is still the same as what I've talked about for the first two so when you're done applying the marinade, preheat the air fryer to 375° F and place the pork chops evenly spaced out in the air fryer basket.
Cook the pork chops for about 5 minutes then flip them and cook for about 5-6 minutes more until it reaches the required doneness of 145° F. Let them rest and enjoy.
| | |
| --- | --- |
| Cooking methods | Cooking time |
| Cooking pork chops in an oven at 400°F | 23 minutes |
| Cooking pork chops on a skillet | 20 minutes |
| Cooking pork chops in an air fryer at 375°F | 12 minutes |
Print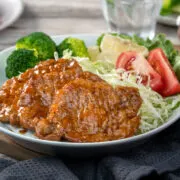 Juicy stovetop pork chops (4 servings)
---
---
Instructions
Bring a medium-sized pot and pour in the 1 liter of water, 2 pieces of dry bay leaves, 1 tablespoon of salt, 1 tablespoon of peppercorn, 6 garlic cloves, 1 teaspoon soy sauce, and stir properly.
Boil this mixture for about 2-5 minutes then remove from heat and let it cool down.
Then take the cleaned pork chops, place them in a bowl, add the cooled down mixture and soak for 30 minutes or more.
After a few minutes or hours remove the meat and let them drain in a colander them go ahead and make the marinade sauce.
Add a tablespoon of salt to a small bowl, 1 teaspoon paprika, ¼ teaspoon of freshly ground black pepper, 1 teaspoon brown or white sugar, 1 tablespoon of soy sauce, and 1 tablespoon cooking oil.
Mix and use a cooking brush to apply this marinade all over the pork chops. ( Remember to dry out any excess moisture from the pork chops before applying this marinade).
After applying the marinade, seal or cover the pork chops with a plastic wrap and let them sit for at least an hour.
After marinating the pork chops, add some cooking oil to the pan, set the heat to medium-high heat, and sear the meat for about 2-3 minutes on each side.
Flip the meat to the other side once the edges start getting crispy, watch them closely so it wouldn't overcook and dry out.
After searing reduce the heat to low, cover the skillet and cook for about 6-10 minutes.
Use a meat thermometer, it should be properly done when it reaches 140°F to 145°F on the meat thermometer after sticking it into the thickest part of the meat.
If you'd like to see more ideas on how to make a moist pork chop then check out this video recipe.