Turkey wings are one of those proteins that you can get without having to break the bank, and although the feeling of eating turkey wings can't be matched with that of eating a whole turkey on Thanksgiving, your tastebuds surely wouldn't pass up the opportunity of a delicious turkey wing.
The traditional way of cooking turkey would be grilling it in the oven, but when it comes to turkey wings, it is best cooked over a stovetop. In this article, I will be giving you some guidelines to follow if you want to cook turkey wings on the stove.
Tips To Cook Turkey Wings On A Stove
Below are some simple but powerful tips to keep in mind whenever you are cooking turkey wings on a stove:
Wash turkey wings – washing your turkey wings is very important, you need to wash all your poultry because sometimes these meats are not handled properly and they can come in looking dirty or unpleasant. To wash properly, put the turkey wings in a bowl and squeeze in some lemon or lime juice, also add a little amount of Apple cider vinegar and give the wings a good scrub with a small knife. Add some warm water and give the turkey wings another wash, rinse off and place them in a strainer.
Season turkey wings – a delicious meal is never complete without some sort of seasoning. The seasonings you pick are essentially the identity of your meal. You can never go wrong with seasoning, but I always go with a rub or some type of spice blend.
Allow turkey wings marinade – to get more flavor out of your turkey wings, you should allow them to rest for a while to allow the seasoning to penetrate through the meat. You can leave it to sit at room temperature for 2 hours, or you could throw it in the refrigerator to marinate overnight.
Do not cook turkey wings completely – when cooking turkey wings on a stove, you want to boil the turkey in some type of stock or broth, doing this will make the turkey more tender and soft. Be careful not to fully cook the chicken wings in liquid as you would be implementing a 90/10 cooking method, where you cook the turkey wings for 90% of the cooking time, and fry them for the remaining 10%.
Preheat the oil – preheating the cooking oil will drastically shorten the time required to fry the wings. You want to preheat the oil for a couple of minutes on medium heat after you cook the turkey wings in the broth. As soon as the wings are out and strained, place them in the oil, and they should start cooking almost instantly.
Fry in oil – frying the turkey wings in oil would give them that beautiful brown and delicious crust. You should be frying them for only 10℅ of the cooking time, after a couple of minutes when they are brown, flip them over and get a good sear on the other side too.
Cooking Time for Turkey Wings on the Stove
| | |
| --- | --- |
| Cooking procedure | Time required |
| Boiling turkey wings | 45 to 60 minutes |
| Frying turkey wings | 10 to 15 minutes |
Print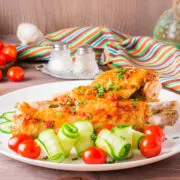 Quick turkey wings on the stove (2 servings )
---
2

large Turkey wings
Apple cider vinegar
White onion
Purple onion
Curry powder
---
Instructions
Strain off dirty water, and rinse in warm water again
Make a rub by mixing ginger paste, garlic paste, salt, pepper, white onion, purple onion, habanero pepper, curry, and thyme inside a blender and blitzing until you achieve a paste.
Completely coat your turkey wings in this rub, also add 2 tablespoons of water and steam the turkey on low heat for 5 minutes
Add more water to cover your turkey wings in the pot and continue cooking until they are soft
Remove the turkey from the stock and into a preheated pan of oil
Fry for 3 minutes on each side (or until brown)
Transfer to serving dishes, and enjoy
This quick and easy turkey wings recipe is always delicious if followed accordingly, make sure you try it at home. If you would also like to see more recipe ideas, check out this video recipe.