There are several possible ways you could make hot dogs, you could boil them, bake them in an oven, air fry them, grill them, etc., and each of these methods would produce amazing results, but even so, there are some methods that produce a more flavorful result than the other, and I'm sure you know I'm talking about the grilling method.
In terms of convenience, some people might not prefer the grilling method, but this method is ideal for a flavorful, juicy hot dog, and it would accommodate a lot of servings since you can make enough hot dogs for a party using this method and in such little time.
You will be able to make this recipe without fail each time when you follow the cooking instructions, adhere to the cooking time, and use the right ingredients or cooking tools; in this article, we will be showing you how you can achieve a flavorful, juicy, and tender hot dog in a short space of time using the grill but before we do let's share some of our helpful tips that you can use when making a grilled hotdog.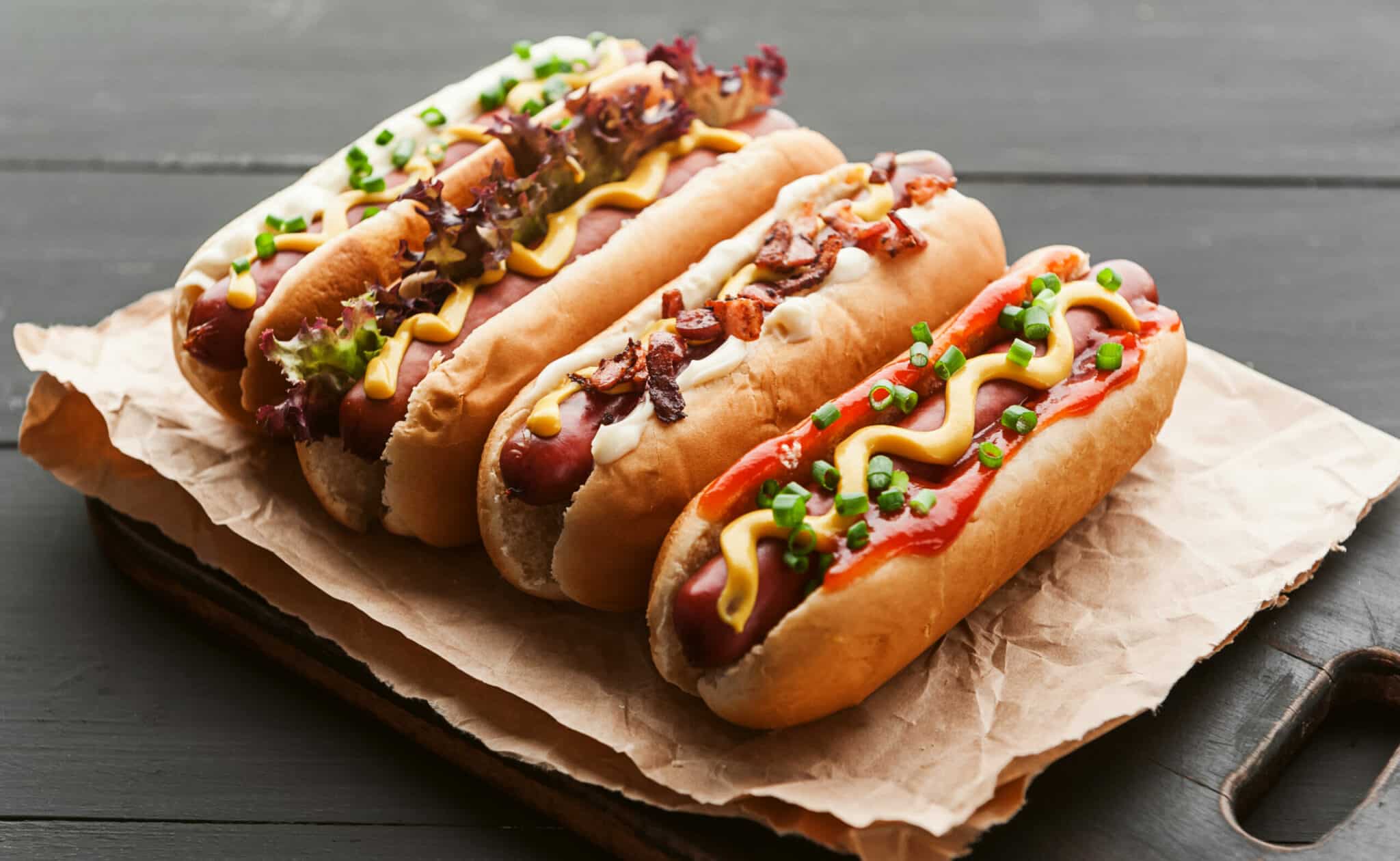 Hot Dogs Nutrition Facts
Tips to Note when Making a Hotdog on a Grill
A hot dog recipe is truly easy to follow; you'd be able to make this in no time, but when you have these tips at the back of your mind, the recipe will be perfect each time.
Thaw out frozen hot dogs; if you want the hot dogs to cook properly, then you should thaw them first in the refrigerator overnight, then allow them to sit on the kitchen counter and warm up for a couple of minutes or hours. Remember to pat them dry with paper towels before grilling.
Preheat the grill; before you start grilling, you'd need to warm up the grill, whether it's a charcoal grill or a gas grill. For the charcoal grill, preheat until the charcoals are covered with whitish ash, and for the gas grill, preheat on high for about 10-15 minutes, then reduce the heat to medium or medium-low, depending on the fat content in the meat.
Both grills are great to use, but a charcoal grill gives the hot dog a smoky, delicious flavor
Use butter for extra flavor; butter adds rich flavors to the hot dogs; rub some on the hot dogs before you remove them from the grill, and even on the buns, you should try toasting the buns also on the grill for a few a minute just so they warm.
You could intensify the delicious flavors of the hot dogs by using melted garlic butter instead of regular butter, but if you don't have it, feel free to use what you have.
Evenly char the hot dogs; make sure your char the hot dogs evenly; this shouldn't take more than 2-3 minutes on each side; if you grill for longer, the hot dogs will become dry. You'd know when the hot dogs are done when the natural juices easily come out of them, and they look plump.
Use the cooking spray; before you add the hot dogs to the grill, make sure you spray the grates with a grill spray that's non-stick so the hot dogs cook properly without sticking to the grill and the cleanup becomes easy.
Make a few slits in the hot dogs; before you grill them use a paring knife to make about 4-5 small slits on the hot dogs to prevent them from getting wrinkled after cooking. Making these slits also help with cooking because it allows the fat inside the dogs to cook and release caramelized juices.
You could cut them creatively with different styles like crisscrossing, spiral, and diagonal cuts.
Cook hot dogs with low-fat content on medium-low heat; meat with low fats wouldn't be able to stand high heat so cook them with medium to low heat for a lesser time than you would with other ones with higher fat content. An example of hot dogs with low fat is the grass-fed beef franks; cook them for a minute less for each side so they wouldn't dry out.
Turn the hot dogs regularly while grilling; hot dogs are delicate and need to be cooked properly; turn the hot dogs regularly to prevent them from burning or bursting and help them get tender and juicy quickly.
View this post on Instagram

Cooking Time for Hot Dogs on a Grill
Hot dogs need to be cooked within the estimated time to avoid them drying out; the table below contains the cooking time for grilling hot dogs.
| | |
| --- | --- |
| Cooking method | Cooking time |
| Making hot dogs on a grill | 20 minutes total |
Print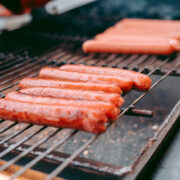 Juicy grilled hot dogs( 4 servings)
---
4

hot dogs

4

hot dog buns
Garlic butter or regular butter
A full onion (any type you'd like)
Yellow mustard
I tablespoon liquid smoke (optional)

3 cups

water (optional)
Equipment
Gas or charcoal grill
Propane or charcoal
Grilling tongs
Non-stick grill spray
Grilling brush
---
Instructions
Start by pre-heating the grill, for the charcoal grill add some charcoals and heat until white ashes form on the surface of the coals, pour them out, and arrange them on one side of the charcoal grate them cover the grill for about 5 minutes. While for the gas grill preheat it by setting it to high heat and covering the grill for about 10 minutes.
Clean the grates and add some non-stick grilling spray to the grates.
Use a pairing knife to slit the hot dogs how you'd like whether diagonal slits or criss-cross slits.
You could choose to marinate the hot dogs with some liquid smoke and water just mix them, add the slit hot dogs to it, and heat it for a few minutes (don't boil them). You could add some hot sauce to the pot if you want.
After that pat them dry with paper towels and rub some melted butter on them, use a grilling tong to place them on the grill.
Turn them regularly to evenly cook and if you'd want char marks you can do this for 2-3 minutes on each side.
Take the hot dog's buns and rub some butter or garlic butter (garlic cooked with butter) on it then place on the grill so it toasts for a few minutes about one or two minutes.
When the hot dogs start looking plump and done take them out and serve with the buns, some mustard, onion, and whatever you want.
This recipe is pretty easy to follow but if you want to see more grilled hot dog recipes and tips, check out this video recipe