For many individuals, grilling is a wonderful way to eat healthy while still having fun. This explains why so many people desire to get an excellent barbecue that will make grilling simple and painless. Weber makes one of the most popular charcoal grills on the market. This international brand creates easy-to-use and convenient charcoal grills that are ideal for outdoor grilling.
As a result, likely, you're not the only customer in the store who wants to obtain this fantastic product to get the most out of grilling your chicken for maximum flavor and ease. But, you might be wondering, how do you cook your chicken on this grill. Well, as we progress through this article, that should become further evident.
Chicken Nutrition Facts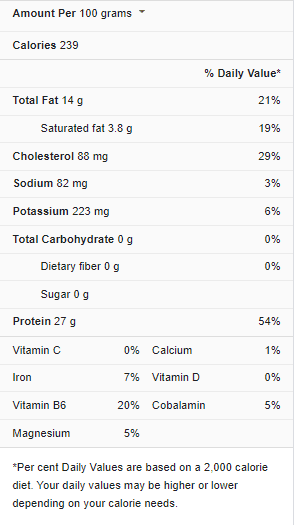 Why Cook Chicken on a Weber Charcoal Grill?
Even though we've already said why you should use this weber charcoal grill for cooking your chicken, you should be aware of the other advantages this grill provides. These advantages include:
Cooking Machine with Versatility- Charcoal grills, such as those made by Weber, may cook on both direct and indirect heat. You can swiftly fry and sear a steak or even chicken, or you may slow cook BBQ ribs on your grill. You can even bake desserts with the right grill design. You can barbeque, grill, smoke, bake, and sear things to perfection on a charcoal grill.
It has a fantastic flavor- Charcoal grills elevate your food to new heights. The direct heat of the charcoal transforms the meal drippings into quick smokey flavors that pervade the dish above. Searing over a direct charcoal flame provides delectable tastes that a gas grill can't match.
Charcoal grilling produces juicier chicken- When you use the infrared heat of a charcoal barbecue, less moisture is lost in the meal. Instead of heating and drying out the air within the grill, the hot coals only heat the food directly above them. The moisture barrier of your meat is disturbed by infrared heating, yet it retains approximately 35 percent more moisture than meat grilled on gas grills.
Less Expensive & More Valuable- Gas grills are substantially more expensive than charcoal grills due to expensive components such as burners, valves, thermostats, and built-in ignitions. When you buy a charcoal grill, you're also getting a smoker. Consider it a deal where you spend less for the grill upfront, and you get a smoker included for free.
Tips for Cooking Chicken on Weber Charcoal Grill
Pick Your Chicken- Keep in mind that the quality of the chicken you cook will have a significant impact on the outcome. Of course, if you invest in free-range and organic chicken, you may expect excellent results in terms of flavor. These are chickens that are allowed to roam around freely in the open air and have firmer meat with a stronger flavor.
Ensure an Even Cooking Surface- You should be aware that the thickness of skinless and boneless chicken fluctuates when grilling. Make sure to remove any thin strips of meat found right below the breast. It needs to be separated from the rest of the ingredients and grilled independently.
To ensure even cooking, wrap the breast in plastic sheets and pound it with a heavy pan or mallet. By putting a thermometer into the thickest section of the thigh, but excluding the bones, you can check the inner portion of the thigh.
Before grilling the chicken, brush it with oil- Make sure you lightly oil and coat the surface of the chicken with a high smoke point oil before placing it on the grill. My preferred oils are olive and grapeseed. The chicken and seasonings will not adhere to the grill plate as a result of this procedure.
Cooking Chicken on a Weber Charcoal Grill
Let's look at some guidelines for cooking chicken on a Weber charcoal grill now that you know it's doable.
In a mixing dish, mix all marinade ingredients.
Cut the chicken into bite-sized pieces. There ought to be a total of six pieces: two legs, two breasts, and two wings.
Put the bird slices in the marinade-filled basin. Vigorous stirred and set aside to marinate the chicken. Refrigerate for up to four hours. If you don't have enough time, you can bake the chicken instead.
Get the charcoal grill ready. Preheat the oven to 350°-450°F.
Brush the frying grates clean before beginning to grill the chicken. Start with the skin side of the chicken when grilling it. Keep the lid closed while grilling it over indirect heat.
Cooking time for the wings and breasts should be around 30 to 40 minutes. The thighs and drumsticks should take about 40 to 50 minutes to cook.
Place the chicken meat on direct fire for the last five minutes of grilling. Cook till it turns a golden brown color. Before removing it from the grill, turn it once or twice more.
Print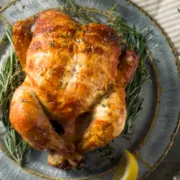 Grilled Corn and Baby Potatoes with Charcoal Chicken
---
---
Instructions
If you're using a Weber grill, make sure you have a convection tray and a roasting trivet. Prepare your grill for indirect grilling over medium heat (190 to 230 degrees Celsius). Season the chicken with the spice mix and a light coating of olive oil.
For 1 hour and 20 minutes, roast the chicken over indirect medium heat. Season the potatoes with 2 teaspoons olive oil, 2 teaspoons salt, and 1 teaspoon pepper. Chop any large baby potatoes in half if necessary. Add the corn cobs to the cooking grill 45 minutes before the chicken is done.
Grill the corn over direct medium heat for 12 minutes, flipping every 3 to 4 minutes when there are 12 minutes remaining in the cooking time. Grill the lemon halves cut side down for 4 minutes over direct medium heat to caramelize when there are 4 minutes left.
Once everything is cooked, remove it from the grill. Allow approximately 10 to 15 minutes of resting time for the chicken. Carve the chicken and serve it with roasted potatoes and corn, as well as a drizzle of caramelized lemon on top.
Following everything that has been discussed above, you will notice that cooking your chicken on a Weber charcoal grill should not be a tough process, especially now that you are aware of all the advantages of grilling with charcoal. It's critical, though, that your chicken is properly selected and that your grill is set to the proper temperature. You can also learn more about this topic by watching this video.