It's hard to imagine anyone unable to prepare oatmeal, but such shouldn't be surprising. Not everyone understands the technical difference between a crunchy bowl and a creamy serving. One main factor, however, is timing, and here, we'll explore that. But note that the best oatmeal recipes don't depend solely on the duration it takes to cook.
Oatmeal Nutrition Facts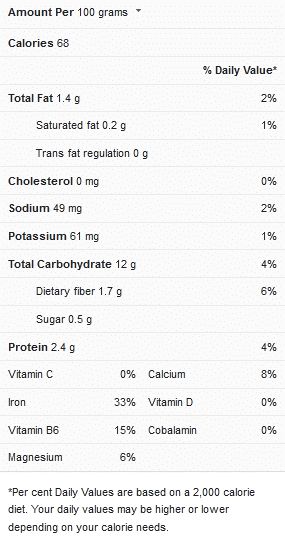 Steel Cut vs. Rolled Oats
You need to first consider the type of oat you're using to determine your oatmeal cooking time. And there are two types to choose from; rolled oats and steel-cut oats.
Rolled or old-fashioned oats are groats steamed and rolled to form flakes, which are then toasted to give a flatter surface that cooks quicker.
Steel-cut or Irish oats, however, undergo less processing, resulting in chunkier groats that take longer to cook. Rolled oats cook three to four times faster than steel-cut oats.
Cooking Times for Oatmeal
The cooking method employed also determines how quickly oatmeal cooks and works in hand with the oat type used. But the liquid-to-oats ratio must also be considered before cooking and be used thus;
Steel Cut Oats- Three parts liquid to one part oats.
Rolled Oats– Two parts liquid to one part oats
Dairy milk is mainly used in place of water, but you can also consider dairy-free and vegan milk options like almond, rice, cashew nut, macadamia nut, and oat. Once measured, you can time the oatmeal preparation based on the methods listed below;
On the Stove
The stovetop is the most traditional method for cooking oatmeal and involves;
Boiling milk or water in a pan,
Adding the oats, reduce the heat to low, and
Stirring the oats until it thoroughly cooks.
But the cooking time dramatically differs for both oat types; five minutes for rolled oats and 25 to 30 minutes for steel-cut oats.
If you're using rolled oats, you can cook them using the instant method. Pour the oats into a bowl and add boiling water or hot milk. Then, leave it to stand for two minutes and stir. Adjust the liquid to desired thickness, add other ingredients, and it's ready.
In a Microwave
The microwave technique is a quick way to prepare oatmeal for any situation but only works with rolled oats. The oats are first combined with water or milk in a microwave-safe bowl and added salt. Then, they're allowed to cook for 2½ to 3 minutes on HIGH until they soften.
For the instant method, pour the oats into a microwave-safe bowl and add water or milk. Then, microwave for 60 to 75 seconds on HIGH, stir and leave it to stand for two minutes.
In an Instant Pot
This cooking method produces a speedy result and works for steel-cut and rolled oats. The oats and liquid are poured into the instant pot, sealed, and cooked on HIGH for three minutes, followed by a 20-minute natural release. Afterward, the instant pot is vented, opened, and the oatmeal is served.
In a Crockpot
Steel-cut oats are best for the slow cooker method, as they take longer to cook. And this process results in creamy, silkier oatmeal. The cooker is first coated with non-stick spray, and the oats are, and water is added. Then, the mixture is stirred and cooked at LOW for eight hours or overnight. After they're cooked, the needed ingredients are gently stirred in, and the oatmeal is ready to serve.
In an Oven
Rolled oats are best for baking as they soften faster, making them great for quick bakes. Combine the oats with your preferred dry flavoring until they thoroughly mix, then add the wet ingredients and mix again. Next, coat a baking dish with non-stick spray and pour the oatmeal into it, scattering any additional mix-ins you added across the top. Bake in a 375F oven for 35 to 40 minutes to get a nice golden top. Then, remove it from the oven and leave it to cool for a few minutes before serving.
When baking oats, be mindful of the baking ingredient you use, and follow these tips;
You may swap the dairy with dairy-free or vegan options.
You'll need a binder, so use eggs or flaxseeds.
Mashed bananas may also be added as a sweetener, but you can swap with pumpkin, applesauce, or mashed sweet potatoes.
Oil is added to baked oatmeal, and you can use any option, from coconut to vegetable oil. If you prefer another fat, swap with melted butter or ghee, or use mashed bananas or applesauce as a fat-free moistener.
View this post on Instagram

Serving Suggestions
Serve the oatmeal with any kind of toppings you want, and below are a few tips;
Print
Stovetop Oatmeal (1 Serving)
---
One cup

of rolled oats

Two cups

of milk
---
Instructions
Pour the milk into a pot over medium heat, and bring to a boil, then add the oats and stir as it cooks. Continue for five minutes until the oats soften to desired texture, and serve as desired.
You can also watch this video for more help.