Broccoli is one of those vegetables that is packed full of nutrients, and it is no surprise to see many people picking it over a bar of candy as a choice of snack. These vegetable cooks quickly on the stovetop, but what happens when you are cooking lots of meals and there is no room for our nutritious broccoli? Well, you can steam broccoli in your microwave, and this process is also time friendly.
Cooking broccoli in the microwave is not something we do every day, so many people may be unfamiliar with the process, luckily, I have made a complete guideline to assist those who are cooking broccoli in the microwave for the first time.
How to Cook Broccoli in the Microwave
Cooking broccoli in the microwave is as straightforward as it can be, here is everything you need to know before getting started.
Always get frozen broccoli – there are so many reasons why you should be picking frozen veggies over fresh, and it is not just the reduced price tag, but you would also be getting fresher and juicer veggies after they have been thawed. Another good thing about frozen broccoli is the convenient packaging, you can throw the whole bag in the microwave when you need to make large meals because it is microwave safe.
Cut broccoli into bite-sized portions – broccoli has a unique shape that resembles that of a tree, florets merge to create this peculiar structure. Since you would be consuming this vegetable, it is only reasonable to cut it into smaller bite-sized pieces. Be careful not to chop the florets thinly as they would still shrink after they are steamed. After cutting the broccoli into smaller florets, you would be left with the stalk, you can
Rinse broccoli – just like other veggies, you should also follow sanitary measures when dealing with broccoli. Some unwanted particles may find their way into the broccoli, to ensure your vegetable is safe for consumption, you should always wash them.
Use a microwave-safe bowl – after chopping the broccoli into bite-size pieces, place them in a microwave-safe bowl or container and place them inside the microwave. Make sure you do not overcrowd the bowl, take the size of the bowl into consideration when filling it up with broccoli florets. If your recipe involves adding cheese to the broccoli, then you pack the bottom of the bowl tightly with broccoli, not leaving room at the bottom.
Add water – just before you throw your microwave-safe bowl into the microwave, add about 2 tablespoons of water. Do not add so much water, as you are only trying to steam the vegetable and not to cook it.
Ventilation is important – to prevent your broccoli from overcooking and becoming mushy after the whole steaming process, you should always leave room for the steam to escape. If you are using a microwave-safe bowl, you should cover the top with a saucer, but if you are using a plastic bag, do not seal the bag completely, or simply poke a few holes in the plastic bag
Seasoning is key – no meal is ever complete without some sort of seasoning, and when cooking broccoli, seasoning is just as important as the broccoli itself. You can choose to season your broccoli before or during the cooking process, but to get the best out of your vegetable, you should consider seasoning it after it has been steamed in the microwave.
Use a mitten – you would be cooking the broccoli in the microwave on high heat, so you should be careful when taking the bowl out of the microwave. The bowl would be very hot at this point, so it is advisable to use some kitchen mitts, or some towel or table cloth to aid removal.
View this post on Instagram

Cooking Time for Broccoli in Microwave
The table below illustrates the cooking time for various sizes of broccoli in the microwave ;
| | |
| --- | --- |
| Cooking Method | Cooking Time |
| Steaming broccoli in a microwave | 3 to 5 minutes |
| Stir-frying broccoli in a skillet | 5 to 7 minutes |
Print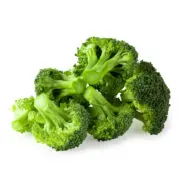 Quick Broccoli and Cheese (1 to 2 servings)
---
---
Instructions
Start by cutting the stem away from the crown area, then break off the florets with your hand. They don't need to be perfect just yet.
Chop the florets into smaller bite-size pieces. Also, chop off the harder part of the stem, peel the skin off with a knife, and chop the edible part of the stem into small slices.
Give your broccoli a quick rinse to get rid of any unwanted particles.
Grab a microwave-safe dish and stuff your chopped broccoli inside it.
Sprinkle in 2 tablespoons of water to get the steam going
Cover the dish with a ceramic plate or a saucer
Place the dish in the microwave and set to cook for 4 minutes on high
After 4 minutes, take the dish out of the microwave and sprinkle some shredded parmesan cheese, make sure the cheese covers the entire surface
Season with some salt, pepper, and garlic powder
Place the dish back into the microwave, this time without the lid, and cook for 50 seconds to 1 minute
Transfer to a serving dish and enjoy.
This delicious and creamy broccoli and cheese recipe is very delicious and can even be prepared by a 5th grader, I don't see why you shouldn't make this in your home. If you would like to see other recipe ideas, do check out this video recipe.