A highly notable and healthier method of cooking mini food recipes is by using the air fryer. It cooks just about any kind of food recipe there is, from your frozen chicken wings to frozen garlic bread, mozzarella sticks, and potato fries, and the list remains endless. Today is all about cooking frozen egg rolls using the air fryer. The best part about cooking frozen egg rolls in the air fryer is that it comes with a lot of benefits; you get to save extra time, and it comes out less messy and oily compared to deep-frying and perfectly crispy on the outside while remaining yummy on the inside.
Whatever type of egg rolls you're using, either frozen vegetable egg rolls, frozen pork egg rolls, or even frozen chicken egg rolls, it makes for an amazing snack or quick appetizer you can enjoy with some chili sauce at the comfort of your home. It's pretty simple to make once you've gone through this article, so cooking already frozen egg rolls shouldn't be a big struggle for those who aren't familiar with it.
Egg Rolls Nutrition Facts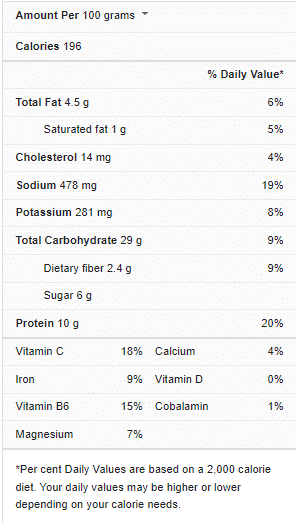 Cooking Tips for Frozen Egg Rolls in an Air Fryer
The following is an outlined compilation of the important tips and directions you ought to keep in mind when cooking air fryer frozen egg rolls:
Preheat your air fryer – This is an important thing to do when cooking egg rolls using an air fryer to ensure they're evenly crispy and moist. We recommend you preheat it to a temperature of 350°F to cook for 10 minutes or 375°F for 6 minutes (use whatever degree that works best for you). On the other hand, if you don't want to preheat the air fryer basket, just remember to add a few minutes more to your cook time.
Spray air fryer basket with oil – Using a non-stick cooking spray is optional since the egg rolls will still come out perfectly crisp. In cases where you're not able to purchase or access a cooking spray, you can easily get some olive or avocado oil and brush the insides of your air fryer basket. You also want to be extra careful when doing this, as some cooking sprays can damage the coating on the basket, so if possible, get a refillable oil spray you can easily maneuver.
Cooking time – Another tip to keep in mind is to remember that not all air fryers are the same; hence the time for cooking would differ apparently. That's why you need to check the egg rolls occasionally, or at the end of cooking so it doesn't overcook and burn out (especially if it's your first time making it). Also, note that the cooking time depends on the size of the egg rolls (larger ones take longer, whereas smaller ones take about 6 to 10 minutes).
You can make sauce/gravy – Just as bread goes well with some butter or jam, egg rolls are best served with some homemade sweet, salty, or spicy sauce, sauces like Bang Bang sauce, Eel, sweet chili, sweet and sour, Thai chili sauce, etc.
Avoid overcrowding the air fryer basket – If you're using a smaller air fryer, be sure you don't overcrowd the basket by placing all the egg rolls at once. You definitely want your egg rolls to be nicely done and crispy on all sides, so try to arrange them in a single layer, allowing the egg rolls to cook evenly and faster once placed properly.
Storing and reheating egg rolls – In cases where you're left with some leftovers after air-frying your egg rolls, there is no need to bother about them getting spoilt when you can easily store them in airtight containers plastic bags placed in the refrigerator for a day or two. Remember, before you air-fried them, the egg rolls were frozen, so it's a repeated process when reheating them.
View this post on Instagram

Cooking Time for Frozen Egg Rolls in an Air Fryer
Follow the timing guideline in the table below if your plan is to get deliciously crisp results with your egg rolls air fryer recipes:
| | |
| --- | --- |
| Cooking procedure | Cooking time |
| Cooking frozen egg rolls in an air fryer at 350°F | 6 to 10 minutes |
Print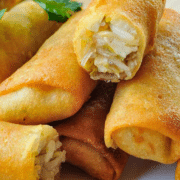 Air fryer frozen egg rolls (4 to 6 servings)
---
4

to

6

frozen egg rolls (go with your favorite brands).
Sauce for serving (you can purchase from a local supermarket or make some at home with just a few ingredients).
Non-stick cooking spray/olive oil or avocado oil.
---
Instructions
Preheat your air fryer to 350°F or 375°F.
Spray the non-stick cooking spray or olive oil lightly inside the air fryer basket if needed to avoid the egg rolls sticking to the basket.
Add frozen egg rolls to the bottom of the air fryer basket in a single layer and set cook time for 6 or 10 minutes depending on the size and quantity you're air-frying.
Halfway through, remove the basket and flip the egg rolls gently using tongs. Place the basket and continue to air fry for an additional 3 minutes to ensure they're fully cooked on the inside and have a crispy outer look. Before removing the egg rolls, allow them to sit in the air fryer basket for a few minutes as this will help to get them crispy too.
Remove the egg rolls from the air fryer basket, they should have a light golden brown color. Serve with your favorite dipping sauce, maybe some spicy or sweet Thai chili sauce, and enjoy with cold drinks!
Before now, if you had believed that egg rolls were only meant to be deep-fried, well this is just another alternative to that as an air fryer equally does the magic. The air fryer method is actually a much healthier and foolproof method trusted to give you a satisfying crunchy and perfectly cooked frozen egg rolls or any other food recipe. Make your air fryer egg rolls like a pro and thank us later! If you're also interested in other air fryer food recipes, you can check out video recipes.