Eggs rolls are one of the easiest snacks or appetizers to prepare, and in an air fryer, it becomes fast, convenient, and incredibly delicious with a nice crispy outer texture and a soft delicious inner texture. Eggs rolls are flexible and could be customized to your taste, you could eat them as snacks or pair them with other recipes to make a full meal.
The best thing about this recipe is it doesn't require many ingredients unless you want to add them and it can be made within minutes you don't have to worry if they are frozen or not because in an air fryer they would cook excellently.
We would be showing you how you can make these delicious air fryers frozen egg rolls and the required cooking time for it but before we get into all of that let's look at some expert tips that are sure to elevate the entire cooking process.
Egg Rolls Nutrition Facts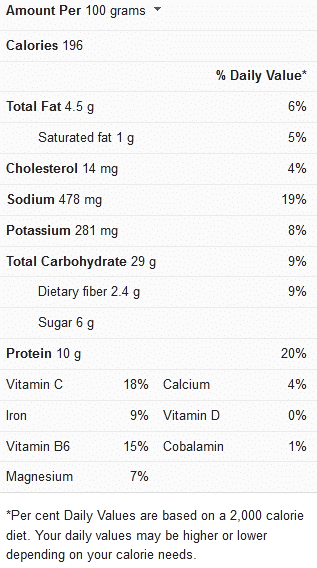 Tips to Consider when Making Frozen Egg Rolls in an Air Fryer
No need to thaw the egg rolls; these egg rolls are going to be made from a frozen state you don't have to thaw them first because they would still cook well in the air fryer. The outside layer of the egg rolls produces the crispiest texture when cooked from frozen.
Preheat the air fryer first; preheating the air fryer helps the frozen egg rolls cook evenly because the insides are warmed up nicely and the frozen outsides are cooked to a crispy texture.
To use oil or not; the air fryer normally requires no oil while cooking the egg rolls, it would still cook properly without oil. The spring rolls already contain oil because they were added during their original cooking process so you may decide to skip using oil but if you choose to use some oil on the egg rolls you could do that as it helps with the texture.
Cooking times may vary; there are a few factors that would affect the cooking time from one kitchen to the other like the type and size of air fryer used for this recipe.
There are different sizes available for air fryers and some cook hotter and quicker than the others like the big sized ones, you would have to watch the egg rolls closely and observe the first batch because after those you'd be able to know the time frame that works best for your air fryer.
The size of the egg rolls would also affect the cooking time because some are thicker, shorter, have fuller fillings, and so on. The smaller egg rolls would cook faster than the thicker and bigger egg rolls so you'd have to keep an eye out for that also or you use could use an instant-read thermometer to check for doneness by sticking it into the center of the egg rolls to see if they are hot and at a safe internal heat temperature of 165° F.
Try not to overcrowd the air fryer; overcrowding the air fryer would cause uneven cooking and produce half-cooked egg rolls, try to evenly space the egg rolls so they aren't overlapping each other. If they are much, cook them in batches and pay attention to them since the air fryer would be hotter after one or two batches and the following batches would cook faster.
To flip the egg rolls or not to flip; some people while air frying these rolls flip them halfway into the cooking time so they cook evenly while others don't do this, you could choose to flip them or not and the results would remain the same, the egg rolls would still cook properly.
Cook low them high; after preheating the oven, cook them at a lower temperature so the heat evenly cooks the insides then increase it to high heat towards the end of cooking so the outsides become crispy. Note that this tip is optional, you could still cook them the normal way without increasing the heat and they would still come out fine.
Use oil or egg wash for crispiness; if extra crispiness is what you desire on your egg rolls then go ahead and coat the egg rolls with some egg wash or olive oil. This would replicate that deep-fried egg roll texture you get from Chinese restaurants. Use the cooking spray before adding the egg rolls if you'd be using egg wash on the egg rolls.
Use your favorite dipping sauce or toppings; after cooking the egg rolls you could serve them with other recipes like noodle and rich dishes or use some dipping sauce like duck sauce, Sweet and Sour Sauce, sweet chili sauce, soy sauce, sweet Thai chili sauce, Vietnamese Fish Sauce, or any sauce of your choice.
View this post on Instagram

Cooking Time for Frozen Egg Rolls in an Air Fryer
Although the cooking time may vary depending on the air fryer or the size of the egg rolls, this table below contains the estimated cooking time for making frozen egg rolls.
| | |
| --- | --- |
| Cooking method | Cooking time |
| Cooking frozen egg rolls in an air fryer at 350° F | 8-10 minutes (depending on the size you use) |
Print
Frozen Air fryer egg rolls (4 servings)
---
1

pack of frozen egg rolls (

4

pieces)
Olive oil or egg wash
Equipment
---
Instructions
Start by Pre-heating the air fryer to 350° F.
Then add some cooking spray to the air fryer to prevent sticking.
Spray some olive oil or coat the egg rolls in the egg wash to get that crispy texture at the end of cooking.
Then carefully add them to the air fryer and space them evenly without them touching each other.
Cook for about 8-10 minutes at 350° F, start with 8 minutes in the air fryer and adjust the time if it isn't done yet by adding extra 2 minutes.
When it's done and crispy on the outside remove it from the air fryer and let them cool slightly before eating it with your favorite sauce or meal.
For more ideas and inspiration on how to make frozen egg rolls in an air fryer, check out this video recipe.