Served over a warm bed of sauerkraut (a kind of fermented cabbage), lightly browned kielbasa, a popular smoked sausage, is delicious. Kielbasa with Sauerkraut is a quick and easy family supper that can be prepared in a skillet, sheet pan in the oven, crockpot, air fryer, or instant pot. This simple recipe is a staple in many households and one of the best dinners you can prepare for your family.
Because of its popularity and originality, this meal may be an easy target for shoppers, particularly at the supermarket. It's no surprise that you're scrambling to obtain a bag of it. But how do you go about cooking this meal such that it tastes great? Well, keep going because you'll gain a lot more clarity in that area.
Kielbasa Nutrition Facts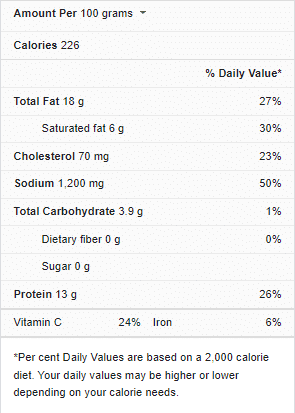 Why Kielbasa and Sauerkraut?
Now that we've gone over what Kielbasa And Sauerkraut are and how they can enhance your dishes, let's move on to some of the other advantages that this meal provides.
It goes through a fermentation procedure- Fermentation, in which microorganisms on the cabbage absorb natural sugars and convert them to carbon dioxide and organic acids, makes sauerkraut highly nutritious.
Sauerkraut fermentation encourages the growth of beneficial probiotics, which can also be found in yogurt and kefir. Probiotics aid in the digestion of foods, allowing your gut to absorb more vitamins and minerals.
Boosts the immune system- Sauerkraut is high in probiotics and nutrients that help the immune system. To begin with, the bacteria that live in your gut can have a significant impact on your immune system. Sauerkraut's probiotics may help maintain a healthy gut lining by improving the balance of microorganisms in your gut.
Furthermore, eating probiotic foods like sauerkraut daily may lower your chance of getting infections like the common cold and urinary tract infections.
Transport nutritious foods through the body- If you enjoy the taste of sausage, it may be a simple method to improve your intake of fiber-rich fruits and vegetables, which have been linked to a reduced risk of various chronic diseases and may even reduce the risk of certain cancers.
Small amounts of sausage can satisfy your taste buds while also encouraging you to eat the nutritious items your body needs.
Tips for Cooking Kielbasa and Sauerkraut
Smoked Sausages: How to Cut Them- It's a matter of taste when it comes to cutting smoked sausage. Smoked sausage can be chopped into coin-sized pieces, 3′′ chunks, or longitudinally for even greater browning surface area.
Kids won't need a knife to slice through the sausages if they've been pre-cut. As a result, cutting the sausages into coin-sized pieces or slices is preferable.
Because there is less chopping and fewer surfaces to turn and handle in the browning process, cutting sausage into larger 3-inch chunks can be quicker to prepare. Before eating, larger pieces will need to be sliced on the plate.
Getting the Sauerkraut Ready for the Sausage- Sauerkraut is produced from cabbage, which is a fresh vegetable, so there will be moisture in the plant naturally. Draining sauerkraut helps to remove extra moisture, which helps to keep the sauerkraut fresh while it's stored.
The kraut will not dry out if there is some moisture present. To sweeten the flavors of sauerkraut, a couple of teaspoons or tablespoons of brown sugar is usually added, but it is not necessary.
A pinch of freshly ground pepper and a few shakes of salt goes a long way in this dish. Sprinkle a few red pepper flakes on top of the sauerkraut for more spice.
Cooking a Kielbasa and Sauerkraut
We'll now move on to discussing the preparation instructions to get you started, knowing that you don't have to be a professional chef to make a great meal with this.
On a Skillet
You can use any pan, but cast iron skillets are preferred since they heat evenly. Warming up a thicker bottom pan takes longer, but there are no hot spots. Cast-iron skillets may be quickly reheated in the oven until ready to serve.
Brown the Kielbasa in a preheated skillet with a small amount of vegetable oil (1-2 teaspoons). Over medium-high heat, add the sausage. Turn pieces with tongs or a spatula frequently until desired brownness is achieved on the edges. Take out and set aside the cooked and already browned sausage from the pan.
In the same skillet, warm the drained sauerkraut. Sprinkle the top with brown sugar, salt, and pepper. Turn the sauerkraut with tongs, allowing the brown bits from the bottom of the skillet to blend in with the sauerkraut. Most people prefer their sauerkraut caramelized and slightly dry.
Cook on low for 5–10 minutes with sausage on top of sauerkraut. During this time, the sausage will warm up and the sauerkraut will be seasoning.
When the sausages are heated all the way through, serve. If using a cast-iron or other oven-safe skillet, cover with a lid or foil and keep warm in a warming drawer or the oven on low until ready to serve.
View this post on Instagram

In a Crock-Pot
Sausage should be cut into desirable sizes and browned in a skillet with a little vegetable oil. Sauerkraut can also be fried in the skillet for added taste. Brown the sauerkraut in a skillet with brown sugar, salt, and pepper; otherwise, sprinkle over the sauerkraut in the slow cooker.
Prepare or generously grease a crockpot and layer sauerkraut and a little of the liquid in an equal layer on the bottom. On top, place the browned sausage. If desired, fresh rosemary or dill can be added to the crockpot. Cook on high for one hour to one hour thirty minutes or low for two to three hours.
Print
2

pounds Kielbasa cut into coins about

3/4

" to 1″ thick

1

pound Sauerkraut drained and/or rinsed

2 tablespoons

brown sugar

1 teaspoon

Kosher salt

1/2 teaspoon

pepper freshly ground

1/4 teaspoon

red pepper flakes
---
Instructions
Brown sausage pieces in a cast-iron skillet and set aside. Season sauerkraut with brown sugar, salt, pepper, and red pepper flakes in an empty skillet. Warm the sauerkraut on medium-high heat until it starts to brown and dry up a little. Replace the sausage on top of the sauerkraut in the skillet. Cover skillet and cook for 5–10 minutes, or until sausages are well heated.
If you follow the steps outlined here, cooking kielbasa with sauerkraut should become a lot easier and more seamless in the future. You should make sure you're buying the proper components and paying attention to the steps needed in each cooking process. You may also learn more by watching this video.