It's the dream of every pork chop lover- having a plate of tender, moist pork sit on your table, begging to be enjoyed. But for many, it isn't always the case. And for some reason, the idea of soft, fork-tender pork chops seems like a fantasy. Well, your mind will change after cooking it in a crockpot.
Because the crockpot is a master at making meat tender, pork chops made in it come out great. But your success depends on following a helpful recipe. And knowing the best way to cook these lean cuts is key to getting an irresistible dish.
Pork Chops Nutrition Facts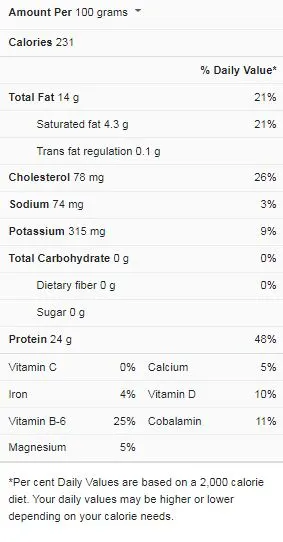 Tips for Crockpot Pork Chops
Unlike most pork cuts, pork chops are a lean type of meat. And because of their low-fat content, it's easy to make them to a rubbery, chewy texture. So, to avoid such an issue, you'll need to pay attention to these factors;
Use Thick Bone-In Pork Chops
One big mistake most people make when making pork chops is using ultra-thin cuts. Plus, pair that texture with a boneless inside, and the result is almost unpalatable. So, to get the best result, select thick-sized, bone-in pork chops for crockpot cooking.
Cook with Vegetables
Getting a good texture isn't enough with pork chops. You also want it to be explosively tasty, and vegetables are a great way to do so. So, consider adding onions or potatoes to the meat before cooking.
Observe the Internal Doneness
Pork chops, like all pork cuts, need to be cooked to an internal temperature of 145F to be safe. Still, you stand to overcook the meat and make it dense when you leave it too long in the crockpot. So, take it out at 140F and let it rest for some minutes. The carryover cooking will push the doneness to a perfect 145F.
View this post on Instagram

Cooking Pork Chops in a Crockpot
Now, let's move on to cooking crockpot pork chops. Remember that these procedures are necessary if you want great taste and alluring tenderness;
Select the Pork Chops
While bone-in pork chops are the best for this crockpot method, you can also use boneless types. But make sure that the selected meat is thick-cut, so it stands the slow cooking and tenderizes perfectly.
Season the Pork Chops
Combine a mixture of spices and seasonings, then sprinkle them over the pork chops. Make sure to rub them gently onto the surfaces for more adhesion. You can mix pepper, garlic powder, onion powder, and salt to make the seasoning. Other options include rosemary, black pepper, paprika, and thyme.
View this post on Instagram
Prepare the Crock Pot
Apply some non-stick cooking spray onto the bottom of the slow cooker. Then, pour a thin layer of barbecue sauce and add some thinly sliced onions on top. The BBQ sauce plays the sauce in which the pork chops will slow-cook, and the onions add an extra flavor. But save some BBQ sauce for the next step.
Cook the Pork Chops
Add the pork chops, and pour the remaining BBQ sauce over to cover them entirely. Then, cover the lid and cook for five to six hours on LOW. If you're using boneless pork chops, 1 ½ to2 ½ hours is enough. But be sure to check the meat regularly, so it doesn't dry out, and you can even check at half the time. Turn the slow cooker off when the internal temperature reads 140F, and tent them with foil to rest for five to 10 minutes. As it sits, the meat will cook to 145F due to carryover heat.
Thicken the Sauce
Once the pork chops are ready, take them down and thicken the sauce. You'll be serving the meat with the sauce spooned over it, as it adds an extra dose of flavor. Pour the sauce into a pot and whisk in a mixture of water and cornstarch. Then cook at medium-high heat for about five to 10 minutes, or until it thickens. Once it's ready, you can serve it on your crockpot pork chops with whatever garnish you desire.
Print
Crockpot Pork Chops (4 to 6 Servings)
---
Two pounds bone-in pork chops, 1½ inches thick each

Two cups

BBQ sauce

Two teaspoons

garlic powder

One teaspoon

onion powder

One teaspoon

kosher salt

½ teaspoon

black pepper
One yellow onion, thinly sliced
Slurry
Two tablespoons

cornstarch

Two tablespoons

water
---
Instructions
Blend the seasoning and salt in a bowl, and sprinkle over the pork chops. Gently massage it with your fingers.
Grease the slow cooker bottom with some non-stick spray. Then, pour half the BBQ sauce into the pot and scatter the onions on it. Put the pork chops into the pot and cover with the remaining sauce.
Close the crockpot and cook the pork chops for five to six hours on LOW. Be sure to check for doneness at half the time with a meat thermometer.
When the pork chops hit 140F, take them down and tent with foil to rest for five to 10 minutes. Then pour the sauce into a saucepan to make the sauce.
Whisk the cornstarch and water in a small bowl, add to the sauce, and then stir to mix evenly. Cook the sauce at medium heat for five to 10 minutes, stirring until it thickens.
Serve the pork chops hot with the sauce.
You can also click on this video for another crockpot pork chops idea.