Frozen pizza rolls in an air fryer are amazingly simple to prepare, and with just a few simple steps, you'll have delicious pizza rolls on the table in just a moment. Moreover, Totino's air fryer pizza rolls are the ideal food and snack for your hangouts with family, friends, and loved ones.
Tips to Cook Totinos Pizza Rolls in Air Fryer
Make sure they aren't overcooked – By checking them periodically. If you cook the pizza rolls for too long, they will burst during the cooking process and pour the filling into your air fryer pan. If this happens to you, make a note of it, so next time cook for a minute or two less.
The cooking time – It can be difficult to get the cooking time quite perfect the first time you make pizza rolls, so I recommend frequent monitoring during the cooking process (from around 4 minutes). Though cook times will be closer to 5 minutes if you have a robust air fryer, a less powerful model will require more time.
Cooking Totinos Pizza Rolls in Air Fryer
If you want a quick and suitable method to cook Totinos pizza rolls in an air fryer, follow these steps:
Preheat The Air Fryer
Preheat the air fryer to 380 degrees F. Though some air fryers indicate that they don't need to be preheated, you may find that utilizing a prepared air fryer for items with a quick cook time – like Totinos Pizza Rolls – yields better results.
Place The Pizza Rolls Inside
Place the pizza rolls in a single layer on the baking sheet. It's fine if they touch; however, if they are overlapping or piled high, the cooking time will be longer, and you'll need to shake the basket a few times during the cooking process to ensure they cook evenly.
 

View this post on Instagram

 

Air Fry The Pizza Rolls
Cook the pizza rolls in the air fryer for 5-8 minutes, or until golden brown and crispy. The actual time required will be determined by a number of factors, including the power and efficiency of your air fryer model, as well as the number of pizza rolls you are air frying.
Serve and Enjoy
Serve the pizza rolls with dipping sauce once they've been cooked to your satisfaction. Plain old tomato sauce or BBQ sauce will do; ranch dressing or sour cream are also excellent choices.
Print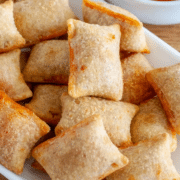 How to Cook Totinos Pizza Rolls in Air Fryer
---
---
Instructions
Take your frozen pizza rolls out of the freezer. Then remove the desired number of pizza rolls from the pan.
In the air fryer basket, you can now place the frozen pizza rolls (you may not require any oil).
For 6-8 minutes, air fry the pizza rolls at 390F. Then flip each pizza roll at the 4-minute mark if using an air fryer oven; if using an air fryer unit with a basket, give it a shake at the 4-minute mark.
You can now take the pizza rolls out of the air fryer basket. Serve and enjoy them.
You can know more about Totinos Pizza Rolls in Air Fryer in this video recipe