If you're looking for a meal option that is ideal for a weekday dinner and that requires little effort, try turkey breast cutlets. They cook quickly and can typically be flavored with practically any herb or seasoning in your spice cabinet, and they'll always turn out delicious. Furthermore, turkey breast cutlets have a low saturated fat content, making them a healthy meal opticookion.
In this article, we'll guide you through the process of cooking turkey cutlets to a delicious quality. Make sure to follow all our cooking instructions, as well as our helpful tips to help you achieve desirable results in your recipe.
Turkey Breast Nutrition Facts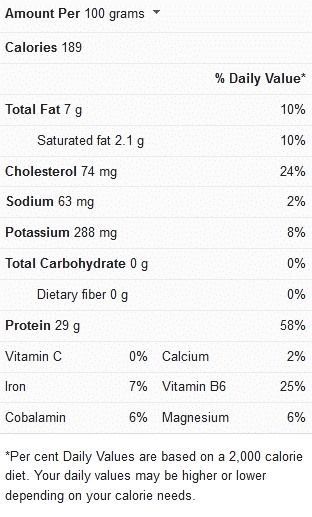 Tips for Cooking Turkey Breast Cutlets
Pay attention to all the helpful tips we have outlined below to get you the best results when cooking turkey breast cutlets:
Buying turkey cutlets – When shopping, please remember that turkey cutlets, (also called turkey chops) are boneless slices of turkey that have been sliced thinly. They should be found easily in the fresh turkey department of your grocery store.
They're frequently sold in packs of 5 or 6. Raw turkey cutlets can typically be bought ahead and kept in an airtight jar in the refrigerator for 1-2 days before you need to use them. Individually store the turkey cutlets inside a freezer-safe zip-top bag, or an airtight container before you freeze them. They should keep this way for up to 9 months in the freezer.
Important ingredients – Turkey cutlets are delicious and adaptable; some of the ingredients we suggest you should include in your recipe (especially if you're following ours) have been described below:
Turkey breast cutlets: You'll find turkey breast cutlets readily available in most supermarkets. They're lean and quick to cook.
Butter: If you're following this recipe, use 2 tablespoons of salted butter. The cutlet should be cooked with one tablespoon of butter, and the gravy made with the other tablespoon of butter.
Seasonings: Basil, thyme, oregano, and rosemary are the most common herbs included in Italian seasoning which you'll need for this recipe, alongside black pepper and salt. Use one or two of the herbs listed above instead of Italian seasoning if you don't have any.
Onions and garlic: These will need to be chopped and added to the gravy.
Flour: To thicken the gravy, use all-purpose flour.
Chicken broth: Low-sodium chicken broth is advised for this recipe. Seasoning the gravy with more salt may also be necessary, so keep this in mind.
You could also swap in your favorite seasonings to get your preferred flavors into the turkey breast cutlets.
Recipe variations to try – Consider some of the following ideas:
Turkey cutlets with Parmesan crust: You could opt to bread your turkey cutlets or introduce parmesan cheese into your recipe (or do both, feel free to explore). Turkey cutlets with a parmesan coating are typically pan-fried delicately in just enough butter and oil to make them tasty without being oily or rich in calories. You could season the meat as usual with salt and pepper, then dip it in the egg whites before coating it in a mixture of breadcrumbs and parmesan cheese.
Air-fried turkey breast cutlets: Spray the two surfaces of the cutlets with some oil before cooking them in the air fryer. Then cook them for 6 to 7 minutes at 400 degrees in an air fryer. When the breadcrumbs develop a golden brown color and the center of the cutlets are no longer pink, they're done (make sure to flip the cutlets halfway through.
View this post on Instagram

Cooking Time for Turkey Breast Cutlets
The following timing guidelines are ideal for cooking turkey breast cutlets to an excellent quality:
| | |
| --- | --- |
| Cooking Procedure | Cooking Time |
| Cooking turkey breast cutlets on the stovetop over medium heat | 2 to 3 minutes per side |
Print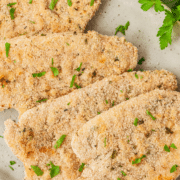 Turkey Cutlets With Gravy (1 Serving)
---
---
Instructions
Use salt and pepper to season the turkey cutlet, also use Italian seasoning for extra taste.
Next, 1 tablespoon of butter should be melted in a medium skillet over medium heat.
Cook the cutlet in the pan until it is no longer pink, this should take about 2 to 3 minutes for each side. Place the cutlets on a plate after taking it off the pan. To maintain their warmth, cover the cutlets.
Melt the 1 tablespoon of butter remaining in the same pan over medium heat.
Toss in the garlic cloves and chopped onions. Cook them for 2 minutes, stirring occasionally.
Cook, stirring frequently, for a minute after adding the flour to the pan.
Pour the chicken broth into the mixture and boil for 2 minutes. Cook until the sauce thickens, making sure to stir frequently.
Return the turkey cutlets into the pan and turn the heat down to low.
Cook for a further 2 minutes after coating the cutlet in the sauce.
Serve your turkey cutlets and enjoy your meal.
If you would like to see more recipe ideas for cooking turkey cutlets, then check out this video recipe.
Notes
If your grocery store doesn't have turkey cutlets, you can buy a turkey breast instead, or a turkey tenderloin and slice it thinly and use in place of the cutlets.
This recipe is also wonderful when made with chicken. You can buy boneless, skinless chicken cutlets to use in yours. You could also thinly slice a boneless, skinless chicken breast horizontally.
Keep leftovers covered in the refrigerator for up to 3 days.
It's important to make sure you have all your cooking ingredients ready before you start cooking because turkey cutlets tend to cook quickly.
If you've never tried turkey breast cutlets before, the above-described recipe is a good place to start. Make sure to follow all the cooking instructions outlined above, as they are crucial to achieving desirable results. Also, take note of the appropriate timing guidelines to keep from overcooking the cutlets.