Many people assume yams and sweet potatoes are the same things. And this mixture is not so uncommon. To emphasize, the misconception of calling sweet potatoes yams has existed since as far back as the days of shipping produce. But you'd be surprised to discover that sweet potatoes aren't yams, and the latter is an interestingly different root altogether.
Yams are natively grown in the regions of Africa, Asia, and Central America. These roots are also starchier than sweet potatoes, with a woodier exterior. Yams aren't as sweet as sweet potatoes, but they still make a delicious addition to similar recipes like casseroles, stews, soups, braises, slow-cooked dishes, and pies. And because yams share very close semblance and properties with sweet potatoes, you can also cook them in the oven.
Tips Oven-Cooked Yams
Like with sweet potatoes, you need a few handy tips when baking yams in the oven. Remember that yams are starchier, and as such, may take a longer time to cook. But once these suggestions are mastered, you can't go wrong with oven-roasted yams;
Picking the Yams
When selecting yams at the grocery stores, go for small or medium tubers void of soft spots. The yams must be firm to the touch and smooth textured. Soft yams are rotten and should be avoided.
Preparing the Yams
Yams, like sweet potatoes, are root vegetables, which means they're grown in the ground. So, when purchased, they tend to come with a fair amount of grit on their skins. Before baking the yams, be sure to scrub them thoroughly in the sink, under running water.
Cooking the Yams
You can choose to cook the yams, either peeled or unpeeled, in the oven. You can also decide to roast them whole, dice them or slice the yams to make fries. Each method comes with its specific instructions, of course. And when roasted in the oven, yams make a great side dish for grilled chicken, burgers, steaks, meatloaf, fish recipes, and many others.
Whole Baked Yams
Scrub the yams clean with a brush under running water and pat them dry. Prick random parts of the tuber with a fork. Preheat the oven to 435F, and bake the yams until they're tender, for about 45 minutes to one hour. Then, take them out, place a kitchen towel around each tuber, and roll them over the counter, so the flesh softens. Carve an X atop each yam and push the skin, so the flesh is forced upwards. Then, serve it as you wish.
Baked Yam Dices
After washing the yams, peel them and cut them into small cubes or dices. Spread the cubes evenly on a baking tray and drizzle some oil or brush atop with some butter. Sprinkle on any seasonings of your choice, and bake for about 30 minutes in a preheated oven at 400F.
As Fries
For this method, you'll have to peel the yams and cut them in half. Then, cut them into thin slices or wedges. Pour the pieces into a large bowl and add some oil, seasoning, and salt. Mix the seasoning with the fries by tossing, and transfer them to a baking sheet. Roast for about 30 minutes, turning once at the 20-minute mark. The fries are ready when they reach a crisp, golden brown.
Print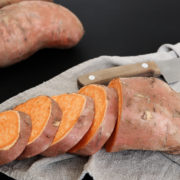 How to Cook Yams in the Oven
---
Description
Baked Yam Fries (4 servings)
---
Four yams, washed, peeled, and sliced

Two tablespoons

olive oil

One tablespoon

garlic

One tablespoon

curry powder

One tablespoon

paprika

One tablespoon

cumin
Salt, to taste
---
Instructions
Set the oven to preheat at 425F, and pour the yam slices into a large bowl. Drizzle them with olive oil, add the seasonings and salt to the mixture, and toss till it's evenly distributed.
Spread the yam fries on a baking sheet, taking care not to pack them too closely. Toss the tray in the preheated oven and bake for thirty minutes, or until they're crispy and golden brown. Serve as preferred.
Also, check out this simple but exciting video recipe for more ideas.