You've come to the right place if you're looking for the best vegan ravioli recipe! I'm obsessed with ravioli, but it's impossible to find vegan ravioli in restaurants! As a result, you'll have to make your own.
Believe it or not, making your vegan ravioli filling and combining it with your pasta dough results in the best dinner of all time! There are also many vegan ravioli filling ideas that you can come up with to spice things up.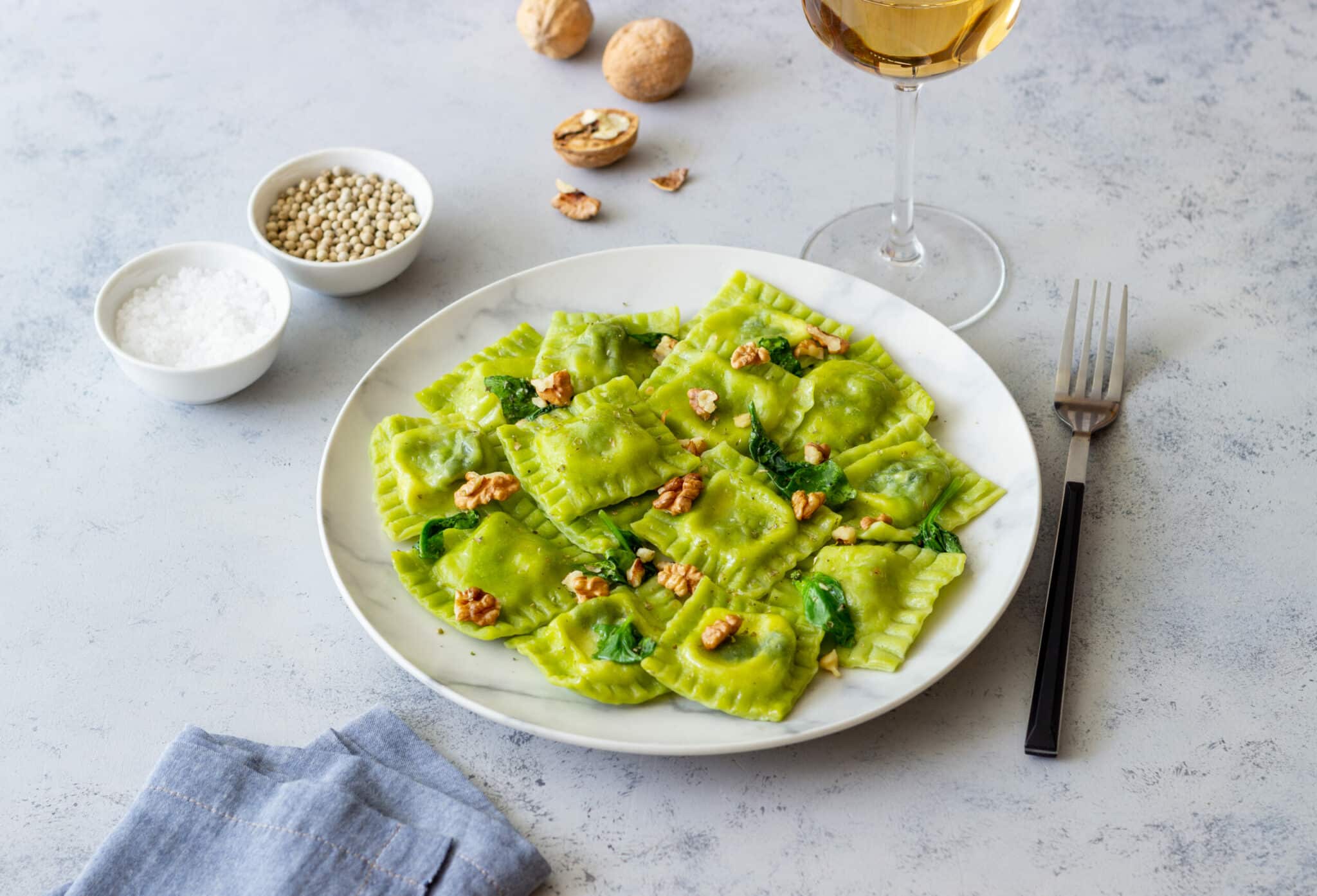 In this recipe, I start with an easy vegan ravioli dough, my recommended ravioli filling, and my recommended sauce. Once you've tried it this way [or not], you can go crazy with how you can customize this recipe for yourself! You can customize the filling by adding anything from tonnes of spinach to mushrooms or vegan cheese, pumpkin, or anything else you want!
Instead of the suggested cream sauce, you can experiment with a Vegan Alfredo Sauce or Vegan Marinara Sauce! I hope to demonstrate how simple it is to make vegan ravioli sauce.
The possibilities for customizing this vegan ravioli recipe are endless, which is one of my favorite aspects.
It is fairly simple once you get the hang of the steps. This is also one of the Best Vegan Recipes For Kids because they can help dollop the filling onto the pasta rounds or even use a cookie cutter to cut the shapes!
In any case, making your vegan ravioli at home is difficult to go wrong.
Making your Own Eggless Vegan Ravioli Dough
If you think the only way to make homemade pasta is with eggs, We tell you that you're completely wrong!
You can make your vegan ravioli dough with just four ingredients: flour, salt, oil, and warm water! This eggless ravioli dough will change your life and give you the confidence to experiment in the kitchen more.
If you want to make your ravioli vegan, it is truly a quick and simple, foolproof process.
Making the Vegan Ravioli Filling
Making the vegan ravioli filling couldn't be easier! Of course, there are numerous other ravioli filling options, so if you don't like this one, feel free to experiment with whatever filling you prefer.
Because I value your time, you can use store-bought vegan ricotta. Whole Foods usually carries it, but you can easily make your vegan ricotta go inside the ravioli!
This is my simple vegan ricotta recipe:

1 1/2 cups raw cashews

1 cup water

Two tablespoons of lemon juice

1.5 teaspoons sea salt

One garlic clove

One teaspoon of onion powder

Two tablespoons of cornstarch or arrowroot
Whether you use store-bought vegan ricotta or make your vegan ravioli filling, it is entirely up to you. Sauté your spinach, garlic powder, onion powder, and any other vegetables you want, such as mushrooms, to make the filling.
Then, transfer to a food processor and puree until combined with your vegan ricotta, whether homemade or store-bought!
It's so simple to make the vegan ravioli filling! If you don't want to use ricotta or prefer a nut-free option, fill the inside with mushrooms and spinach or whatever your heart desires! There is no wrong way to make this recipe's vegan ravioli filling.
How to Make the Vegan Ravioli?
The vegan ravioli comes together quickly!
Roll out your eggless ravioli dough on a floured surface until very thin, then cut out small circles with a cookie cutter or the round top of a glass.
I find that cookie cutters work better, and you can use fun shapes like scalloped edges if you want, but the top of a cup works fine in a pinch, and I've used it before!
Then, in the center of your circle, place about one tablespoon of your ravioli filling and brush the edge of the pasta circle with water. Again, there is plenty of dairy-free ravioli filling ideas on the internet, so get creative.
Cover with a second pasta round and press firmly around the edges to seal them!
Then, with the remaining eggless ravioli dough, repeat the process.
This is why I recommend enlisting the assistance of a friend or even your children for this task. It's similar to making cookies in that it takes some time to form them all.
Boil the vegan ravioli for 3 minutes in salted water or until they float.
Be careful not to overcook them, or they will not turn out the way they should!
Finally, prepare your sauce while the ravioli is cooking or just before you cook them by sautéing everything in a pan and tossing it with the ravioli to combine.
Of course, you can use any sauce you want, and a nice Vegan Red Sauce goes great with this recipe.
It all depends on your preferences! Growing confident in substituting is just one step in learning how to make vegan ravioli at home.
Storage Suggestions for this Vegan Ravioli Recipe
Believe it or not, this vegan ravioli recipe keeps well in the fridge for up to 5 days. Keep it covered and in an airtight container. I strongly advise storing the dairy-free ravioli in the refrigerator without the sauce, and they will absorb the liquid if stored with the sauce. There's nothing wrong with this, but we think reheating the sauce separately tastes better and is easier.
Of course, you can reheat it in the microwave, but we have a better idea! You're going to fry them! Yes, fry the ravioli on the stove to make it slightly crispy and delicious! If you don't want to use oil, you can coat your pan with Vegan Butter instead. Pan-fry the ravioli until warm throughout, then toss with more sauce! As you can see, making vegan ravioli is simple, and reheating it is a great way to meal prep for the week.
How to Make a Classic Vegan Ravioli?
This vegan ravioli recipe is filled with tasty vegan ricotta and topped with a creamy sauce. The best part is that you can make your vegan ravioli filling if you don't like what I have here! The same is true for the sauce! Change it up and play it however you want!
PREP TIME:
45 minutes
COOK TIME:
5 minutes
TOTAL TIME:
50 minutes
Ingredients
Dough for Ravioli
2 12 cup flour

1/2 teaspoon salt, one tablespoon oil

3/4 cup hot water
Filling for ravioli:
2/3 cup vegan ricotta (store-bought or homemade using my recipe linked below)

1 pound spinach

One tablespoon oil

One teaspoon of garlic powder

One teaspoon of onion powder

season with salt and pepper to taste
Instructions
Making the Vegan Ravioli Filling:
In a skillet over medium heat, heat the oil. Sauté the spinach, garlic powder, and onion powder until wilted.
Transfer to a food processor and season with salt and pepper to taste. Pulse until everything is combined. My Vegan Cashew Cheese recipe is at the bottom of this Vegan Mozzarella Sauce recipe if you want to make your own!
To make the vegan ravioli dough:
Combine the flour and salt in a mixing bowl.

Knead in the oil and warm water until you have a thick and elastic dough.

Allow it to rest for 30 minutes, covered.
Roll out the pasta to a thickness of 1 mm. Use a cookie cutter to cut out small circles. You can also use a glass top!
Brush the borders with water after placing one tablespoon of filling in the center of a circle. Cover with a second round of pasta dough and firmly press to seal.
Continue with the remaining pasta dough and filling.
Cooking the Ravioli:
Fill a large pot halfway with salted water and bring to a boil. Cook for 3 minutes or until the ravioli floats. Drain and dispose of the water. Be careful not to overcook!
Melt the vegan butter in a small saucepan over medium heat to make the cream sauce. Cook for 1 minute after adding the flour.
Stir in the almond milk, garlic powder, nutmeg, nutritional yeast, salt, and pepper.
Bring to a simmer and cook for 30 seconds or until thickened.
Stir in the vegan ravioli until completely coated!
Ravioli Shaping and Cutting
There are numerous techniques for making ravioli, and I prefer to roll out two sheets of dough and layer the filling between them.
Roll out just under half of the dough on a lightly floured surface. Place small scoops of ravioli filling in rows across the dough, leaving room for the ravioli's edges to form.
Roll out the other, larger half of the dough separately, then carefully lift it and place it on top of the filling rows. Allow the top sheet to fall as evenly as possible between the filling rows.
Then, press the top and bottom sheets together around each scoop of filling.
Using a knife or pizza cutter, cut out the ravioli. Allow enough space around the edges to press the dough together.
Then, using a fork, seal the edges of each ravioli dough piece together. Trim any excess dough around the ravioli to achieve the desired size and shape.
This method yields fairly square ravioli (my ravioli frequently come out in different shapes, which is fine with me!). If you want round ravioli shapes, cut around each ravioli in the sheet with a cookie cutter. Make sure the cookie cutter has enough space to allow you to press the ravioli edges together.
Applications for this Vegan Ravioli Dough Recipe
The recipe for butternut squash ravioli with sage butter sauce contains the perfect filling and sauce combination for a delicious vegan ravioli!
We can fill this delicious ravioli dough with whatever you want! There are also an infinite number of sauces to coat the ravioli in. When coated with a simple tomato sauce (I love the tomato sauce portion of this vegan chicken parm recipe! ), mixing cooked spinach with vegan ricotta cheese is a tasty option.
We can also use this recipe to make simple vegan pierogi dough. Roll the dough out thicker than you would for ravioli. Cut out large dough circles and spread the filling on half of each. Fold over the circles and press the open edges together.
You could also make ravioli this way if cutting the dough into pieces and folding them in half over the filling is easier for you!
Can I Keep these Frozen?
Yes, you can make them up to the boiling point. Place them on a lined baking sheet and place them in the freezer for 1 to 2 hours (until completely frozen). Then place it in a container for storage. Boil them when ready to eat.
Is it Possible to Make this Gluten-Free?
We haven't tried making gluten-free ravioli yet, but you could try a 1:1 gluten-free all-purpose flour substitute. We are sure it will taste good as this one.
What can you Make with the Leftover Pasta Dough?
Unfortunately, that cannot be reused to make additional ravioli, but because it is fresh pasta dough, you can toss the scraps in water and make fresh pasta with it. That's what I did, and they were delicious.
Can Vegans Consume Ravioli?
Make dinnertime a little easier with these new vegan ravioli options from Aldi. We're confident that the latest additions to its plant-based brand, Earth Grown, will not disappoint—they're made in Italy and come in two flavors: Spinach and Eggplant with Yellow Pepper.
Conclusion
It's simple to make eggless and vegan ravioli dough! This recipe makes a delicious, simple, and versatile pasta dough that We can use to make an endless variety of tasty ravioli! We hope you enjoy these recipes, which are so delicious you won't believe they're vegan or vegetarian!