If you're allergic to cow's milk, you can make waffles without it by using a dairy substitute. Soy milk is one such option, Applesauce is another option, and yogurt or Soy milk can be used. This article will discuss both of these alternatives and how they differ from the original. If you don't have a dairy-free milk alternative, you can also try a substitute that tastes just as good.
Waffles often contain milk, which adds richness and helps bind the ingredients together. However, milk is not required in waffles because it affects how the waffle puffs up in the waffle iron. If you don't eat dairy or can't stomach it, there are a variety of replacements that work just like milk without dairy.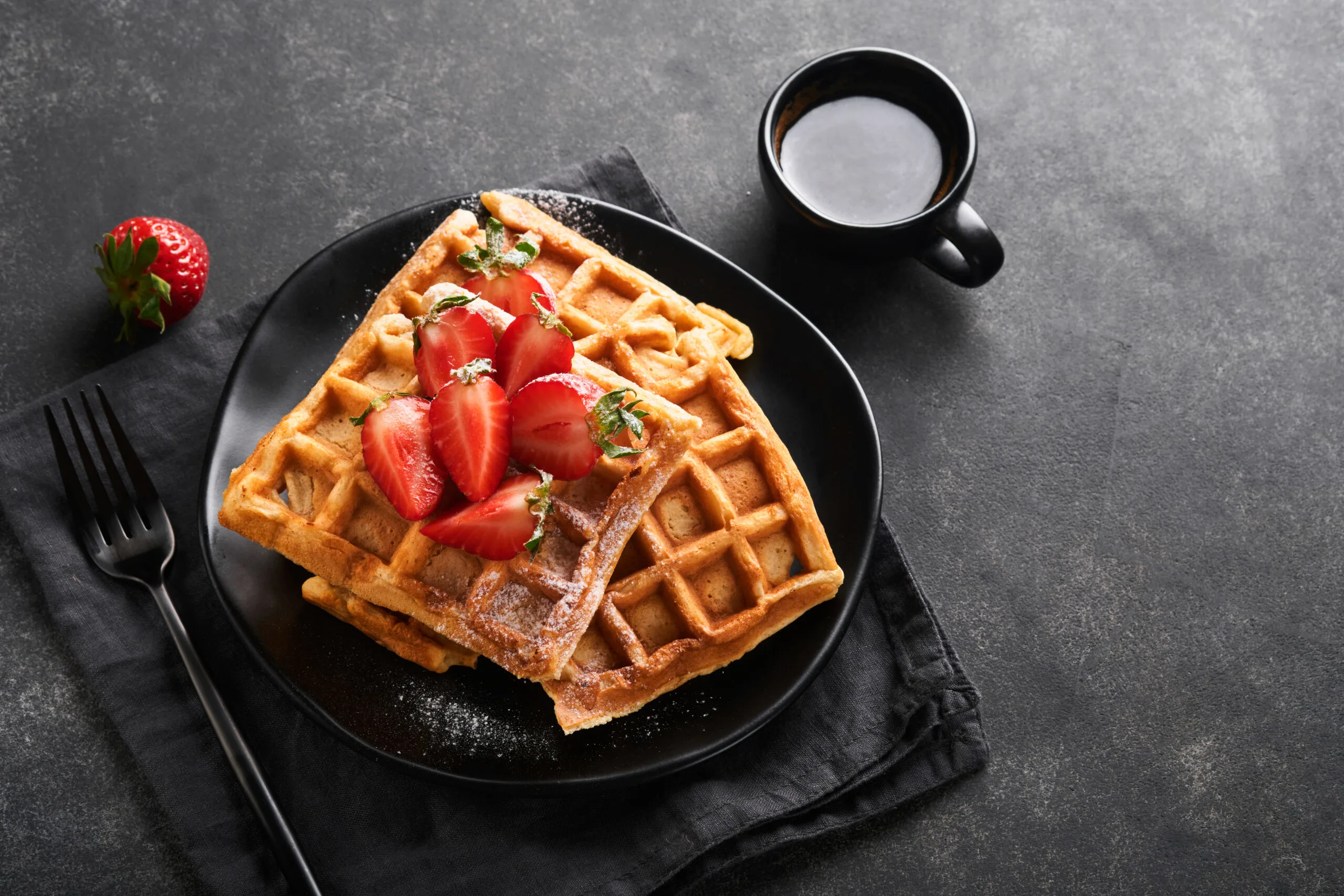 Top Substitute for Milk in Waffles Recipe
1. Oat Milk
According to the Cook's Thesaurus, oat milk is a dairy-free milk alternative and all-purpose milk substitute. Oat milk can be found in the organic foods section of the supermarket or at specialty food stores. In your waffle recipe, replace cow's milk with oat milk at a 1:1 ratio. Because oat milk is creamy and rich, your waffles will feel similar. Use unsweetened oat milk to avoid an overly sugary waffle. Because oat milk tastes like cookie dough, your waffles might as well.
2. Soy Milk
If you're lactose-intolerant or don't consume cow's milk, soy milk has a nutty flavor that will come through in your waffles. In your waffle mix, replace the milk with equal soy milk, and Soy milk with vanilla flavor or sweetened adds sweetness and flavor. When using vanilla soy milk, leave out the vanilla essence in the waffle recipe.
3. Rice Milk
Rice milk is available in sweetened and unsweetened varieties, so adapt your recipe accordingly. In your waffle recipe, replace 1 cup of cow's milk with 34 cups of rice milk. If you want less sugar in the morning, use unsweetened rice milk.
4. Almond Milk
Almond milk is thicker than conventional milk and is available in sweetened and unsweetened varieties. Omit the vanilla extract in your waffles because most almond milk contains vanilla flavoring. If your batter is too thick, add another cup of almond milk for every cup of milk.
5. Water
Waffles can be made with water instead of milk, lacking flavor and richness. However, water gives your waffles a lighter texture and crisper edges if you're in a hurry. For every cup of milk in your recipe, use 1 cup of water.
From Where does the Taste of Waffle Came?
Nothing beats the thrill of knowing you'll be greeted with a plate of waffles when you wake up. While we've all heard of this legendary breakfast treat, you might be surprised to learn it was first introduced to the United States in 1964. According to HuffPost, the Vermersch family brought the waffle to America at the World's Fair. Despite the delicacy originating in Brussels, the family renamed it to sound more enticing. Everyone can envision what a waffle tastes like, but have you ever wondered where this flavor comes from?
A classic Belgian waffle gets its flavor from the way a chef prepares the batter and how the waffle is cooked, according to Insider. Chefs add additional butter and baking powder to the waffle batter to differentiate it from pancake batter. It's also blended with less air, which helps the texture set (via Insider). While the batter plays an essential role in defining the flavor of this breakfast treat, the waffle's cooking procedure is what truly defines its flavor. Waffle batter is poured and pressed in a heated mold instead of being baked on a flat surface, generating a crispy, caramelized exterior that tastes like nothing else.
Wait until you have a Liege waffle if you think you can't get enough of Belgian waffles. According to The Food Charlatan, these meaty waffles are made with yeasted brioche dough studded with pearl sugar.
What are the Secret Ingredients that Make Waffles Incredible?
You're missing out on using a versatile item if you never take your waffle iron out of the cupboard. It's easy to believe that the only thing you'll be making is simple, bland Eggo waffles. So why bother making scratch-made waffles when you can just toss a couple in the toaster?
Let us discuss the causes! Waffles can be used for various purposes; don't assume they're only for breakfast. They can be sweet or savory, nutritious or decadent, and you can make them ahead of time and freeze them after you've found your favorite. That means you can indulge whenever you want, not just on Saturday mornings! Then add a few of these secret ingredients to elevate them to the next level, and you might never retake another shortcut.
Lemon Zest
It's straightforward to include lemon zest into your waffle batter, and it's a simple addition that will elevate your waffles to new heights. Start with the zest of a whole lemon (adjust to taste) and stir it into any waffle recipe's batter. It's ideal for adding a little bit extra to your waffles without going overboard or ruining the flavor and texture of a popular recipe.
They're delicious with regular butter and maple syrup, but they're also fantastic with a sweet glaze. Make an essential drizzle with some icing sugar, then add lemon essence. They're also a great breakfast base for thinking about springtime. Add some mascarpone, lavender essence to your drizzle, or fresh strawberries, blackberries, or blueberries in a sweet syrup with lemon. Spring has arrived on your breakfast plate!
Sourdough Starter
Keeping a batch of sourdough starters on hand may sound daunting, but it's not only simple, but it's also more adaptable than you may expect. It's no longer just for bread, and one of the things you can do with your nasty, beery-smelling starter is making truly excellent waffles.
The trick to making winning waffles with sourdough is to let the batter base sit overnight. Mix up one part starter, two parts flour, two parts milk, and two tablespoons sugar the night before. You'll have a spongy batter when you're ready to create waffles in the morning. Combine two eggs, a quarter cup of melted butter, and a pinch of salt and baking soda in a mixing bowl. That's it! Your batter will boil and gurgle like it came from a witch's cauldron, and that's how you'll know it's working. You may never make standard waffles again.
What are Some Best Chocolate Desserts?
A fantastic chocolate dish has a mystical quality about it. Just a tiny bit can completely change your day and make things seem better – at least for a while. The best chocolate treats aren't just one-note chocolate bars (but they have their place!). They're sweet, sophisticated, and decadent. They're almost as good to look at as they are to eat, and in this day and age of social media, the sky's the limit when it comes to enormous chocolate desserts. Check out our picks for some of the most delectable chocolate desserts this side of Instagram. We apologize in advance if these images trigger intense desires and a baking frenzy (or a trip to the neighborhood bakery), but these delicious pictures have to be shared.
Cookie And Cream Doughnut
If you think they're not an actual dessert, you're eating the incorrect doughnuts. This bad boy starts off as a traditional chocolate-dipped doughnut, but it's then topped with cookies 'n' cream mousse and chocolate chip cookie dough. Finally, peanut butter and Nutella are drizzled on top. Yum!
Chocolate Oblivion Cake
If you've ever wondered what it would be like to layer nearly every chocolate candy known to man on top of a chocolate cake, now you can. This super chocolate cake starts with milk chocolate and fudge frosting, which is already a game-changer. Then it adds a coating of chocolate chips to take it to the next level. Finally, pieces of Hershey chocolate bars, Hershey kisses, Baby Ruth, Rolos, Whoppers, Reese's Pieces and peanut butter cups, Snickers, 3 Musketeers, M&Ms, Kit Kat, and Twix are added to complete chocolate oblivion! You'll find all of your favorite Halloween treats in one chocolate heaven.
What's the Difference Between Waffle and Pancake Batter?
For this dish, I performed a lot of testing. I didn't want to pour pancake batter into waffle iron and call it a day – though I'm sure it would have worked well.
I was determined to make wonderfully crispy waffles with a light and airy core. I believe we've eaten waffles twice a week for the past month or two, and that's not to say I'm complaining.
After doing some investigation, I discovered that waffle mix has a large amount of sugar and fat, which gives the waffles their crispy coating. So I experimented with various sugar/oil ratios until I discovered the perfect homemade waffle recipe.
Strawberry Sauce for Waffles: How to Prepare it?
I used a 1-pound bag of frozen strawberries that I thawed in the fridge to make this simple strawberry sauce. They were still slightly frozen, but not completely.
I chopped each strawberry in half and set them in a large skillet, but you could simply leave them whole or cut them into small pieces.
Heat the strawberries in the pan with 1/4 cup sugar and 2 tablespoons lemon juice over medium heat until they soften and generate juice.
2 tablespoons cornstarch + 2 teaspoons cold water in a small mixing bowl. Stir everything together in the pan. Cook until the strawberries have broken down and the sauce has thickened.
How do you Make Crispy Waffles?
The secret to crispy waffles is all in the batter. To make a crispy waffle, you'll need the correct sugar/fat ratio, and this means you should use a battery that isn't pancake batter.
Make sure your waffle iron is at the proper temperature as well. You may have to play about this before discovering the optimum setting for your waffle batter.
Place your finished waffles on a cooling rack while cooking the rest of the waffles to keep them crispy. This allows for air circulation and keeps them from becoming soggy.
How to Cook Millet Meal?
Millet was once only found in Northern China, but it has since spread to India and Africa. Millet's popularity in North America has surpassed its use as birdseed, making it simpler to obtain it packaged for human consumption at health food and grocery stores. Millet meal or flakes are a quick-cooking millet product that produces a creamy, mild-flavored morning porridge. Millet is gluten-free and high in fiber and B vitamins by nature.
Combine the millet flakes, milk, water, and salt in a medium saucepan. Bring the ingredients to a boil.
Reduce the heat to low, cover the saucepan, and cook, stirring periodically, for 15 to 20 minutes.
Serve your millet porridge immediately after seasoning it to taste.
Conclusion
If you're preparing waffles that require milk, but you're out, don't panic! Waffles can be made using a variety of ingredients other than milk.
If you wish to replace the milk with a dairy-free replacement, this article will provide everything you need.
In fact, I'll discuss both dairy-free and dairy-containing milk substitutes. So, whichever kind of milk substitute you're looking for.
So, what are the best milk alternatives for cooking waffles?
Heavy cream, half-and-half, evaporated milk, almond milk, coconut milk, oat milk, and soy milk are the best milk choices for waffles.