If you have a menu that asks for a six-pound chicken, you can follow simple steps to make it happen. But with most people, the biggest fear usually concerns undercooking the meat, for which chicken is notoriously known. But it doesn't have to be an issue once you've mastered how to determine the doneness duration.
Chicken Nutrition Facts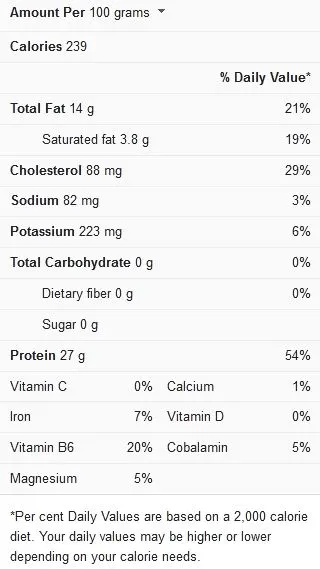 Cooking Time for a 6 Pound Chicken
To decide how long your six-pound chicken needs to cook, you must first conclude how you plan to prepare it. Most people stick to the traditional roasting technique in the oven or grill. But recently, many have discovered you can also make a tasty whole chicken recipe using a slow cooker or instant pot. So, as different techniques exist for preparing a six-pound chicken, you'll have to differentiate their cooking times.
In the Oven
A fail-safe method of cooking chicken in the oven is sticking to a specific temperature range. The reason is that certain ranges do best with certain poultry sizes, and finding the perfect one is crucial to a successful chicken recipe. One range that's been proven to work great is 350F, at which the chicken is cooked at 20 minutes per pound.
But the oven is initially heated to 450F so that the chicken can be roasted for 10 to 15 minutes. The higher range allows the skin to attain a crisp tone before being reduced to 350F for even cooking. And for a six-pound bird, it means you'll need a maximum of two hours and 15 minutes to reach full doneness.
On the Grill
The 375F to 400F temperature is considered the most preferred for cooking a six-pound chicken on the grill. The bird roasts to full doneness at this temperature without losing much of its juice. Of course, you won't either, as the drip pan below the rack helps collet it for gravy. And the chicken will cook for about one hour and 50 minutes, at 18 minutes per pound.
View this post on Instagram

In an Instant Pot
The instant pot is renowned for speedy cooking, so many nowadays consider it whole chicken. The only drawback is that its original function doesn't result in a crisp skin like the other methods. But it still roasts the chicken faster compared to the others, preparing a six-pound bird in under 30 minutes at high pressure. Then, the instant pot is allowed an extra 15 minutes for natural pressure release before the chicken is taken down.
In a Crockpot
Crockpots are primarily designed for slow and steady cooking, which some worry won't be safe for chicken. But it still works, especially when programmed to HIGH. A six-pound chicken will cook for four hours before reaching doneness in this setting. And it won't have the same crispness as expected in the oven, but it'll be as done as required.
Cooking Tips
Knowing the doneness temperature of a six-pound chicken isn't enough to get the perfect recipe. But, you'll also always need to keep a few facts in mind to get the best results.
Thawing
One mistake many make when cooking chicken is not accounting for thawing needs. It's always recommended that the chicken be defrosted before cooking, which is why you're advised to bring the bird to the fridge two days before cooking. And the recommended doneness time can only be met when this condition is obeyed. But it doesn't mean a frozen chicken can't be cooked, so long as you extend the time by half.
This mostly applies to cooking in the oven, as the grill isn't very merciful to frozen chicken. Also, the time remains the same if you're cooking the chicken with liquid in an instant pot or crockpot.
Moisten the Bird
If the six-pound chicken is to be grilled or roasted, it helps to moisten it with softened butter before cooking. A pocket is made beneath the skin above the bread, and seasoned butter is scooped into this compartment. So, when the bird roasts, the butter melts and bastes it. Others, though, prefer to use the pan drippings as baste, but this move will cause heat loss if you're using the oven. As for the instant pot and crockpot methods, adding a bit of liquid with the chicken is all you need to keep it moist.
View this post on Instagram

Season the Bird
You can choose between a dry rub and a herb butter mixture for seasoning chicken. And in most cases, you can combine both for extra flavor. Others even go as far as adding aromatic fresh herbs into the cavity as filling. And this idea has gained much recognition among cooks today, so we highly recommend it.
Print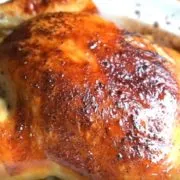 Grilled Whole Chicken (6 Servings)
---
One whole chicken, six pounds, thawed
Four whole garlic cloves
Half onion

Four tablespoons

melted butter
Pepper
Salt
Lemon wedge
---
Instructions
Prep the grill to 375F and place a pan under the rack to catch the chicken's juice. Then, remove the giblets in the cavity and replace them with herbs, onion, and lemon wedge.
Coat the chicken with melted butter and sprinkle generously with pepper and salt. Then, tie the chicken legs together with twine and poke a meat thermometer in the thigh.
Roast the chicken, lid down for about an hour and a half, until the internal temperature hits 160F. Then, remove it and let it rest for 10 minutes before serving.
You can also check out this video recipe for more information.