Who doesn't love a batch of crispy, delectable golden-fried chicken strips with the ideal sauce? Well, if you do, then learning to cook chicken strips in an air fryer might be just what you need, and you can eat them right in your kitchen as you please.
There are, however, some basics to be learned, all of which will be discussed in this article. For example, helpful tips about the ideal cooking time and procedure will also be described, and before you know it, you'll be enjoying your homemade chicken strip delicacies.
Chicken Strips Nutrition Facts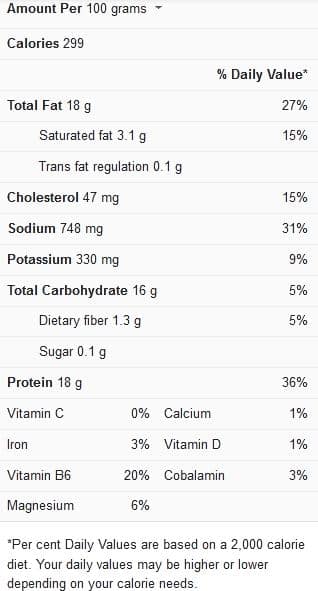 Tips for Cooking Chicken Strips in An Air Fryer
Chicken strips are delicious treats, and to ensure that you get the best results when cooking them, it is important to pay attention to these helpful tips below:
The key to crispy chicken strips – A blend of normal and Panko breadcrumbs are used to make the chicken tenders crispy. Regular breadcrumbs stick to the chicken readily, ensuring a thorough coating. Some recipes call for flour-coated air fryer chicken tenders, but breadcrumbs make a better breading that tastes more like the frozen type (in a good way). The bigger panko breadcrumbs give texture and crunch to the dish.
It is important to note that putting too much in the air fryer basket will result in uneven cooking for best and even cooking. However, only a single layer of chicken strips should be filled. If you're using uncooked breaded chicken strips, fry them for an extra minute or two to ensure they're done.
Ideal Brands to Use – Many chicken strips are available, all with varied sizes and thicknesses. Make a test batch of a few handfuls first. After you've cooked a few strips, you'll have a better idea of how long and what temperature is optimal for the brand you bought.
Cutting Chicken Strips by Yourself – You can make your chicken strips or tenders from a chicken breast if your grocery store doesn't stock them. Instead, cut a boneless, skinless chicken breast into 1/2-inch thick strips lengthwise.
Timing your Fries – The timing for most air-fried chicken strip recipes are predicated on using an air fryer that hasn't been preheated. If you cook chicken strips in many batches back to back, the subsequent batches may cook a little faster.
You may need to reduce the cooking time by some minutes if your air fryer is pre-warmed or if you are cooking many batches (unless preheating is called for in the recipe)
Air Fryers differ in operation – Every air fryer is different, and some cook at a considerably higher temperature than others. So you'll have a better sense of what works best for your air fryer model and meal size after you've cooked your first batch of chicken strips.
Extra notes on Ideal timing – The amount of time you leave chicken strips in the air fryer depends on your model and how crisp you want them. For example, the optimal temperature for air frying chicken is 400 degrees F, and the chicken strips usually cook in 7 to 8 minutes.
Add-ins, Extras, and their importance – Eggs aid the adhesion of breadcrumbs to the chicken strips. Panko is a type of bread crumb, and in the air fryer, it offers a lighter breadcrumb layer that crisps up properly. Breadcrumbs made from whole wheat help to completely coat the chicken tenders with breading, filling in any gaps left by the Panko.
Paprika adds a delicious earthiness to the dish. Garlic powder is important for the garlicky goodness required, and for flavor, salt and pepper are required.
 

View this post on Instagram

 

Cooking Chicken Strips in Air Fryer
When cooked in an air fryer, chicken strips are a healthier meal option for you and your family, lowering the number of unhealthy oils you and your family are exposed to compared to deep-frying.
The following describes the steps taken while air frying chicken strips:
The chicken should first be dried and salted.
In one bowl, whisk the eggs, while in another, add the breadcrumbs and seasonings.
Coat the chicken with eggs, then breadcrumbs.
Line a baking sheet with parchment paper and place the chicken strips.
In your air fryer, lay out a single layer of tenders. Using an olive oil spray, coat the surface.
Air fry chicken strips for 7 to 8 minutes at 400 degrees F, flipping the strips halfway through. Repeat this procedure with the rest of the chicken strips.
Air frying will help you create a recipe that you and your family enjoy and appreciate. Cooking your favorite brand of frozen chicken strips in the air fryer will also save you time, calories, and fat. The entire process takes no more than 12 minutes, saving you time and money compared to waiting for a meal at a restaurant.
Print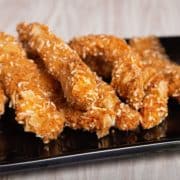 Air Fryer Chicken Strips (4 Servings)
---
Thanks to simple dredging, these air-fried chicken strips are just as crispy as their deep-fried counterparts. They'll be a hit with both youngsters and adults at your table. So it's safe to try out this recipe next time you have a chicken strip craving.
1

pound of chicken tenders or strips

½ cup

of breadcrumbs, e.g., Panko

½ teaspoon

of salt to taste

½ teaspoon

pepper or to taste

½ teaspoon

of garlic powder
Three large eggs, beaten

½ cup

of all-purpose flour
---
Instructions
Preheat the air fryer to 400 degrees Fahrenheit. Three shallow plates are required. Combine the breadcrumbs, salt, pepper, and garlic powder in one of the dishes. In the second plate, beat the eggs, and in the third plate, add the flour.
Each chicken strip should be coated in flour first, the beaten egg, and finally in the breadcrumb mixture.
Spray the chicken strips lightly with cooking spray before placing them in the air fryer basket. Cook for 8 minutes, then flip the strips and cook for another 7 minutes, or golden brown. If you can't fit all of the chicken strips in one sitting, you may have to prepare them in batches.
Serve air-fried chicken strips with a dipping sauce of your choice.
This recipe is a delicious treat that you should try at home. If you're looking for more ideas on how to air fry chicken strips, check out this video recipe.