Hardly will you find anyone who doesn't enjoy a good homemade lasagna. It's unbeatable and superior to store-bought variations, and even though it may take a while to make, the result is always worth it! As such, if you know a few tricks, you can easily make restaurant-quality lasagna that your entire family will love.
If, however, you're not sure about the basics like cooking time and appropriate temperature for the best-baked lasagna results, no need to worry. Here, we have provided all that information and some extra tips to guarantee desirable results.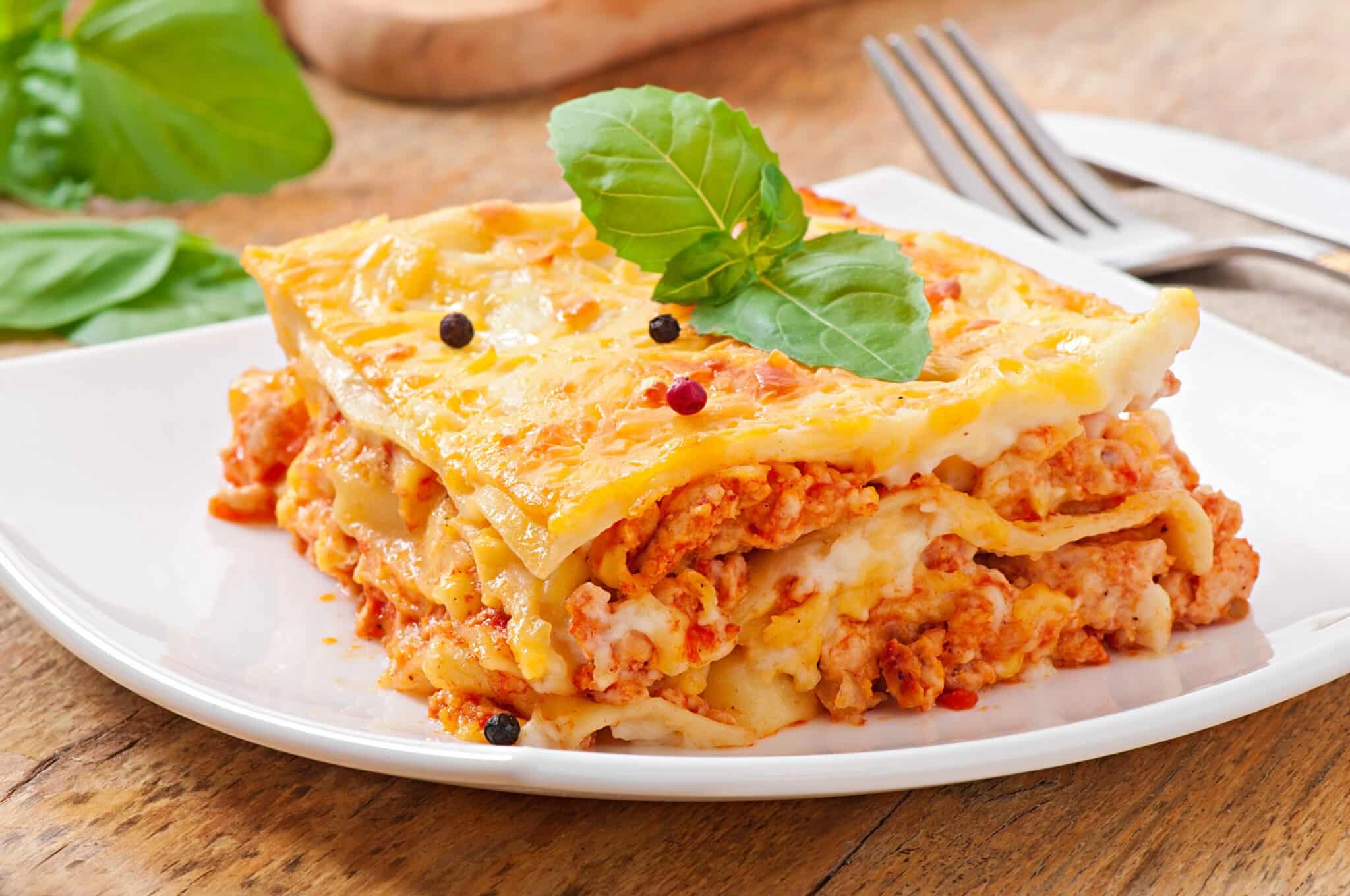 Lasagna Nutrition Facts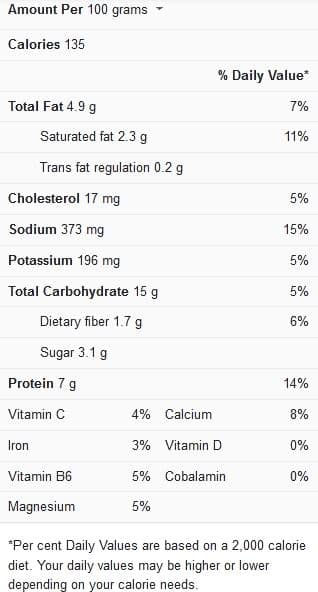 Tips for Cooking Lasagna
These tips will help you get desirable results when baking lasagna, so follow them diligently:
An appropriate number of layers – Most lasagnas contain three to four layers, although there is no "traditional" number. If you're hosting a large gathering, feel free to add more layers. However, the majority of cooks agree that every lasagna should contain at least three layers.
Appropriate temperature settings – When baking a lasagna, determining the proper temperature setting for your oven might be difficult. You only need a little heat to finish the cooking and integrate the flavors, but not enough to burn or dry up the pasta.
The ideal oven temperature for your lasagna depends on some factors; 350°F is a safe bet for baking this traditional meal. Without burning the ingredients, that heat level will melt the cheese, reheat the sauce, and cook the noodles.
To bake covered or uncovered – If you leave your lasagna in the oven uncovered, it will dry out. For a portion of the baking period, use a foil-topped tray to prevent this. Remove the cover halfway through baking to allow the top of the lasagna to brown. If the top is still pale after it's fully cooked, turn on the broiler to help things along.
The power of aluminum foil – Lasagna stays much softer if you cover it with aluminum foil. It becomes dry and nasty if you don't. Aluminum has a high thermal conductivity index, which means it evenly distributes heat around whatever it is wrapped around, ensuring even cooking.
Knowing when the lasagna is ready – When the noodles are done, you'll see the sauce bubbling around the pan's edges. Using a toothpick, poke a hole in the lasagna. The noodles are done when a toothpick slides in easily without much resistance, and your lasagna is ready.
Don't slice too quickly – When the lasagna dish comes out of the oven, the cheese is boiling, and it will fall apart if you slice it too quickly. Time is needed for the smooth and creamy core to settle and harden up. That implies you should wait at least 30 minutes before eating your lasagna. Consider it as being similar to a cheesecake.
View this post on Instagram

How Long to Cook Lasagna at 350 Degrees
The appropriate cooking time is determined by the number of layers in your lasagna and other factors, such as moisture in the core components. For example, the noodles, pork, vegetables, and other ingredients are already thoroughly cooked, so all you have to do now is heat until the cheese melts. It should be baked in a moderately hot oven for 25 to 30 minutes.
Remember that a traditional lasagna recipe calls for the meat to be cooked and browned in a pan before it is baked in the oven, so this is a vital step to ensure that your dish is safe and delicious.
So, in essence:
Wrap the baking dish in aluminum foil. Preheat the oven to 350°F (180°C) and bake for 45 minutes.
After taking off the foil, bake for 15 minutes extra. Give the lasagna a 15 minute rest period before slicing. Preheat the oven to 350 degrees Fahrenheit. Cover with foil in a small ovenproof pan and bake for 30 minutes (without the sauce container).
Cook for 20 minutes, or until the chicken reaches 165°F on the inside (remove the foil to brown the top)
Print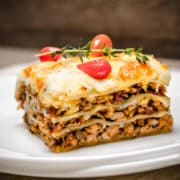 Deep Dish Lasagna (12 Servings)
---
12

uncooked lasagna noodles

1

pound of sweet Italian sausage

⅔ cup

of chopped onions

½ tablespoon

of minced garlic

⅔ cup

of fresh parsley, chopped and divided

3

(6 ounces) cans of tomato paste

1

15 ounce can of tomato sauce

2 cups

of water

1 ½ teaspoon

of Italian seasoning

1 ½ teaspoon

of dried oregano

1 ½ teaspoon

of dried basil leaves

1

pound of part-skim ricotta cheese
One package (10 ounces) frozen and squeezed dry spinach, chopped

½ cup

of Parmesan cheese, grated
Three eggs

Two teaspoons

of garlic salt

¼ teaspoon

of ground black pepper

3 cups

of mozzarella cheese, shredded
---
Instructions
Before beginning, preheat the oven at 350 degrees Fahrenheit (180 degrees Celsius). Grease a 9×13-inch baking dish lightly.
Bring a big saucepan of lightly salted water to a boil to begin with. Cook for 8 to 10 minutes, or until lasagna noodles are al dente; afterward, drain.
Brown the sausage with the onions, garlic, and 1/2 of the parsley in a pan over medium heat; drain excess grease. Mix the tomato paste, tomato sauce, water, Italian seasoning, oregano, and basil until everything is thoroughly combined. Cook for 5 minutes, covered, stirring periodically.
Combine the remaining parsley and ricotta, spinach, Parmesan, eggs, garlic salt, and pepper in a mixing dish and stir thoroughly.
Two cups of sauce should be spread in the bottom of the baking dish. Layer 4 noodles, ½ of the cheese mixture, ⅓ of the remaining sauce, and 1 cup of mozzarella on top. Repeat the layering process, ending with noodles, sauce, and mozzarella cheese as the final layer. The pan should be covered with aluminum foil.
Bake for 45 minutes in the preheated oven. Remove the foil and bake for another 10 minutes, or until the cheese is bubbling and beginning to brown. Allow for a 10-minute cooling period before serving.
The total cooking duration for this recipe is 1 hour and 50 minutes, with 40 minutes of preparation time, 1 hour cooking time, and an additional ten minutes resting time. Do you need more ideas on how to make lasagna? Then you should check out this video recipe.