When people think of brats, they imagine a crowded backyard barbecue gathering on a sunny afternoon. But you don't need to warm up the grill every time you or your family has a craving for this juicy German sausage. You can simply make a quick batch right there in your kitchen on your stovetop!
Why Cook Brats on the Stove?
Cooking brats on the stove is a quick-fix option for a sausage crave. Plus, you get a better chance of adding more ingredients to the mix to enhance the flavor. Controlling the cooking temperature is also easier when you cook brats on the stove. And you can be more flexible with the recipe as you can use more liquids like butter, oil, or even beer!
Handy Tips for Cooking Brats on the Stove
Though you can make great-tasting brats on your stovetop, it helps to keep a few hints in mind, just to make sure the flavor comes out just right.
Use the Right Tools
It's best to cook brats on the stove using a cast-iron skillet. They're better equipped for higher heat cooking, and that's exactly what making stovetop brats is. Also, consider how many sausages you're making at a go and choose the size of the skillet accordingly.
Sear First
You need to seal the juices in the sausages before you start cooking them, as this adds more flavors. To do this, sear the brats in hot oil on both sides for 3 minutes each.
Moisten
When making brats over the pan, you need a bit of liquid to keep the sausages from drying up and sticking to the pan. The most commonly added liquid ingredient is some great-tasting malt beer, but you can also consider non-alcoholic apple cider instead. Broth of any kind also works, and if you're seeking that complete German taste, use Sauerkraut!
Adding Extras
One of the best things about brats is that the meat is already pre-seasoned. But you can add some additional ingredients to the mix as you cook to further boost the flavor. Consider chopped onions, fresh green, yellow, red bell peppers, or even garlic if you wish.
Checking for Doneness
The easiest way to do this is with a meat thermometer. So long as you're cooking equal-sized brats, you should expect an internal temperature of 145 to 160°F at the end of the cooking time- which spells well-done brats. But if you don't have this, simply cut in the middle of each sausage to see the inside. It's done when it's no longer bright pink but a closer shade of light brown instead.
Now that you know how easy it is to cook brats over the stove, why not try out this exciting yet simple recipe next time you have them?
Print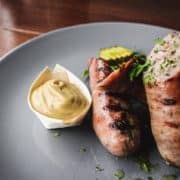 Easy Pan-Fried Brats
---
---
4

bratwursts

1

medium-sized white onion

1

large green bell pepper, sliced

1

large yellow bell pepper, sliced
Malted beer/Broth of any type

2 tablespoons

butter
---
Instructions
Place a cast-iron skillet on the stove at medium-high, and bring to heat. Melt the butter, then add the brats. Sear on each side for 3 minutes. Add the pepper, onions.
Pour in beer/broth till it's almost halfway to the sausages. Cover the skillet and leave to cook for 6 minutes. Then, bring down and serve with some of the fried peppers.
You can have brats with toasted hotdog buns, bread rolls, or even potato salads. You can also serve it with a side of vegetables, sauerkraut, noodles, or even with fries. Whichever way you prefer, enjoy your stovetop brats!
You can also follow this video recipe for more ideas about how to cook brats on the stove.