With their chicken-like flavor, Cornish hens are great for serving at family gatherings. You can very easily prepare one for each individual you're serving or divide it in half for people who aren't big on eating meat, making your gathering dinner much easier to plan. When you cook cornish hens in your air fryer, like other air-fried recipes, they turn out crispy and delicious, and this is a great meal option to try.
If you've never cooked or had air fryer cornish hens, now's a good time to start. Follow all our cooking instructions carefully, and also pay close attention to our helpful tips and guidelines to get the best results.
Tips for Cooking Cornish Hen in Air Fryer
The following tips, recommendations, and guidelines will ensure the best possible results when cooking cornish hens in an air fryer:
How to thaw Cornish hens quickly – If you forget to remove your Cornish hens from the freezer the night before cooking, there's no need to worry; we've all been there before. Place the frozen Cornish hen(s) inside a bowl of cool water and leave them to thaw in the sink. This may require a few hours, so make sure to change the water in the bowl every half hour or so to keep the water cool.
Seasoning suggestions – butter, kosher salt, thyme, pepper, rosemary, and sage are some of the ingredients needed to cook Cornish hens in an air fryer. Herbs are popular seasonings, and they provide the birds with crispy skin and delicious flesh. Other ingredients, including garlic cloves, Italian spice, garlic powder, or any other fresh herbs, can be added.
Ideal timing – Cornish hens cook much faster than a complete roasted chicken because they typically weigh below two pounds. They can be cooked completely in about 45 minutes in the air fryer, and the skin turns a rich golden brown color while the inside remains moist.
Assessing doneness – Although the Cornish hens exterior is acquiring a lovely golden color, it must achieve a minimum internal temperature of 165 degrees before it can be considered done. If your Cornish hens are slightly larger, you may have to extend the cooking time. When it comes to air fryer recipes, a digital thermometer comes in handy to verify the internal temperature.
Resting is important before serving – Transfer the Cornish hens after cooking to a platter after removing them from the air fryer's basket. It is important at this point to allow a 10 to a 15-minute resting time before slicing into the Cornish hens. This is necessary to allow the fluids to disperse and settle inside the meat.
Typically, presenting an entire bird is a big part of the appeal with Cornish hens. You can serve them with a fresh squeeze of lemon and perhaps a couple of extra lemon wedges and let everyone slice their own.
Storing leftovers – Because Cornish hens are typically so small, you may discover that you don't have any leftovers. However, if you do, you can preserve them inside the fridge for up to four days in an airtight container.
Reheating leftovers – Follow these steps to reheat your Cornish hens in an air fryer:
Allow your air fryer to heat up to 360 degrees Fahrenheit.
Heat the Cornish hen(s) in the basket for 18 minutes, or until they get thoroughly heated through. If you're warming up half a Cornish hen, only do it for 3 to 4 minutes.
Take the warmed Cornish hen out of the air fryer and enjoy.
 

View this post on Instagram

 

Cooking Time for Cornish Hen in Air Fryer
The ideal cooking duration for air fryer cornish hen recipes has been described in the table below:
Cooking Procedure
Cooking Time
Cooking Cornish hens in the air fryer at 350 degrees Fahrenheit
45 minutes
Print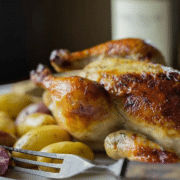 Air Fryer Cornish Hens (3 Servings)
---
One teaspoon

of smoked paprika

One teaspoon

of garlic powder

One teaspoon

of salt

½ teaspoon

of ground black pepper

2

to

3

cornish hens, the ones used in this recipe weighed about

1

or

1.5

pounds each

Two tablespoons

of olive oil
---
Instructions
Preheat your air fryer to 350 degrees Fahrenheit/180 degrees Celsius.
Combine the smoked paprika, garlic powder, salt, and pepper in a small bowl.
Drizzle some olive oil well over the Cornish hens, then season them generously with the dry rub.
Arrange the Cornish hens with the breast side facing up in the air fryer's basket and cook them for 20 minutes. Cook for a further 20 minutes until the thickest section of the breast reaches 165°F/74°C.
To produce crispy skin, flip the breasts over (with the breast side up) and cook for another 5 minutes.
Remove the Cornish hens from the air fryer with tongs and place them on a dish to cool for 10 to 15 minutes before you slice and serve them.
Serve the Cornish hens with a squeeze of lemon juice on top (this will impart nice flavors into the meat).
This air fryer Cornish hen recipe yields delicious and flavorful results that you and your family will love. Ensure to follow all the cooking instructions in this recipe guideline to arrive at desirable results.
If you'd like to see more ideas for cooking Cornish hens in an air fryer, we have included this video recipe for you to get some inspiration.
Notes
You can change the seasoning ingredients to your favorite flavors in your own air fryer Cornish hen recipe. Italian seasoning is a popular option, and chicken seasoning is also a good idea. The beautiful thing about experimenting with different spice and herb combinations is getting a completely distinct flavor each time.
Remember to heat your air fryer before you begin to use it. Some recipes may not require any form of preheating, but this one certainly does!
Allowing your Cornish hens to come to room temperature for 30 to 40 minutes before air frying might aid in even cooking.
Use parchment to line the basket of your air fryer for significantly simpler clean-up and to help with a nonstick surface.