The crab cake dish isn't one only enjoyed by those from Maryland. Many people are finding it a favorite addition to their menus all over the country and possibly beyond. And why shouldn't they? Crab cakes are delicious, filling, and can work on any occasion. They're a tremendous all-season snack and appeal to dinner tables, finger food servings, and even as main courses at gourmet restaurants.
While many people consider the stovetop method convenient, cooking crab cakes in the oven is more straightforward. You only need to set up the right temperature, put the cakes in, wait till they're ready! But you can still boost your crab cake cooking game with a few pointers if you don't mind. So, here are some below;
Crab Cakes Nutrition Facts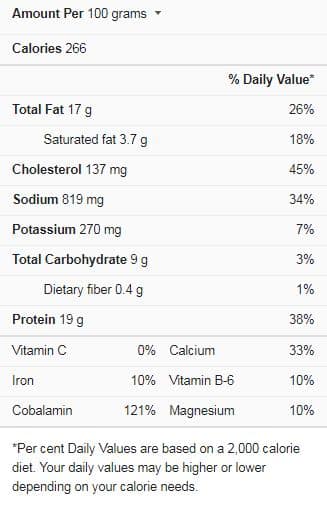 Oven-Cooked Crab Cakes Tips
Crab cakes, as already mentioned, are a pretty straightforward recipe. Plus, you can be flexible with making them and influence the flavor profile as you see fit. However, some hints must remain constant if you want to get the best taste of this homey recipe at every touch.
Use Lots of Crab Meat
The key to a great-tasting crab cake is, well….the crab meat itself. Above all else, you want to taste and feel the presence of the crab meat, which is, in fact, the primary flavor base of the recipe. As such, use more of the crab flesh than the other ingredients. Don't be shy even to let the pieces pop out of the patties!
Making the Body
When making crab cakes, remember you want to get more feel and flavor from the meat. As such, keep in mind that the other ingredients act more as a body- a structure to hold the meat and additional flavors. So, these extra items should only be enough to give the cake shape, but not too much that they envelop the taste of the crab flesh. Most times, a simple combination of eggs, seasoning, spices, and cornflake crumbs gives you enough binding. And sometimes, the cornflake crumbs are replaced with panko breadcrumbs or crushed saltine crackers.
Seasoning
You can season the crab cakes however you see fit. You can opt for spicy alternatives with ingredients like cayenne pepper, paprika, Dijon mustard, and even Old Bay seasoning. You can also consider aromatics such as shallots, minced garlic, or even finely chopped onions. Freshly chopped vegetables like parsley or dill can even come into the mix.
Form the Cakes
Once all the ingredients are combined, you can shape the cakes in whatever size or thickness you like. Most times, a handful of the mixture is best to make a good cake. Also, make sure they're roughly even, so the crab cakes cook at the same time. If you're worried about not getting the quantity right, consider measuring half a cup for each patty.
Bake in the Oven!
A suitable oven temperature for crab cakes would be between 375 to 400F. At this heat level, the cakes should cook to preferred doneness for about 15 to 20 minutes. You want a deep golden brown color, to be sure, of course.
Print
How to Cook Crab Cakes in Oven
---
Baked Crab Cakes (10 Servings)
One pound fresh crab meat

2½ cups

corn flakes, freshly crushed

¼ cup

mayonnaise

Two tablespoons

soft butter
One egg yolk

One tablespoon

Dijon mustard

One teaspoon

Old Bay seasoning

1/8 teaspoon

cayenne pepper
Salt, to taste
---
Instructions
Combine egg yolk with mayonnaise, seasoning, cayenne pepper, and mustard in a bowl, and whisk thoroughly. Then add the crab meat and salt to taste. Combine the mixture till it's even.
Spread crushed cornflakes over a baking pan. Make ten equal patties from the crab meat mixture and form patties with them. Then, pat the patties over the crushed flakes till they're fully coated.
Transfer the patties to a baking pan lined with plastic wrap. Cover the pan with some plastic wrap, and place the tray in the fridge. Leave it to chill for about 3-4 hours.
Set the oven to 400F and while you wait, move the chilled patties to an oiled baking sheet. Add half a teaspoon of butter on top of each cake.
Toss the sheet in the oven and bake for about 15 minutes, or until the cakes are golden brown.
Another helpful method is described in this video recipe.