Most people believe eating tofu is restricted to vegans, but that's far from true. This low-fat, high-protein food applies to all welcoming diets, and with good reason. Tofu is flexible, versatile, and can be infused into various flavor combos.
For those who are more partial to recipes that only require the stovetop, tofu still makes an excellent option. You can prepare tofu in a pan, skillet or wok, over a stove flame at any time. And the procedures are easy and convenient and give you tasty results on every try.
Tofu Nutrition Facts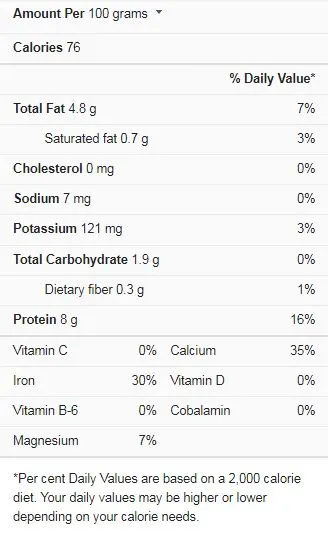 Tips for Cooking Tofu on the Stove
Before delving into how you can cook tofu on the stove, you'll need to keep a few things in mind;
Buy the Best Tofu Varieties
Both firm and extra firm tofu are the best types for cooking on the stove. The reason is that they can be sliced, cubed, and even scrambled. Plus, their denser texture allows these types to absorb flavor successfully.
Drain the Tofu
Whether you buy firm or extra firm tofu, you'll still need to drain it of water before you cook it. Any leftover water in the tofu would not only delay stovetop cooking but also affect the flavor infusion as well. You'll also have to remove the extra liquid if you want the tofu to come out chewy and soft.
To drain your tofu, place it between various layers of paper towels and put something heavy on it for at least 20 minutes. A can, a book, or skillet will do the trick, and the paper towels will soak up the excess liquid.
Marinate the Tofu
You can choose to marinate the tofu for about 30 minutes after it's drained. But note that this option will cost you an extra day, so it is only convenient if you have the luxury. If you do, keep the tofu in the freezer overnight after you've finished marinating it.
Ways to Cook Tofu on Stove
Tofu absorbs flavors when it's cooked, so you get an extensive chance to create a new and exciting experience with your recipes. And you can achieve this on the stove through the various cooking methods;
By Pan-Frying
Cut the pressed tofu into significant bits, and pour the pieces into an oiled pan at medium heat. Leave it to cook for about five minutes, after which it'll turn a crisp golden brown. Flip the tofu bits, sprinkle some salt, and let it cook for about the same amount of time. When it turns a rich golden brown and looks crispy, scoop the bits into a bowl with paper towels and sprinkle some salt on it.
By Scrambling
Cut the pressed tofu into large but thin slices. Bring a tablespoon of oil to medium-high heat in a pan and once it's hot, add the tofu slices. Break the slices with a wooden spatula into smaller pieces, so they look like scrambled eggs. Season or add some sauce, and cook for three minutes, stirring occasionally. Once the scrambled tofu has been fully coated, leave it to cook for four minutes. By this time, you'll notice the scrambled tofu get crispy, so stir again and let it cook for another four minutes.
By Sautéing
Cut the pressed tofu into cubes, and pout into an oiled pan over medium-high heat. Brown each tofu cube on each side for about two minutes. You should take about 15 minutes for this process. Next, add a quarter cup of your preferred sauce and stir the tofu as you cook. You want the tofu to absorb the sauce and develop crispy edges at the end.
Print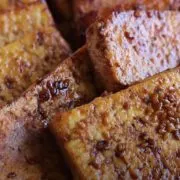 Pan-Fried Tofu (6 Servings)
---
Two

12

-ounce firm or extra firm tofu pressed and cut into

1

-inch cubes

Two tablespoons

soy sauce

Two tablespoons

olive oil

Three tablespoon

cornstarch

One teaspoon

garlic powder
Black pepper, ground
Green onion, finely chopped
---
Instructions
Combine tofu with soy sauce in a bowl, and stir with a wooden spoon. In another bowl, combine cornstarch, garlic powder, and pepper. Stir properly and set aside.
Place a skillet over medium heat and leave it to grow hot. Add a tablespoon of olive oil and let it spread.
Move the tofu in with the cornstarch mix and gently stir, so the tofu cubes are coated.
Toss tofu onto the pan, spread in one layer, and gently stir till it cooks for about three minutes. If the pan is too small, divide the cubes in half and cook in batches. Flip the cubes occasionally till all sides are brown. Add the marinade from the tofu mix at this point, and if it's the first batch, only use half of it.
Transfer the tofu cubes when ready, add the second batch, if any, and repeat process. Serve and garnish as you please.
Also, find more exciting ways to cook tofu on the stove in this video.