Not everyone has an acquired taste for tilapia and believes that it's worth giving a shot. But the reverse is the case, as it comes with a unique flavor. Plus, it's firm yet flaky is one that's welcomed in stews, omelets, salads, pasta, sandwiches, and even baked potatoes.
Tilapia are mainly sold as skinless and boneless fillets for the sake of convenience. And like most other fish, it's best enjoyed with a good dash of oil, seasonings, and a slight hint of char. This appeal is why you may want to try cooking tilapia in a pan if you haven't at all.
Tilapia Nutrition Facts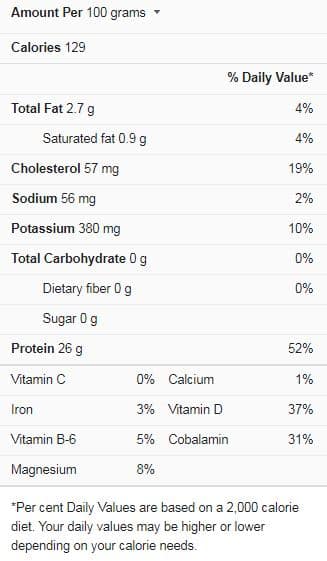 Why Pan-Cooked Tilapia?
Pan-cooked tilapia is excellent for several reasons;
It's Delicious: Regardless of how you season it, you always end up with a taste that's almost out of this world.
It's Rich: Like most fish, tilapia is rich in protein and fatty oils and low in carbs.
It's Easy:pan-cooked tilapia recipes are so quick; you can whip up a plate in under 20 minutes!
Tips for Cooking Tilapia in a Pan
When preparing tilapia in a pan, you may need to take note of some suggestions. This rule applies, especially if you're doing it for the first time, and is designed to help you get it right. Of course, pan-cooked tilapia isn't as difficult as you may worry. But it doesn't hurt to have a guideline.
Get the Fillets
You'll hear many recipes swear by their necks that the best kinds of tilapia fillets to use are the fresh ones. While this isn't entirely untrue, the frozen ones are also almost as good. You may not get as fresh a taste as the former, but if you prepare beforehand, you'll barely notice the difference.
If you're using fresh tilapia fillets, you won't need much work. And for those who live close to seafood markets, this is a huge advantage. But if you're in the big city and only have access to grocery stores, you'll need to improvise. So, get the frozen tilapia fillets the night before you'll need them, and let them fully thaw in your fridge overnight.
Prepare the Fillets
Whether fresh or frozen, you'll need to pat the fillets dry before you cook them. The reason is that you'll need oil to cook tilapia in a pan, and that won't work well if the fillets are still wet. Not only will you lose heat during the frying, but you also risk having bursts of oil touch you as you cook. Plus, excessively moist fillets would cause the seasoning not to impart into the fish.
Season the Fillets
You can use any mixture of dry seasonings you prefer on fish. Some recipes may suggest lots of black pepper in the recipe. In contrast, others prefer a smoky hint and achieve this with smoked paprika or red pepper flakes. And some recipes even advise you to coat the fillets in flour before you fry them. But in days of need, a simple salt and pepper combo is more than enough to do the trick.
Fry the Fillets
You may choose to fry the tilapia fillets in vegetable oil or butter. And most times, the best option is olive oil, due to its rich taste. But you can also use canola, corn, safflower oil, or even butter, depending on your preference. Some recipes even suggest a combination of butter and oil for an extra creamy taste.
Print
Pan-Fried Tilapia (6 Servings)
---
Six Tilapia fish fillets, skinless and boneless

Four tablespoons

unsalted butter

One tablespoon

olive oil

One teaspoon

paprika powder

One teaspoon

salt

½ teaspoon

black pepper, ground
---
Instructions
Make a dry spice rub with black pepper, paprika, and salt. Gently work the spice rub into the fillets.
Put a large pan to medium-high heat and pour in the oil with two tablespoons of butter. Leave the butter to melt and mix with the oil as it heats up.
Add three fillets, and cook for two to three minutes. Flip the fillets, and let the other side cook for the same duration. You'll notice the fillets turn light golden brown.
Remove the Tilapia fillets, add the rest of the butter to the pan, and cook the remaining three fillets.
Once they're ready, serve and garnish as you please. Also, try out this video recipe.