In the summer, zucchini is a favorite vegetable to grill. Maybe you're wondering why. Well, it's simply because zucchini is nutritious, simple, and most importantly, it's quick and easy to prepare. Grilled zucchini is mild, versatile, delicious, and a perfect example of how eating vegetables doesn't have to be boring.
If you'd like to know what exactly goes into the process of grilling zucchini, here's where you'll find out. Also, ensure to pay attention to all our tips and recommendations as these will guarantee that you end up with desirable results.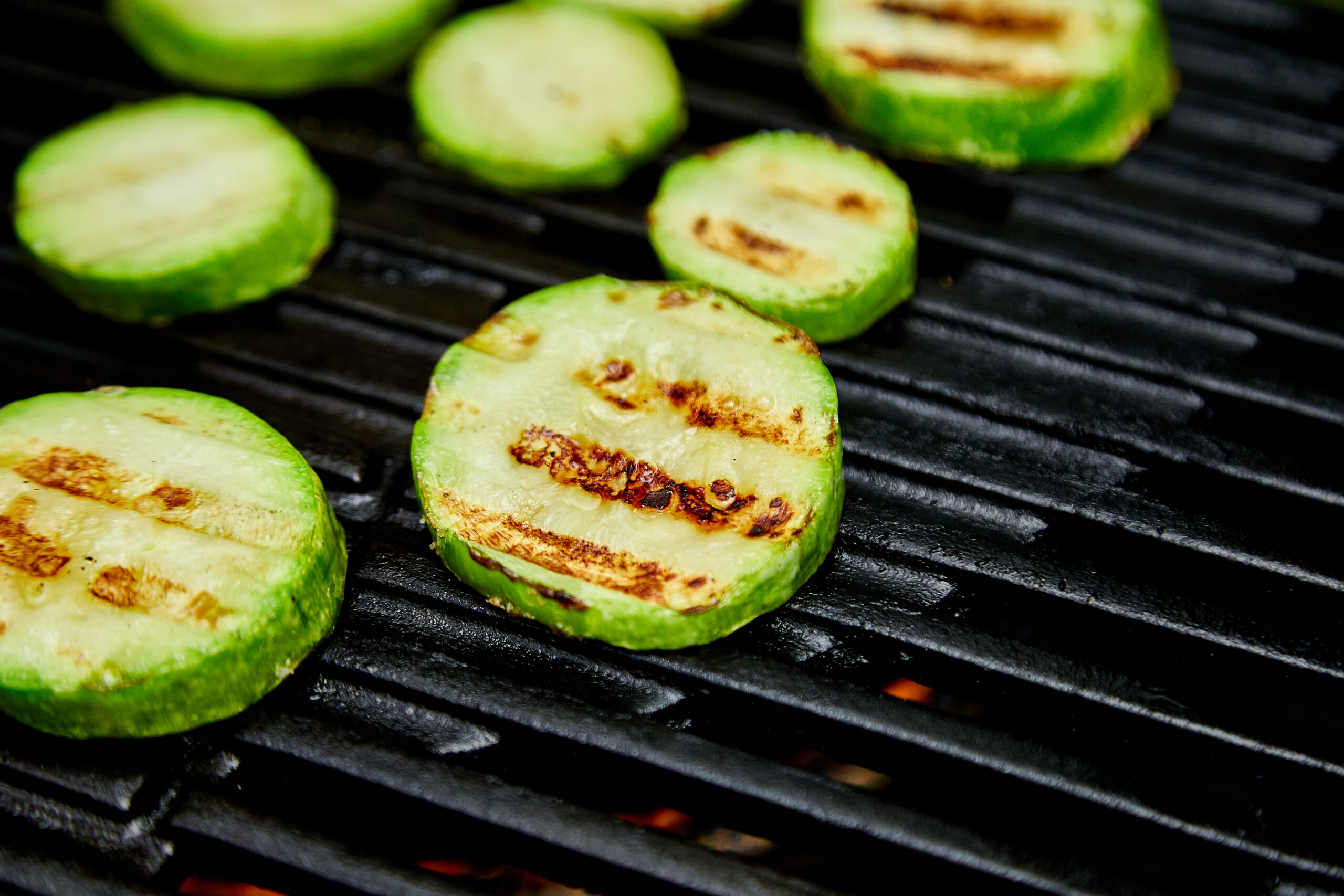 Tips for Cooking Zucchini on the Grill
When grilling zucchini, you'll be needing the following tips to ensure the best results with your recipe:
Skip the foil – You don't need to cook zucchini in foil as long as you cut it into batons. Turning the zucchini without the spears dropping through the grates is simple. You also don't need to cover the zucchini to protect it from drying out.
Because zucchini has high water content, you don't need to use a foil packet to trap moisture and create steam to tenderize it, unlike tougher, starchy veggies like grilled Potatoes. In fact, eliminating the foil increases the chances of crispy grilled zucchini by allowing the water to the cook-off.
How to tell when zucchini is done – When grill marks form and the zucchini is soft, about 3 to 4 minutes per side, the zucchini planks are done. When the edges of the zucchini ribbons are scorched, they're done, which takes about 4 to 5 minutes.
Cooking Zucchini on the Grill
Grilling zucchini is one of the healthiest ways to eat it since the grill adds a lot of flavor without adding extra fat. However, not every grilled zucchini recipe turns out the same. You would understand better if you've ever had wet, mushy zucchini.
There are two things you need to do to keep zucchini from becoming wet while grilling it:
Cut the zucchini into the appropriate size pieces. We propose cutting the zucchini into batons by quartering it lengthwise.
Preheat the grill to medium-high (about 400 to 450 degrees F). At this temperature, the grill is hot enough to crisp the outside of the zucchini but not so hot that the center burns before it becomes soft.
Cutting Zucchini for Grilling
There are two common ways to cut zucchini for grilling: long planks and batons. It's best if the zucchini is chopped into batons, and Batons retain their texture and are easier to turn, preventing them from slipping through the grates.
To cut zucchini in preparation for grilling, follow these steps:
Remove the ends of the zucchini and wash it (no need to peel).
It should be cut in half lengthwise.
Place the cut sides of the zucchini cut side down on the cutting board and cut it lengthwise in half again to make four zucchini "sticks" or batons.
Season to taste, then toss on the grill
The Required Ingredients
When making grilled zucchini, you'll need the following ingredients:
Zucchini: At the risk of stating the obvious, this is the main ingredient in your recipe
Olive oil: Brushing the outsides of the vegetables you're grilling with olive oil guarantees that they caramelize without having to burn. Only 1 tablespoon of zucchini is required for 4 medium zucchini.
Seasoning with Kosher salt and pepper is essential for great-tasting grilled vegetables. Season vegetables to taste both before and after grilling.
While it's not required—simple grilled zucchini is essentially delicious with just salt and pepper—you might want to introduce a pinch of Italian spice to your grilled zucchini recipe for added flavor. You may use another dried herb or seasoning blend of your choice.
Parmesan: This nutty, umami addition is optional, but it's hard to return after trying Grilled Zucchini with Parmesan! Grilled vegetables with a sprinkling of cheese are also more enticing to children and picky eaters.
Lemon Juice: A burst of acid introduced by the inclusion of lemon juice brightens cooked veggies and gives them a far more complex flavor than they are.
 

View this post on Instagram

 

Grilling Zucchini
Finally, the grilling process! Follow these easy steps to cook zucchini on the grill:
Preheat the grill to high (if you're using a pan to grill zucchini, heat a cast iron grill pan on your stove).
Prepare the zucchini for grilling by cutting it into small pieces.
Drizzle with olive oil and season with salt and pepper.
Grill the zucchini for 9 minutes, making sure to flip them halfway through. Serve and enjoy your meal!
Cooking Time for Zucchini on the Grill
The timing guideline for grilling zucchini is outlined in the table below:
| | |
| --- | --- |
| Cooking procedure | Cooking time |
| Cooking zucchini on the grill | 9 minutes |
Print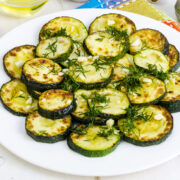 Grilled Zucchini (2 to 4 Servings)
---
16

skewers, if wooden, soak in water at least 30 minutes (these are optional, if grilling ribbons)

1

pound of zucchini (about

3

medium-sized ones)

2 tablespoons

of olive oil

½ teaspoon

of kosher salt

½ teaspoon

of freshly ground black pepper
---
Instructions
Set your outdoor grill to medium-high settings, with direct-heat. If necessary, scrape the grill grates to clean them.
Cut the ends off your zucchini. Cut the zucchini into 1/2-inch thick planks lengthwise. Alternatively, you may choose to dispose of the core and thinly shave the zucchini with a Y-shaped peeler or mandoline.
Fold each zucchini ribbon back on itself like an accordion and thread roughly 5 ribbons onto each skewer if using ribbons. Place the zucchini ribbons on a baking pan.
Afterward, 2 tablespoons of olive oil, ½ teaspoon of kosher salt, and ½ teaspoon of black pepper should be drizzled over the zucchini bits.
If using zucchini planks, place them on the grates of the grill in a single layer. Cover and grill them for 3 to 4 minutes on each side, or until grill marks emerge and the zucchini is visibly soft. Place the skewers on the grill grates for zucchini ribbons (you may need to do this in batches depending on the size of your grill). Grill for 4 to 5 minutes, making sure to turn regularly, until the squash ends are seared.
This grilled zucchini recipe takes a total of 3 to 8 minutes to cook, and a prep time of 3 to 30 minutes. If you want, you can also try other recipe ideas, such as in this video recipe.