Zucchini noodles have become more popular as a low-carb, gluten-free alternative to pasta. Spiralizing or slicing fresh zucchini into thin noodle-like pieces results in zucchini noodles. Their texture and flavor naturally complement traditional Italian sauces, and they also go nicely in brothy soups, chilled salads, and other recipes.
There are countless methods to cook and enjoy zucchini noodles, and in this article, we have compiled some really helpful tips to help you scale through the process and arrive at the best possible results. Also, take note of the recommended cooking duration for all the different methods of cooking zucchini noodles.
Zucchini Noodles Nutrition Facts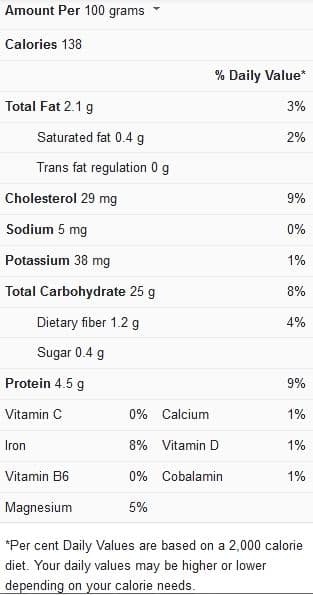 Tips for Cooking Zucchini Noodles
The following tips are recommended for you to get the best out of your zucchini noodle recipes:
Cutting zucchini noodles – Zucchini noodles can be cut with or without a spiralizer. If you don't have a spiralizer, you can use a mandoline or julienne peeler.
A mandoline is a slicer with a flat surface and a sharp blade that allows you to rapidly and precisely cut vegetables. A julienne peeler looks like a regular peeler, but it includes a blade with small teeth that cuts vegetables into thin strips.
In comparison to the more spaghetti-shaped zoodles produced by a spiralizer, both of these methods produce straighter, more delicate zucchini noodles. Both tools are affordable, easy to store, and will cut zoodles uniformly in a short amount of time.
Assemble the spiralizer with the zucchini in the center – You'll get more of the best zucchini noodle parts, including the edges and skin, if you do it this way. The ones in the middle are mushier. This will also prevent the super-short chunks when the zucchini isn't centered. You can always move it around as you go.
When possible, choose zucchini with a smaller diameter. Some people prefer larger zucchini because spiralizing them into zoodles is easier, but the smaller zucchini is what you should look out for. With them, you'll get more noodles with the skin. These parts are more durable and hold less water than the parts in the middle.
Spiralize the zucchini uncooked – Zucchinis should not be peeled or cooked before spiralizing. If you've made zoodles before, you should know these things, but it's worth mentioning in case you haven't.
If feasible, use a thick sauce – If the sauce is already pretty watery, the noodles will continue to leach water as they rest, thinning it out too much. On the other hand, the oven approach has a lower chance of this happening.
Storage tips – You can easily make a large batch of zucchini noodles and store some in the refrigerator or freezer for later use. Raw zucchini noodles should be stored in an airtight container lined with paper towels in the refrigerator, and Zucchini noodles will keep in the fridge for up to five days.
It's critical to blanch the noodles before freezing them; they shouldn't be frozen raw. After the zucchini noodles have been blanched and shocked, freeze them in a single layer on a parchment or wax paper-lined baking sheet for up to 3 months before transferring them to a resealable freezer bag.
If you freeze the wet zoodles directly in the resealable bag, you'll wind up with one giant block of frozen zucchini noodles, making thawing more difficult and time-consuming.
Extra tip – Zucchini noodles should generally not be cooked ahead of time, but if you must, keep them separate from the sauce until ready to serve. After cooking, they will continue to leak water, so pat them dry before adding sauce and dishing.
View this post on Instagram
Cooking Time for Zucchini Noodles
The time taken for zucchini noodles to cook properly ultimately depends on the cooking method you choose. Appropriate cooking times based on cooking methods for zucchini noodles are described in the table below:
| | |
| --- | --- |
| Cooking method | Recommended cooking time |
| Blanching zucchini noodles | Cook for 1 to 2 minutes after the water has boiled on high heat |
| Sauteing zucchini noodles | Cook for 3 to 4 minutes after sauteing garlic and pepper (or other ingredients of choice) |
| Baking zucchini noodles | Bake at 350 F for 15 minutes |
| Air frying zucchini noodles | Air fry the noodles at 400 F for 5 to 6 minutes |
Print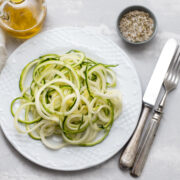 Simple Zucchini Noodle Recipe (4 Servings)
---
20 oz

of Zucchini (about

4

medium)
Sea salt
---
Instructions
Use a spiralizer or other methods (described above) to cut zucchini noodles.
Oven Method
Preheat the oven to 350°F (177°C). An extra big baking sheet should be greased. (If the baking sheet isn't non-stick, use parchment paper.)
Arrange the zucchini in a thin layer on the baking sheet, taking care not to overcrowd the pan. Toss with a little sprinkle of sea salt.
Bake for 15 minutes, or until the pasta is al dente. (Cook them for longer if you want them to be softer.)
Using a double layer of paper towels, pat the zoodles dry.
Toss with melted butter, black pepper, and salt and pepper to taste.
Stove-top Method:
Fill a colander with zucchini noodles and set it over the sink. Add a pinch of salt to the zoodles and stir. Allow 30 minutes to drain the water.
Squeeze the zoodles gently over the sink after half an hour to release more water. It is not necessary to extract every single drop, but only the bulk.
Melt some butter in a big-sized saute pan over medium heat. Stir in the zucchini and cook for 3 to 4 minutes, or until al dente. (Cooking time will vary based on the size of your pan and the amount of zucchini you have.) To taste, season with black pepper and additional sea salt.
This recipe describes two great ways to cook up zucchini noodles, so choose your most preferred option. The total cooking time is 25 minutes, with 10 minutes prep time and 15 minutes being the actual cooking time. Need more ideas on ways to prepare zucchini noodles? Then you should watch this video recipe.